Bobbi Brown Choose Your Glam: Smoky, Sultry, Smoldering Collection is here!
'This collection is all about what mood you're in. Whether you want a pale eye with a strong, sexy lip or feel like a dramatic, smoky eye with a nearly-naked lip, these shades let you switch it up.' —Bobbi Brown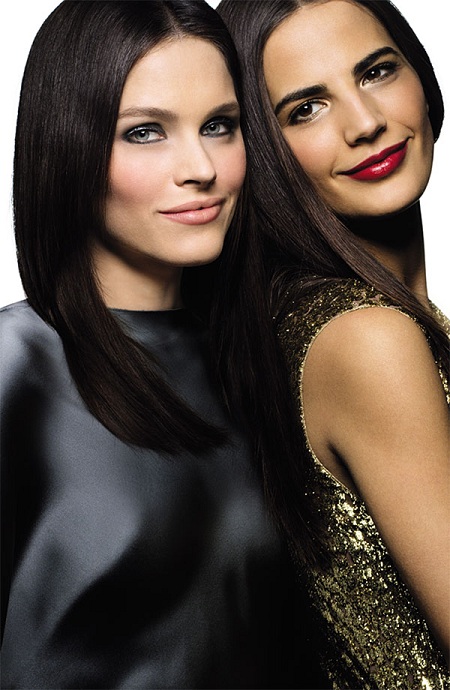 Collection includes:
From classic charcoal to rich plum to warm gold, Bobbi's got three new ways to go all out on your eye makeup with the new Smoky, Sultry and Smoldering Eye Palettes. Each one features a base and an eyeliner color plus a bold metallic and a dramatic shade of Bobbi's new Long Wear Eye Paint($45 each)
Bobbi Brown Sultry Eye Palette
Shades include Bone, Antique Gold Metallic and Caviar Eyeshadows plus Brandy Long Wear Eye Paint
Bobbi Brown Smoky Eye Palette
Shades include Ivory, Heather Lilac and Charcoal Eyeshadows plus Port Long Wear Eye Paint.
Bobbi Brown Smoldering Eye Palette
Shades include White, Tin Metallic and Storm Eyeshadows plus Onyx Long Wear Eye Paint.
Bobbi Brown Glitter Liquid Eyeliner, $20
Like paillettes for your eyes. Glitter Liquid Eyeliner contains a blend of sparkling pearls to create brilliant shine and intense metallic color—great for transforming your daytime into a party-perfect look. Bobbi's superfine applicator tip makes it easy to line your eyes like a pro. Plus, it's long-lasting and waterproof, so it'll stay put until you're ready to call it a night.
Choose Your Glam Brown Metallic Lip Color, $22
Shimmer like you've never seen—or felt—before. Metallic Lip Color features a unique combination of high-shine emollients and light-reflective pearls. This creamy lipstick feels soft and comfortable on lips, and offers medium coverage.
Choose Your Glam Lip Gloss, $20
Brilliant, high-shine lip gloss. Bobbi Brown Lip Gloss contains soothing botanical extracts to keep lips supple and soft, including avocado, jojoba and chamomile oils and aloe extracts. Scented with a hint of vanilla bean.
Read More
Yesterday when I was browsing Boots.com I've noticed that they have an exclusive Benefit's set which is called Sha La Lovely Christmas Set.
This is what they say:
"Finally a portable eye primping kit that has it all. Benefit Sha La Lovely Christmas Set is only available at Boots and Boots.com so get it while you can!
Packed with everything you need for getting glam on the go! Conceal, contour, line, brighten and create smoky eyes & sexy lashes. Lose 5 pounds from your makeup bag now, even a total primpcess can travel light! Complete with a step by step primping lesson."
Benefit- Sha La Lovely Christmas Set contains:
Boi-ing 02 – creaseless cream shadow – 3 powder shadows – contour accent and liner – Badgal Lash Mini Mascara – Eye Bright – Concealer Brush – Double Ended eyeshadow brush – complete primping lesson.
The price is £25 and I think it's a great deal!
Read More
As soon as I found out about the new eye shadows by Givenchy I knew that I had to test them for myself.  And what about the results?  These are my favourite Givenchy eye shadows so far, they are simply amazing! Smooth and pigmented and with the great colour selection.
I've tested these in the shop and I still haven't got any because I am trying to save (haha) here for the holiday gifts for my family and friends and buy less makeup. But I really do love these eye shadows and I recommend you checking them out. My favourite quad is Khaki  Egerie and it reminds me of my YSL  eye shadows in Bronze Gold althought they are not the same of course.
I've realized that I admire people who go and swatch the whole collection in stores, I can't imagine myself doing that. Although I did try almost all the shades I can't imagine myself  taking out the camera and snapping photos, no one will let me do that. And the photos on my phone won't be helpful at all.
Every time I am somewhere near  my Givenchy counter I can hear these eye shadows calling out my name but I try to resist, we'll see how long I can manage to do that. So far I've been good for quite a long time. Now I try to buy makeup and beauty products that are on my list and this makes me think that I need to share my wishlist with you all!
And have you tried these eye shadows? Which quad do you like the best?
Read More
Pupa holiday 2010 collection is called Chic Rebel and it's all about pink, black, berry and grey colours.
Extra Shiny Long Lasting Eyeliner Pencil, € 12,75
01 Shiny Silver
02 Shiny Black
03 Shiny Blue
Diva's Rouge Colour Intense Lipstick, € 18,50
High-Shine Colour Lip Gloss, € 15,95
Lasting Color Glossy Nail Polish, € 5,99
306 Pink Fuchsia
902 Grey Mist
613 Runny Raspberry
Extra Pearl Compact Eyeshadow,€ 14,50
Read More
Present interprets the past, tinged by baroque inspiration for a feminine, elegant and sophisticated make-up.
Haughty nuances that are intense and matte, silky, Chypre and delicate to define the face. Pastel shades that get more and more intense, reaching the raspberry colour to be used on eyes and lips
Luminys Baked Eyeshadow, €14.5
Four delicate and sophisticated colours with a satin finish. Pastel shades and more intense nuances for captivating eyes.
And of course Pupa's baked eyeshadow, that can be used either wet or dry, depending on the effect you wish to get, is also a part of this Autumn collection that gets inspiration from fashion shows.
01, 02, 03, 04
Diva´s Rouge Matt, matte lipstick €18.5
A new matt formula for Pupa's lipstick that comes in the colours of this collection: a burst of colours for incredibly captivating lips.
Great writing performance, flawless hold and maximum definition.
01, 02
Lasting Color Glossy Nail Polish,  € 6,50 in 206 900 901
Precious femininity also for your hands. Colours to match eyeshadow nuances, for a complete and coordinated make-up.
Shimmering Powder,  €24.5
To be sprayed on just like a perfume, it leaves an
Read More