I really love this ArtDeco nail polish  which is a beautiful medium grey. I've been looking for such shade for some time now so I just had to get it when I saw it the other day. Plus the price is reasonable (€ 7,50).
It gives a great coverage with 2 coats and is pretty shiny but I still used Seche Vite on top which made it look even better.
This is the first ArtDeco nail polish which I've tried and I will get more in the future.
Read More
Here is a preview of OPI Fall 2011 collection called Touring America which includes a lot of dark shades (which I love), 2 greys and 4 brights (corals and pink). This collection will be out in the beginning of August.
I Eat Mainly Lobster, a spectacular coral shade
My Address Is "Hollywood", an alluring rose pink shade
Are We There Yet?, a beautiful melon hue
Color To Dine For, a cute rosy red hue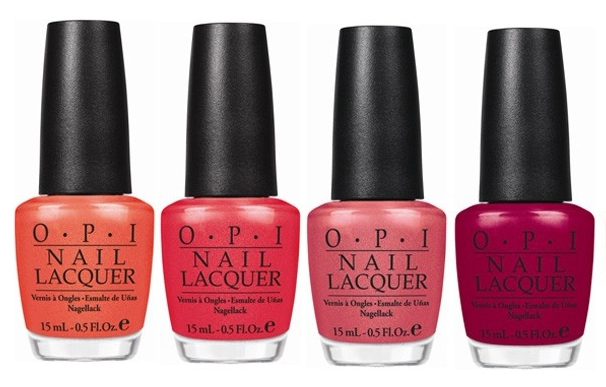 Honk If You Love OPI, a sophisticated dark raisin hue
French Quarter For Your Thoughts, a beautiful gray shade
Suzi Takes The Wheel, a dramatic
Read More
Last month I won  BECCA's Mineral SPF Primer in their twitter giveaway! I was very excited as I've always wanted to try their primers. It took me so long to write this review as I wanted to think carefully what to write  as all I could think of was OMG. I. Love.It.So.Much!
So here we go…
This primer is kind of thick and white and it smells like sweets to me. But it goes on very easily, feels light and leaves the skin feeling  silky and smooth. I really loved using it on my very dry skin, it helped the foundation to look better and to last longer.
As the result your skin is looking much nicer, I'd say that the texture looks better, not that it will hide all your imperfections but it definitely helps to even out the skin. It also make the pores and lines look less obvious, not that they become invisible but I can definitely see the difference.
It is said that it seals in the moisture and that
Read More
If you prefer cheaper makeup brands this post is for you! Two affordable makeup brands released their Spring 2011 makeup collections.
So Sleek's  collection is called Avoir La Peche and it's all about the peach and coral colours which I really like.
This mini collection includes:
Pan Tao blush, €6
Paraguaya i-Divine Palette, €8.50
Pout Polish in Sugar May, €7
I personally think it's worth the attention.
And here is the Revlon Spring 2011 makeup collection
Read More
I've been meaning to write this post for a while now and the conversation with the lovely Daniel Sandler on twitter(don't forget to follow him…yes, that Daniel Sandler, Make Up Artist, and yes, you are right when you are thinking about the Watercolours ).
So today's topic is makeup in films and shows. The question is… Do you think that every time you see a beauty product in a film or show – the company paid for that. Or was it just a part of the plot that the actress had to use lipstick/mascara/powder/perfumes/whatever and it was just a random choice, not a particular brand.
If it is a product placement (this is how it is called) why do they show the product for a second only and, unless you are  very good at brands, you will never recognize what brand it was. Plus most people couldn't care less, only us, makeup fans, always want to know what product was shown (or is it just me?!)
The other question. Who cares? I mean would you get something because Carrie uses this beauty product or Blair uses that beauty product?  Maybe I would care and this would influence me when I was  a teenager, although I can't imagine where from I would have money to buy Chanel makeup, but now… I mean come on? Does it really work?
The other thing is when you see your favourite celebrity using a certain makeup product in real life! Remember how Angelina Jolie was spotted using Chantecaille gloss? Well, I read that it was sold out within hours. Amazing, isn't it?!
So
Read More