I love browsing online beauty  shops looking for the things that I would like to get. And lately I've been wanting a lot from Make Up For Ever,  especially this wonderful palette which is Sephora exclusive (will have to ask my friends to get it for me). I think it is really worth $95 because it will last you forever and these cream colours look amazing.
12 Flash Color Case ($216 Value), $95
What it is:
12 vibrant Flash Colors in one palette.
What it does:
This 12 Flash Color Case is found in the kits of many well-known makeup artists. You can create an array of looks with this palette and it's great for traveling. It can be used on the eyes, cheeks, and lips.
It contains:
Gold 004 (metallic gold)
Coral 002 (vibrant coral)
Turquoise 000 (light turquoise)
Fuchsia 005 (bright fuchsia pink)
Yellow 013 (vibrant yellow)
Brown 023 (dark brown)
Read More
Here is the preview of summer 2010 collection by Clinique. Some items are aready available at different online shops. The rest of the collection will be available in April.
Branded Bronze Color Surge Eyeshadow Quad
Sunkissed True Bronze Pressed Powder Bronzer
Sunset Long Last Glosswear SPF 15
Air Kiss (light pink)
Bonfire(berry)
Fireberry(brownish red)
Sunset (peach)
Lash Power Mascara
Chocolate Lustre Cream Shaper ( eye liner, chocolate brown)
Sugared Fig Defining Liner (lip liner)
Bronze Leaf Different Lipstick
Clinique 'Branded Bronze' Color Surge Eyeshadow Quad,
Read More
As you already know next month Lancome celebrates 10 years of Juicy Tubes so I thought that it would be nice to write a post with my impression about this amazing gloss!
This is what is written about Juicy Tubes:
"Ultra Shiny Lipgloss. Add power to your pout with brilliant shine. Dial up the glamour with shimmering color. Discover a favorite shade and flavor for every mood. Lips glisten with an ultra-glossy formula that glides on easily with its tube-tip applicator."
Juicy Tubes glosses are so famous that almost every woman tried them or at least heard about them. Although Lancome has permanent collection of glosses there were so many  limited editions and so many different sets that it's hard to count them all.  So today I will tell you my opinion about the gloss and will show you a lip swatch of my favourite shade from permanent collection  - Simmer.
Juicy Tubes is a
Read More
To celebrate 10 years of Juicy Tubes Lancome created 6 limited edition Juicy Tubes with a cute design. These pretties will be available from April. I am a big fan of this gloss and I really can't believe that it's been 10 year already.  I have tried a lot of juicy tubes and would like to get a gloss from this collection, too. And what about yourself?
Here are the colours that will be available:
120 Pop Art Hazelnut
121 Happy Honey
122 Rose Blossom
Read More
Summer is almost here so it's time to make your legs looks smooth and sexy (not trying to say that they didn't look like this in winter lol ). There are so many ways to remove hair  and I personally like waxing and shaving the best.  When it comes to shaving I like Venus by Gillette. I've been using it for ages and I am very happy with it.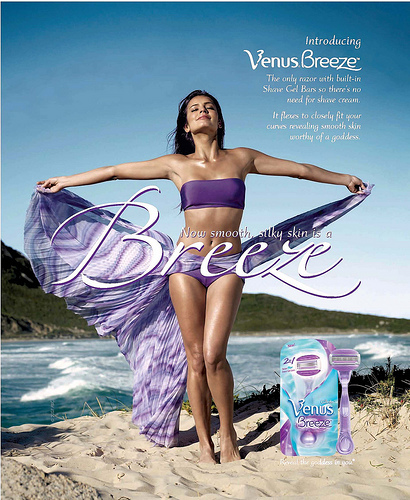 But I also use Venus shaving cream (usually with avocado). I've been bying the same  razors all the time and just didn't pay any attention to other. But last month when I was shopping I saw this pretty purple razors  and I wanted to try them just because my Venus is purple!
So what was my impression?
Read More