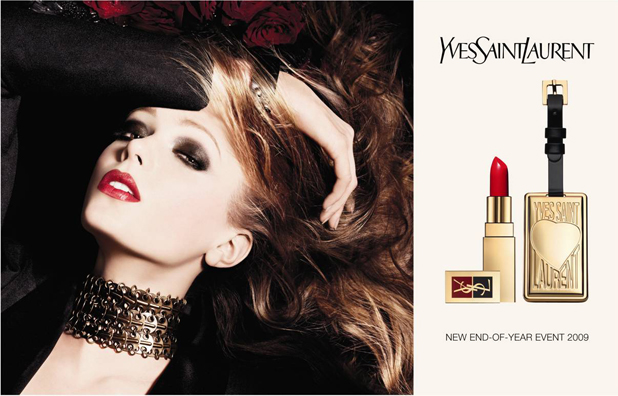 WOW! This Holiday Collection by YSL looks amazing. Red and purple are the main colors! And I just love the promo photo. Photo and information are taken from Bjooti blog there you can check all the details and photos of all  products.
Collection will be available in October 2009.
Mini Touche Blush, $28
Rouge Pur, $30
149 – Black Tulip
150 – Sublime Red
151 – Sweet Dark Purple
152 – Pink Grenadine
Golden Gloss, $29
17 (red)
18 ( lavander)
Palette Duo Pour Les Levres/ Lip Palatte, $75 : lipstick and gloss
Palette Duo Pour Les Yeux/ Eyes Palette, $75: 2 eyeshadows
Touche Brilliance
16
17
La Laque, $20
1 Red
34 Purple
Eyeshadow Duo, $41
Dramatic Styling Mascara, $30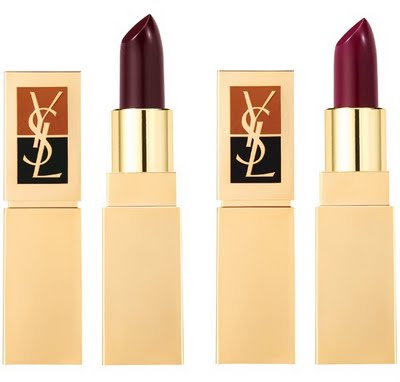 Read More
Information about Fall 2009  Collection by Illamasqua  – Beautie (photo is also from the blog)
Isadora Holiday 2009  Makeup Collection  Snow Fairy – Bjooti
Review ans swatches  of  Estee Lauder's Double Wear Lipstick – The Daily Cookie
Review and swatches of Natural Eye palette by Too Faced – Makeup and Beauty Blog
Want to find the dupe of  Nars Orgasm? -Magimania (it's in German but you can check out all the photos)
Guide to all kinds of eye brushes – The Beauty Look Book
If you want to know what clothers to buy this Fall be sure to check this post – Chic Profile
More details about Twilight Beauty – Krasey Beautiful
Best beauty products by InStyle version - Blog About Beauty (in Russian)
How is your Sunday by the way? I was reading September Vogue issue(the post is comming soon) and dreaming about the new lipstick/gloss by Dior.
Read More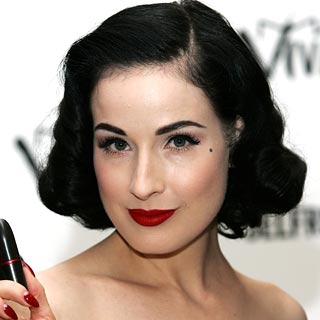 Dita Von Teese twitted(http://twitter.com/DitaVonTeese) about her favorite makeup, perfumes and clothers:
I wore Quelques Fleurs forever, but lately have been wearing Dior's Pasage #4- BUT working on something special fragrance-wise
My favorite foundation is L'Oreal True Match. I use N1. It's Cher's favorite too!
Sadly, matte lipsticks are becoming extinct, especially in the drugstore. Everything is glossy! I like MAC Ruby Woo.
I am currently writing a beauty book, in fact. It will probably be out this time next year. It's a big project!
I collect 30s/40/50s clothing. but love 40′s nail, 50′s eye, & fluctuate between 30s,40s,50s hair! But 40′s is my fave era.
I was surprised that Dita uses L'Oreal True Match and I would love to read her beauty book. And what about you?
Read More
I found this very interesting article about Lipstick Trends Through The Decades. Hope you enjoy it
According to Li Edelkoort, one of the world's best known trend forecasters, there is an interesting connection between body, lips, and time frame , included by focus and proportion. Many factors come into play when analyzing lipstick trends: emphasis on particular body parts, celebrities of the time, and most importantly, the economic and financial status of American society in general. Perhaps you knew that the length of a woman's skirt is dependent upon the economy, but who knew the color and shape of a woman's lips could be so telling of the times?
The 20's – Prohibition and Rebellion
A matte-finished, heart-shaped mouth is the expression of the seductive,coquettish woman of the Roaring Twenties. Taking their cue from the scornedyet-sought-after flapper, women go out to dance, drink illicitly distilled whiskey, and push the envelope of their independence. Black and white movies present the mouth in daring, feminine shapes–the "cupids bow" style of Clara Bow, the "vamp's lips" of Theda Bara, and the sexy "bee-stung" lips of Mae Murray. Edelkoort notes that because the focal body part of the time period is the legs, "breasts are smallish, and girls are boyish." Eyes are large and lips are thin. Lip colors are black and garnet red.
Read More
"Dr. Hauschka Skin Care – Where science and spirit meet to create holistic preparations for the skin."
I read a lot of awesome reviews about Dr. Hauschka. So I wanted to check it out for myself at Dr. Hauschka.com. First of all I must say that I really loved the website, all their ideas and categories. And now I am thinking about trying theit products. But this article really made me think about  a lot of things. What do you think?
About the company:
Since 1967, Dr.Hauschka Skin Care has remained a very different kind of company . . .
. . . and we've got a lot to tell about our history, philosophy, holistic approach and unique products. Select from the menu to the left to learn more about where we come from, what we do and where we're going. We're happy to share our story with you, and welcome you to contact us with any questions that aren't answered for you on this site.
We're proud to say that the models featured on this site are our friends, family members, colleagues and customers. All of them are devoted Dr.Hauschka users.
1. Skip the night cream; your skin will thank you.
While you sleep your skin is actually hard at work regenerating itself, balancing oil production and expelling impurities. Regular application of night creams interferes with these essential tasks, and over time skin becomes less able to care for itself. Covering the skin with moisturizer 24 hours a day sends a signal to sebaceous glands to cut down on moisture production, resulting in even drier skin that becomes dependent on moisturizing products just to appear "normal."
A Dr. Hauschka regimen allows the skin to carry on its important night work. Balanced healthy skin needs nothing more than cleansing and toning before bed. Dr. Hauschka Rhythmic Night Conditioner is a water-based formula infused with rose essential oil and dynamic plant extracts that supports renewal and balances oil production. Use it for 28 days, mirroring and supporting the skin's natural cycle of regeneration to encourage a return to a healthy, balanced complexion.
2. Like treats like.
Read More