Remember the preview Spring 2011 collection by Shiseido? Lets take a look at the promo photos of Spring collection, new foundation and powder and ever Summer collection.
Rachel Zimmerman is wearing the new Shimmering Rouge in RS308 Iron Maiden
As you already know there will be the new lipstick line Shimmering Rouge which is similar to Perfect Rouge but with shimmer and there will be 2 types of shimmering pigment:
Besides the shade that Rachel is wearing on the promo photo there will be 12 more shades:
RD601 Golden dragon, BE702 Alabaster, BE303 Ingenue, BR304 Grace, OR405 Sizzle, RD406 Desire.
PK407 Stiletto, RD709 Lounge, RS310 Brocade, PK311 Pink Champagne, RS312 Iced Rose, RD713 Discretion.
There will be 3 new Shiseido Luminizing Satin Eye Color Trio for Spring. The purple trio is inspired by the forest flowers, the yellow one – by Earth and sun, the blue one by the photo Dick Page took in London. Now how beautiful they are?
There will be also a new Perfect Refining Foundation which should stay on for 15 hours and the mattifying pressed powder.
Read More
The holiday magazine is finally here! It is  full of holiday presents and if you do your  holiday shopping in the last minute just like me you will find it very helpful I hope!
I would love to thank the amazing people who helped me with it:
Nonie Creme, Creative Director of  butter LONDON and Alexandra for their time and interview.
Nadin, Ruth, Zu and Lynnette, the lovely ladies from the Beauty Insiders section.
All the wonderful beauty bloggers for being a part of this project, I really appreciate it.
My dear friend BritishBeautyBlogger for helping me with the editing the final version of my text!
I would also like to thank Thijs, Jessica and Mary.
"The Holidays are almost here! We've already started decorating our homes and offices and of course, tackling the shopping. One of the best things about the Holidays is choosing beautiful gifts for friends and family (and finding a gorgeous palette or two for ourselves to celebrate our achievements!). There are so many amazing deals, value sets and gifts-with-purchase making it easy to get lost with the variety and choice, but we've made it easy for you. Follow our gift guide to help you choose the best beauty presents for your loved ones, picked out by beauty industry insiders and beauty bloggers.
You want a truly special party look? Why not
Read More
I think this is the most beautiful makeup video I have seen in a long time! Well done, Dior and Tyen!
Now this makes me want some makeup, Dior in particular, but guess what?! This week I got an early Christmas present and it was Dior's lip palette from their holiday collection. Just take a look at how beautiful it is!
Read More
If you are a fan of Megan Fox you will be happy to see her first seasonal  beauty campaign for the Girgio Armani cosmetics. Let me remind you that she was already the face of Eyes to Kill mascara.
The new collection is called Transluminence. Linda Cantello, Armani's Creative Director says that she was inspired by the colours of spring for this collection: lights cheeks and lips and purple, blue, green and silver eyes.
Collection includes:
Eye shadows palette with Iris purple, jungle green, melting snow and carbon black.
Giorgio Armani Sheer Blush in pale pink
Translucent pale pink powder
Waterproof eyeliners in Classic Black # 1, Modern Brown #2, Grass Green # 3
Luxury Lip balms in # 518 Dawn Pink, Petal Pink # 503, Early Morning Rose #508
Here is the photo of the products
Read More
I have to say that I absolutely love the promo images of the 2 new MAC collections. They are so beautiful and inspiring!
The first one is totally glamorous from the Stylishly Yours collection with the hot red lips, beautiful liner and pink eye shadows. I like it. Like it a lot! I would just use the other blusher but I still love this look so much…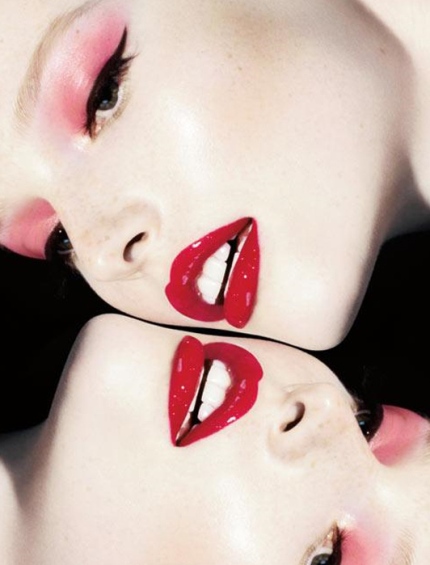 The other look is from the Peacocky collection. It is a
Read More