There have been so many amazing posts about Spring 2011 that I've decided to mention them all in this post.
Guerlain Spring 2011 , photos above from the same source
Benefit Bella Bamba, new boxed powder
Paul & Joe and Nails Inc Collections  for  Spring 2011
Photos (not promo) of Lancome's  Spring 2011 collection
Shiseido  new lipsticks and
Read More
If you haven't seen it yet – here is the Spring 2011 makeup collection by Yves Saint Laurent called Boheme Libertine, created by Lloyd Simmonds.
I am also happy to see the model from the holiday 2010.
I really love the highlighter, blush and lipstick the model  is wearing. The eye makeup is nice but not for every day plus pink is probably the only colour that doesn't look nice on me. I believe the model is also wearing the new taupe nail polish from the new French Couture dou.
The range looks like this. Fresh and bright shades for spring are always welcomed!
The star product of the collection is the highlighting powder called Pink Celebration.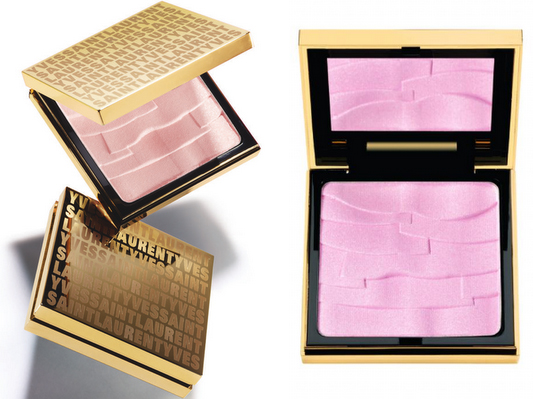 There will be also 8 new shades of Rouge Pur Couture lipsticks
Read More
I am happy to tell you about the new Rouge Bunny Rouge collection which is called  Unassailable Loveliness. This collection includes 4 products:
aromatic, rich Make-up Melt Cleanser;
Mattifying Primer for a velvet, matte, suede glow;
Brightening Liner Duo to wake-up your eyes;
and Naiad blossom-inspired Glide Concealer.
Don't you just like this promo photo with the fresh "no makeup" look?
This is how the products look like:
1. I actually already reviewed this new Glide Concealer (£22.50) and you can read my review with swatches here.
2. Brightening Liner Duo with its sheer pearlescent, milky white, highlighting and soft and luxurious rose hues shades sounds like a great products to make you look fresh and rested in several minutes.
But I am actually really interested in other 2 products which are
Read More
Illamasqua nail varnishes are probably the best ones out there! So I am happy to tell you that they are now available in 2 nice sets which let you save £6.
The sets are:
Untold & Ruthless
Harsh & DWS
RRP £20, saving £6
And here is something that I would really love to get , their LE false lashes
Opulence, Vintage Gold Diamante
Decadence, Antique Silver Diamante
There is also a brush Roll with 5 brushes for £95 and Nail Quills for £35, False Eye Lashes No.26 for £17.50 and gift set which includes: False Eye Lashes No.18, Precision Ink in Abyss, Pure Pigment in Android and Liquid Metal in Surge for £50.
Anything you like?
Read More
Orly Tis the Season holiday collection with 2 creme and 4 shimmery nail polishes is already available.
Collection includes:
Candy Cane Lane, red creme
Glitz & Glamour, gold shimmer
Naughty or Nice, deep purple creme
Rockin' Rockette, burgundy with gold shimmer
Winter Wonderland, silver glitter
Meet Me Under The Mistetoe, emerald shimmer
A lot of nail polish blogs have swatches of this collection already
Read More