As you all know I am writing about my favourite blogs each month. This month  is the final post about the blogs from America. So here are some blogs that I think are worth  your attention!
The Beauty Look Book
Since Sabrina never posts photos of herself here is the photo from her blog that I like a lot!
You can read more about Sabrina here
This was the love from the first sight
I liked this blog from the very first time I saw it and now I am checking out all the new posts because they all are amazing! Here are some reasons why you may like The Beauty Look Book.
There are a lot of swatches and photos of different high end brands.
You'd love this blog if you  want to find out more information about such brands as: Edward Bess, Chantecaille, Paul and Joe, Le Metier de Beaute, Dolce and Gabbana .
One of my favourite feature at the blog is swatch comparison. And no other blogger does it as good as Sabrina does.
There are a lot of posts about Chanel and I am very happy about that.
Im sure you'd find the "Colour Focus" and "Looks"  posts very useful.
Anyway , I could tell you a lot more but you better see everything  yourself at The Beauty Look Book.  This blog is in my personal top 10 of beauty blogs.
Want to know what other blogs I like?
Read More
The face for spring is polished, with pearlized contrasts. Eyes are soft in pale metallics with neutral browns while lips have a velvet finish accented with a glossy shine. The key is intermingling textures in matte and shine, flat and metallic.
Laura Mercier Lip Shine, $22
Laura Mercier Lip Shine adds a touch of polish to lips with a lightweight, pearlescent gloss finish. Shea butter and vitamin E moisturize lips without being too heavy or greasy. The delicate color blends easily, leaving a polished finish.
Laura Mercier Radiant Creme Color, $35
Laura Mercier Radiant Creme Color accentuates the high points of the face with touches of soft, radiant opalescence and adds warmth to the cheeks with blendable creme color. The multi-shade compact allows for buildable, customized intensity to create a natural flush on a range of skin tones.
Laura Mercier 'Satin' Lip Color , $22
Laura Mercier Satin Lip Color is the first semi-matte lipstick to combine long wear and comfort in a non-drying formula. Lips go from satiny to matte within minutes with Softisan®, a lightweight, 'elastic' seal that perfectly adheres to lips to set and lock in highly pigmented color and moisture without feathering. Wild mango butter intensely hydrates lips while Volulips™ and Laura Mercier's exclusive Lip Color Complex plump, soothe and condition lips. One swipe of Satin Lip Color leaves lips feeling incredibly soft with medium to full coverage in a satiny finish.
Cherrywood
Currant
Duchess Rose
Sangria
Laura Mercier Sateen Eye Color Duo, $22
Laura Mercier Sateen Eye Color Duo immediately releases intense luminous color with superior blending in two complementary shades. The creamy powder texture provides distinctive full color and unique blendability. Long-wearing and crease-resistant, the non-dusting formula can be applied sheer or layered for additional coverage.
Laura Mercier Luster Eye Color Duo , $22
Laura Mercier Luster Eye Color Duo offers two flattering shades of pure, dynamic iridescence with a sophisticated frost finish. With superior extended wear, colors will not crease and look freshly applied throughout the day.
Laura Mercier Matte Eye Color Duo , $22
Read More
I hope that you all already know that I like makeup by Inglot and I am surprised why there are very few reviews about this brand. So here is the preview of their Spring 2010  makeup collection which Inglot showed us using their twitter. What do you think? Would you give this brand a try?
Read More
I promised to write some reviews about my favourite products. So today I will write the review of my favourite lip gloss! And it's Levres Scintillantes Glossimer by Chanel. Althougth I like Aqualumieres I like Glossimers better. I already made a post about Glossimers but here is the detailed review and lip swatches of one of my favourite shades – Mica. I've chosen Mica because this shade will look perfect on every woman!
This how the gloss looks like in real life + packaging. I say it's absolutely gorgeous!
This is what Chanel writes about the gloss:
"A long-lasting, ultra-gloss look; intense colours and a perfect finish. The gel texture, fluid yet substantial, is easy to apply, giving a perfectly even finish. The smooth formula keeps your lips comfortable.
A gelling agent of mineral origin supplies fluidity and body. Esters ensure glide-on application and optimum evenness of the gloss. They provide smoothness and emollience. Syrupy organic polymers contribute to the lasting quality of the gloss. Contents : 5.5 g."
As I already said this is my favourite gloss. Everything is perfect in it!
The design is absolutely amazing.
It really moisturizes your lips.
It stays on for a very long time.
It is perfect for every season because it protects your lips even better than some lip balms.
Glossimer has a perfect  formula and finish and I love how it looks and feels on the lips.
It is very easy to apply this gloss (it has an applicator while Aqualumiere has a brush).
Unlike some glosses that look terrible on your lips when they are dry this gloss doesn't have such effect. Moreover it helps you in this situation and makes your lips soft and smooth.
This is the swatch on the hand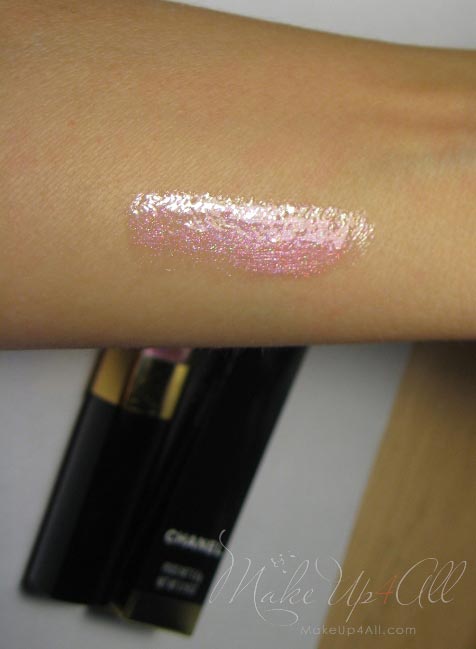 Swatch on lips. What do you think?
Read More
How did you celebrate the holidays? How is your mood? I had a great time and am very optimistic about the new year!
I've noticed that a lot of people are making posts about their beauty and not only resolutions for the new 2010.
I've made mine a long time ago in a notebook (it seems that I have notebooks just for everything). A lot of my plans are too personal to share them here but  I can tell you some of them:
I plan to travel more and I already made the list of the countries that I want to visit.
I also plan to make some repair works at my place.
I will visit some doctors (I already visited one) to be sure about my health.
I am thinking about learning one more language.
I really should learn how to edit the photos in a better way but I am so lazy when it comes to this.
Read More