When I was a teenager for me makeup was black  or dark brown eyeliner mostly, lol.  Luckily, as time passed, I've realized that I was wrong. Now I know that it's very important to have a perfect skin tone and groomed brows.
I was blonde until I turned 5 or even 6 ( my Dad has the lightest  blonde hair tone, and yes, a  lot of women  are jealous that they have to pay a fortune to get something that man has from nature) but then my hair turned darker.
I've experemented with my hair a lot when I was a teenager (what about you?) but one thing was always the same… My brows.
Although my hair got darker my brows are still light. So brow pencil is an essential for me!
And here is the brow pencil that I currently love: Korres Eyebrow Pencil in Medium Shade.
I got mine for £ 8.00 at zuneta.com And it is described as: 
Read More
I hope that you all liked yesterday's post about summer makeup because today we are going to have a post about summer skincare
Hair
How to take care of your hair in summer – 15 useful tips.
Looking for an after sun shampoo? – try this one.
How to choose sun glasses - article.
Face
When it's so hot, thermal spray is just what you need. You can try Vichy or Avene
Body
Treat your body with a cooling shower gel.
Body scrub with the
Read More
Hi girls!
Summer is here and I hope those of you who love summer enjoy it. I am not really a fan of summer because most of all I hate the heat!
Here are some products* that I've tried and that I think work great for summer.
Be sure that your makeup is waterproof so you don't end up looking like this
Face
Add a sun-kissed glow to your face with Too Faced bronzers.
My favourite cream blush, true coral shade by Illamasqua, works perfect in summer heat.
Eyes
Want to create bright vibrant eye makeup for summer? Everything is possible with Inglot shadows.
Be sure to use cream eye shadows that don't smudge or crease, something like Benefit's crealseless cream eye shadows.
If you are going to the pool and to the beach and like to use makeup – use only waterproof products, something like
Read More
Benefit has some new products : lip glosses, PRO balm to minimize the appearance of pores,false lashes and new perfumes. The new perfumes look really cute as most of Benefit's products do, so I am going to tell you about them.
lashes are $18
Each is $36 and is 30.0 mL / 1.0 US fl. oz.
So Hooked On Carmella
floral vanilla – exquisitely feminine
Product details
top notes: lemon, grapefruit, rhubarb
middle notes: cyclamen, peony, tiare flower
bottom notes: vanilla, sandalwood, amber
Lookin' To Rock Rita
fruity green – exhilarating & stylish
Product details
top notes: lemon, coconut, freesia
middle notes: juicy fig, hyacinth, violet
bottom notes: sandalwood,
Read More
This week I got some products  from a blog sale so when I was going to work one morning and thinking what should I write about (with the goodies inside my bag) than I  suddenly realized that I should make a post about the blog sales.
I can't say that I am a very experienced blog sales buyer but lately I do enjoy spending my hard earned money on makeup of blog sales.
So here are some of my thoughts!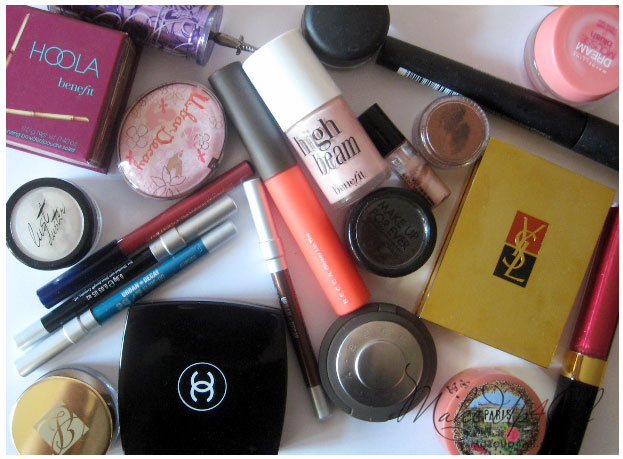 What I Like About Blog Sales
You can be sure that you won't get fooled because a blogger really cares about his/her reputation. Well, this works only if you are sure about the blogger, but I never had any problems or bad experience.
Blog sale doesn't mean that you get only used items or some kind of rubbish.
You can try so many new things without being broke.
Bloggers usually put some extra goodies if you buy lot of things from a blog sale.
You can also find some LE products that are impossible to find elsewhere.
What I Don't Like About Blog Sales
You don't have time to think what you really need/want because others will get it faster so often you find yourself with items that you don't want/need.
I personally never got all the items that I wanted, someone always got them before me which is really frustrating.
Most items are
Read More