As you may remember, Illamasqua has launched the brand new product which is called Cream Pigment and you can read about it here.
There are 6 shades in general and I was given 3 of them to try out. I have Emerge, Mould and Dab. So here is what Illamasqua says about them and my opinion.
First of all I have to say that I like the idea that you can use these on eyes/lips/cheeks/face/body- whatever you can think of and whatever suits you.
I  also like what Alex Box said about these: "I don't think we have ever created a product that is as hard working as Cream Pigment. They can correct or enhance, disguise or reveal. I am obsessed with their versatility; blush, lips, eyes, contouring … they are absolutely my favourite product right now. Super-blendable, they can be pressed and blended into skin or slicked on for graphic shapes. Education is key with the pigments. Once you have learnt how to master them, you can control their impact."
So here we go:
Emerge (peach) – "This peach brightens under eye shadows and is beautiful as a highlighter on olive – darker skintones. It's also a very flattering blusher on paler skin tones."
Unfortunately, it doesn't work for me as an under  eye concealer as I find the texture  heavy for my taste and it looks too obvious on myself. As for the lipstick – I wouldn't wear it on it's own as it looks like concealer on me but it's great to mix with other shades to make them lighter! I like to use this as a blusher as it looks very pretty on my skin tone,  really suitable for Spring – fresh and peachy.
I was interested in how it is compared with Rude ( I L-O-V-E Rude, definitely, a must have from the brand) so here you go. If I had to choose between both – I'd go for Rude as I love the shade, texture, blend-ability, well, everything about it.
Dab (lilac) – "This
Read More
I absolutely love this ArtDeco collection and would like to get quite a few products for myself (if not all of them). I love the turquoise, cobalt, green, gold and borze shades. Perfection!
Collection includes:
Bronzing Powder Compact ART DESIGN 11
Water-repellant bronzing powder with SPF 15
Sun Glow Bronzing
Sunset Bronzing
Travel Kabuki
Kabuki brush for Bronzing Powder Compact SPF 15 as a travel size
Beauty Box Trio "Aqua Glow Bronzing"
Magnetic box for eyeshadows/blusher in limited design
Beauty Box Duo "Aqua Glow Bronzing"
Magnetic box for eyeshadows in limited design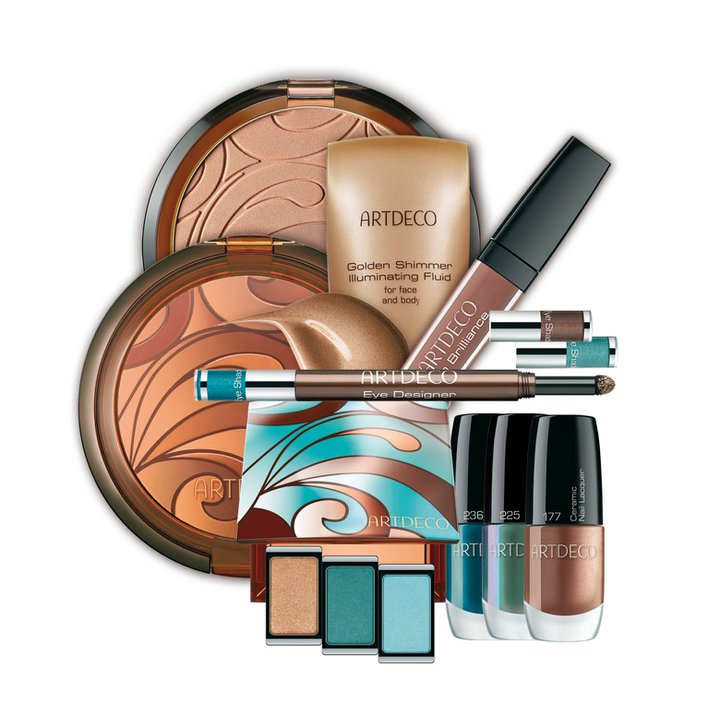 Eyeshadows – duocrome (powder eye shadows in iridescent duocrome colours) and pearl(powder eyeshadows in shimmery pearl shades)
12 Chocolate Cake
25 Beach
57 Tropical
Read More
Spring is here and it's time to for a "springs shades" of manicure. So here is the Precious collection by Orly with 6 brand new shades for you to enjoy.
Sapphire Silk: Deep Teal Crème
Fancy Fuchsia: Pink Crème
Gilded Coral: Coral Gold Shimmer
Royal Velvet: Purple Blue Shimmer
Pure Porcelain: Beige Crème
Ancient Jade: Green Crème
So which one do you like? What is your favourite shade for Spring?
Read More
My lips are very dry and in winter they are usually in horrible condition as I sometimes forget to put the lip balm on and even if I do, sometimes it is not effective enough.
It was my Birthday on the 6th of March and I really wanted to wear a dark matte lipstick which is a disaster when  your lips are not in perfect condition, as you can imagine.
This is why I was excited to try  Kiss Elixir lip balm by Rouge Bunny Rouge.
To tell the truth I wasn't expecting any miracles. But I was more than happy to see one! My dry, chapped and sometimes even bleeding lips became smooth, soft and, well, perfect. I could not believe my eyes. I could apply the dark matte lipstick and it look great, can you imagine?
How does it work?
It contains
Read More
You already know about the new Gelee d'Inerdit by Givenchy, so here are all the details.
This is what Givenchy says about the new product:
"For the first time, a Givenchy gloss is formulated without wax. The jelly texture is non sticky, melts on the lips upon application and provides a balm-like cocoon sensation of extreme comfort.
An immediate plumping result: thanks to the hyaluronic acid micro-spheres, the lips become immediately smoother and get a plumper effect.
A long term smoothing and skincare action: a vegetal extract revitalizes and smoothes immediately the lips. A large range of playful and lively shades with numerous effects: sparkling, icy, pearly…"
There are 13 shades:
Tempting Rouge n°1
Celestial Black n°2
Transparent Shine n°3
Vibrant Fuchsia n°4
Explosive
Read More