Have you ever heard of a scented nail polish? Have you tried it? Looks like more and more brands are bringing us this  product!
Revlon will launch the collection of scented nail polishes in Spring (they are already available in the US I believe) and now I came across this collection.
I've spotted this set at Nordstorm for $12
Have you tried a scented nail polish? Did you like it? What are your thoughts about this idea anyway? Do you believe it can acually be a nice scent?
I would really love to try such  nail polish to see for myself but if you already did –  please share your experience with us.
Read More
Get ready for the holidays with the new Sleek Sparkle i-Divine palette. It is a "palette of 12 glitter-laced velvety-smooth eye shadows. "
I think it's a great and affordable palette for Christmas and I think it's nice to get it, I am still upset that I've missed the Circus one. And what are your thoughts?
I hope that you remember my post about Elemis holiday 2010 gift sets. So here is the  Skin Brilliance set which includes:
Rehydrating Rosepetal Cleanser 200ml
Soothing Apricot Toner 200ml
Maximum Replenish Night Cream 50ml
Maximum Moisture Day Cream 20ml
This is how amazing the set looks like! You don't have to think about the box and how to wrap it, really every woman would be happy to get such set, it looks beautiful!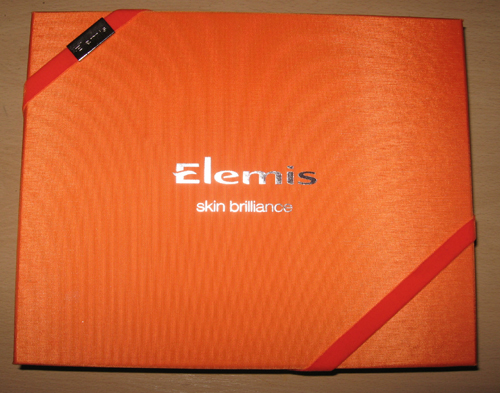 And this is how it looks like inside and my thoughts.
I've been using these products for some time now and  I really like the condition of my skin. It's a pleasure to use all the products and I am happy with the results. I won't get into details because everyone has a different skin type and skin needs but here are just some general thougts:
Read More
Although plum and burgundy are the hottest lip colours this season red lip is often associated with the holidays! And you will always look classy and fabulous with red lipstick!
I've found this quote of Gwyneth Paltrow and I thought I'd share with you: "Beauty, to me, is about being comfortable in your own skin. That, or a kick-ass red lipstick."
So how do you wear your red? Do you like sheer and sparkling red gloss?
Or maybe  hot and glossy red lipstick?
Fan of vintage glamour? Then you go for classy matte red lips!
I believe that every girl can find a perfect red for herself but no matter what kind of red you've chosen there are some tips that will help everyone:
1.Exfoliate and Moisturize
Make sure that your lips are moisturized (you can use a lip scrub before moisturizing, something like  Sara Happ) and not dry so that the lipstick glides on and doesn't emphasize the dry parts. What girl doesn't like a beautiful lip balm especially the one that smells like strawberry and comes in a beautiful vintage package? Like this one I've got for myself from Rose & Co for £4.99 from Boots.
I just had to show it
2. The Lipstick
I guess we all know how to use a lip gloss, but what about the lipstick? There are so many ways to do it! You can use it straight from the  tube, use it with a brush or apply it with your fingers over the lip balm for a more natural and sheer effect.
This is how I like to use a red lipstick. I usually go for a
Read More
Today after work I got myself a new storage for makeup (at last) and some of these beauties. Lots of glitter and  strass, I can't wait to create some looks with them and already see these beautiful pictures in my head.
And tomorrow I am going to do the look for the most gorgeous girl ever, can't wait. Maybe one day I will show you my work;)
Obviously the glitter and strass are not for everyday looks, just for fun shoots for the holiday. And the weather here really makes me think about the holidays. I've already posted this photo on twitter but here is for the rest of you. And what is the weather like where you live?
I know that a lot of people
Read More