Hi girls, here are some posts that I loved reading this week:
Chanel Reviera is sold out and you couldn't buy it? The Beauty Look Book knows the dupes.
Things that you need to know about sun damage – Mischo Beauty, She also celebrates 3rd year of blogging this month
Blog Sale at Cosmetics Candy, there are still some items left!
Karen swatches Essie Summer 2010 Collection – Makeup and Beauty Blog
Monika shares her outfit and face of the day – Rocaille Writes
Makeup Morsels reviews Ellis Faas makeup.
By the way, do you watch World Cup? And have you seen this Nike video? The best video ever!!!
I love football since I am a teenager
Read More
I know that we all love to buy makeup and beauty things. I am always curious what products people get for themselves. So here are the last 10 products that I got for myself and some of them are not even here yet!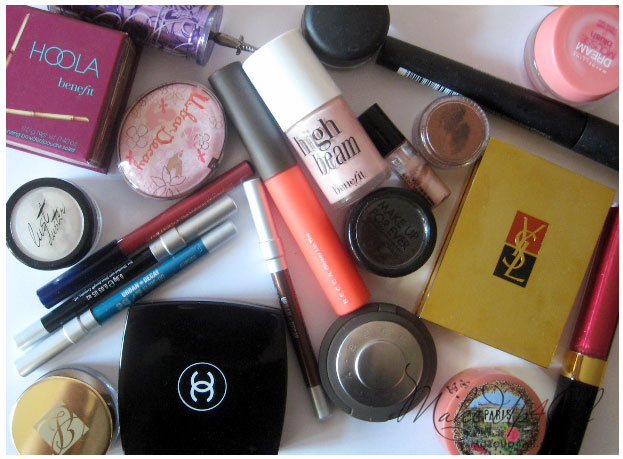 This is not really the photo of those things but you can see Frappe lip tint by Becca and Shiseido Lip Pencil.
Becca Glossy Lip Tint in Caipirinha
Becca Glossy Lip Tint in Frappe
Becca Jewel Dust Pigment in Asrai
Illamasqua Nail Polish in Alarm
Shiseido Eye Pencil in Moonscape
Shiseido Lip Liner Pencil
Read More
I already made a preview of 5 black eye shadows that I like and NARS Single Eye Shadow in Night Clubbing was one of them.
I have to say that NARS eye shadows are one of the best shadows on the market and it is not only my opinion!
Why is it like that? Well, the answer is very simple, they are perfect!
What do I mean?! Here are only some reasons why you may like NARS shadows:
They come in a great package, nice simple logo and an elegant black design.
The pigmintation of the product is amazing, you need only a tiny amount of it.
The shadows don't smudge, crease or "magically disappear" from your lids.
Great variety of colours and  a lot of them are unique, I personally really like the shadows from "Night Serie".
It is a pleasure to work this these shadows: they are soft and it's not a problem to blend them. You can also layer the shadows for more intense look.
Honesly, I could go on and on because I can see only good things in this product.
And here is the Night Clubbing swatched.
Read More
You know, I think that anything that features CATS will have a huge success. I just wrote about the cat lipstick by Paul & Joe and look what we have here. Promo photos and preliminary information about MAC Cosmetics "cat collection" Fabulous Felines which should be available in September.
I hope that they will put some cute kittens on the package and you know what, I am sold. Also I am sure that there are millions of women like me in the World.
"This years fall colour story feautures soft, subtle coordinating tones in 3 colour waves. One in greyed-down tones of blues and purple/lavender, another pulls in more honey and amber tones, and the third goes deep and smokey with a grenish cast. A coordinating trend bag will be featured with each collection, fabulous feline introduces Superslick Liquid Eyeliner in 9 shades. "
Collection will be divided into 3 parts:
Palace Pedigreed
Palace Pedigreed Eye Shadow Quad, $36
Courtly Life, frosted muted light pink beige (S)
Palace Pedigreed, deep berry with dark soft pink pearl (S)
Quite Spoiled, midtone neutral mauve (S)
Russian Blue, deep neutral grey (M)
Superslick Liquid Eyeliner
Superslick liquid eyeliner is an innovative dip liquid liner with intense colour payoff and a high level of coverage and allows for quick and precise application. The flexible flocked "magic tip" of the applicator is extremely easy to control. Let your eyes sparkle with this supr shiny, super long-wear and water-resistant eyeliner
Nocturnal, bright silver pearl
Smoky Noir, dark blue violet with soft pearl
Signature Blue, dark navy with soft pearl
Pigment, $19.5
Mauvement
Bloodline, dark dirty browned purple
Plushblack Mascara, $13
Lipstick, $14
Superior, sheer lavender pink with dazzle pink pearl ( new finish? Dazzle)
Of Royalty, light creamy blue pink (CS)
Aristo -Cat, midtone frosted purple mauve (F)
No name available so far, dark berry
Lipglass, $14
Docile ,dirty lavender with pearl
Best of Breed , light dirty blue with pearl
Lap of Luxury, dark eggplant with pearl
Cremestick Liner
Mineralize Blush
Pet Me, light yellow pink with soft pearl
Leopard Luxe
Leopard luxe Eye shadow Quad, $36
Wild By Nature, mid-tone camel (M)
Style Predator, frosted midtone yellow orange (VP)
Notoriety
Furiously Fabulous, frosted warm black (VP)
Superslick Liquid Eyeliner
Pure Snow, bright yellow gold pearl
For Glamour, mid-tone grey with soft pearl
On the Hunt, true black
Plushlash Mascara, $13
Lipstick, $14
Name not available yet, light yellow (G)
Drive Me Wild, mid-tone warm coral with gold pearl (CS)
Powerful,
Read More
When I saw this new lipstick by Paul & Joe I was speechless. I LOVE cats so this is something that I need in my life, although I may just get it as a souvenir  because I am a bit scared to use a cat lipstick. But , isn't it just amazing! Really, how many times have you seen something like this?
There will be 3 Lipsticks C :
66 Pink Beige
67 Pearl Orange
68 Exotic Pink.
Also there will be three most beautiful palettes.
68 Paper Moon
67 Silver Moon (not
Read More