Before the holidays I won this amazing set from the Bare Escentuals  via their twitter.
It is called Sweet Sparklers and includes:
Mini 100% Natural Lipcolor in Sherbet (baby pink)
Mini 100% Natural Lipcolor in Rose Crepe (blush rose)
Mini 100% Natural Lipgloss in Pink Prosecco (blushing effervescence)
Mini 100% Natural Lipgloss in Kir Royale (twinkling sheer plum)
First of all I have to say that it looks so cute and pretty, absolutely love it!
I haven't tried the lipsticks yet so I can't tell you my opinion about them yet but the colours look so lovely that I am almost sure that I am going to love them both.
As for the glosses – I
Read More
I am looking through all the Spring 2011 makeup collections (I can't wait to see the one from BECCA ) and am trying to make some conclusions and the wish list.
To tell the truth, I can't say that I am super excited about all the collections, although there are quite a few products that I am interested in: new Dior Addict lipsticks, Chanel Coco Rouge Shine, new Shiseido lipsticks, Guerlain pink lipsrick , YSL blushes, No 7 pretty much everything (but I already bought several things, will write my impression later), Hourglass Aura collection, Too Faced  Romantic Eye palette ( I really want this one) and I would really love some nail polishes.
Basically that is it. But I
Read More
I like almost any kind of lipstick/lip gloss but I have to admit that I am not the biggest fan of the brown(ish) lip colours.  But I do actually have several brown lip products which look ok on me but I still don't like them.
I've got this Lancome Color Fever lipstick in one of their combined sets. It is hard to find most Color Fever  lipsticks now as most of them have been sold out but I just checked out Lancome's website and this particular shade is still available.
This  is a brownish lipstick  with shiny particles. It is not bad, really. But I'd rather wear a pale pink.
As for the lipstick itself, I love it. I like how it feels on the lips, it stays on for some time, doesn't fade soon and is not too drying as some lipsticks.  Moreover, I have several Lancome lipsticks and I like them all.
Read More
I really like this 70's inspired Ultra Lavande Spring 2011 makeup collection by Aaron de Mey for Lancome.
I absolutely love the blush and the pastel pink and lavender lip glosses. I also love the lavender mascara  and the glitter lavender top coat sounds interesting.  I'd love love myself a purple eye khol and nail polish…
To tell the truth I love everything in this collection.Well done, Aaron!
By the way, it is Julia Restoin Roitfeld on the promo photo.
Butterflies Fever Blush,£32.50/$40
Ombre Magnetique, £23.50/$25

Disco Gold
Disco Silver
Ultra-Lavande
Color Fever Gloss, £18/$26
Beige Ballerine
Lavander Ballerine
Rose Ballerine
Le French Touch Absolu, £23.50/$35
Read More
I've been really impressed by the Hourglass products lately but most of all I've been impressed with their eye shadows. They are, without  a doubt, one of the best eye shadows that I have ever tried.
I am almost sure that I took the photos of the palette before I've started using it but unfortunately I can't find them anywhere. So I am sorry that my eye shadows are a bit messy, I've been using them a lot and I also managed to drop them, which was horrible. But I am very impressed tat they didn't fall apart completely as most eye shadows would.
First of all take a look at the gorgeous design, you can actually tell that it is a luxurious product. The colour of the package is beautiful plus it has a mirror and a 360° swivel lid. The brush which comes with the palette is not a complete rubbish as most  similar brushes are.  It can be actually used if you don't have anything else around. I've used it myself and was  surprised that it's not bad at all!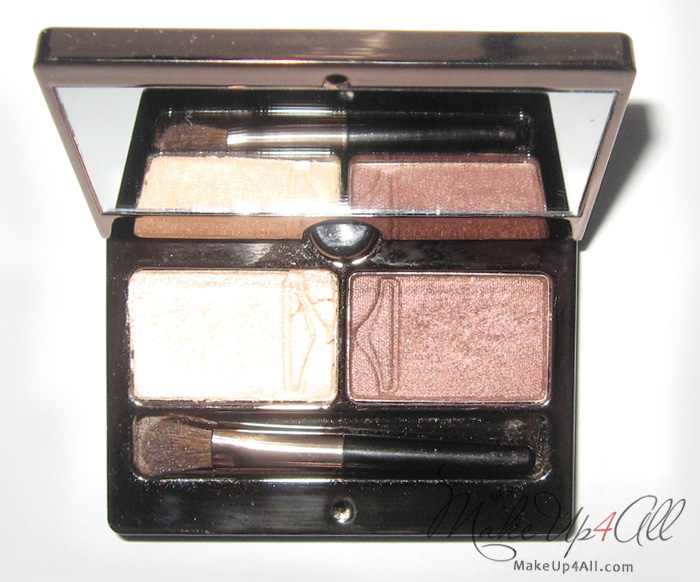 But most important.What about the eye shadows themselves?
Read More