So often you all ask me where to buy this or that beauty product so I got an idea. I plan to write a post about the on-line  beauty shops that I love and on-line shops where you can get brands that are quite hard to get. What do you think, do you like the idea?
You often ask me where you can get Make Up For Ever in Europe (it's not available in all countries). The answer is – Guru Makeup Emporium. I am not sure what countries they ship to and the price for that but you can e-mail them if you are interested. It's an on-line beauty shop from the UK and although I never got anything from them (yet) I heard some good reviews about their service!
They also have the newest lip gloss from Make Up For Ever called the Lab Shine.
There are 3 different formulas:
Make Up For Ever Diamond Labshine Gloss, £15.50
Ultra bright & ultra shiny lipgloss containing the diamond powders which impart a sparkling shine with a sheer coverage & natural effect. Use alone or to boost your lipstick. Pro tip: to maximise intensity add extra diamond powder.
D0 Diamond
D2 Amethyst
D4 Grenadine
D6 Magenta
D8 Baby Pink
D10 Fresh Pink
D12 Quartz Pink
D14 Indian Pink
D16 Beige
D18 Copper
D20 Tangerine
D22 Papaya
Make Up For Ever Star Labshine Gloss, £15.50
Ultra bright & ultra shiny lipgloss containing the star powders which impart a pearly shine with a medium coverage. Use alone or to boost your lipstick. Pro tip: to maximise intensity add extra star powder.
S0 Nude
S2 Light Beige
S4 Pink Beige
S6 Peach
S8 Ruby Red
S10 Caramel
S12 Praline
Read More
Besides the huge collection that I already wrote about Urban Decay has one more new product! Flavored Body Powder. Yummy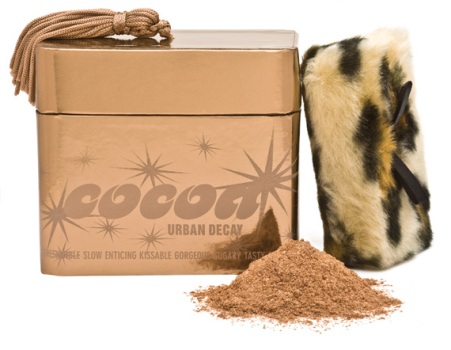 This is how it is described:

"Dust it on and let someone else kiss it away! Sweeten your look or give it a sexy kick by slipping on a seductive sheen. Try them all!.
Flavored Body Powders gives skin a long-lasting radiant glow. Dust on shoulders, face, or decolletage with Urban's signature leopard puff for glistening, soiree glamour. Makes a scrumptious gift for you, your man, or a friend. Powders are sparkly, scented and delicious, just try them and see. Mix and match for new flavors."
There are 3 different flavours:
Honey: smells, tastes, and attracts like…HONEY
Cocoa: a sinfully sweet glimmer, chocolate flavored
Marshmallow: a yummy sparkler, toasted marshmallow flavored
They all are  18g net wt. 0.63 oz, each is $26
Read More
I have special feelings for Lancome, I love this brand. This was the first luxury makeup brand that I got with my own money when I was a teenager :).And I still keep buying their new products!
I love this brand even more after Aaron de Mey joined it because he is simply amazing! Such a handsome and talanted man with a magnetic charisma.  I know some people who were lucky to work with him and they  say the best things about him.
I am  always excited to see new collections by Aaron so I was happy too see this sneak image of the new fall  2010 collection which is called French Coquettes and is based on dark and beautiful colours.
photo from biteki.com
There will be new glosses, lipsticks, nail polishes, shadows, rose face powder and many more. I can't wait to see all the details and let you know.
But so far I love the collection because for me visuals and the idea behind the collection is very important and I love this idea. And what about you? What Fall 2010 makeup collection do you like the best so far?
Read More
Here is something that I really want to get right now! An exclusive Sephora set by Laura Mercier. I love LM tinted moisturizers and this is an amazing value set.
Flawless Face Kit ($159 Value), $65
What it is:
A set of products designed for a professional-looking makeup application.
What it does:
Laura Mercier Flawless Face Kit combines all of the essential formulas and tools needed to create a flawless face into one convenient travel-size zippered case. Prime, moisturize, and cover up your way to complexion perfection. It's dermatologist-tested.
What you get:
1.0 oz Foundation Primer (Step 1)
1.0 oz Tinted Moisturizer (Step 2)
0.21 oz Undercover Pot Shade #3 (Step 3 and 4)
Secret Camouflage Brush
Camouflage Powder Brush
Velour Puff
Egg-shaped Sponge
What a great deal!
Read More
Yesterday I made a post about Burberry Beauty. Colours were inspired by Britain's stormy skies and gently glowing sun, and textures that reflect the lightweight protection of the brand's iconic trench coat, Burberry Beauty is designed to let your own effortless elegance shine through.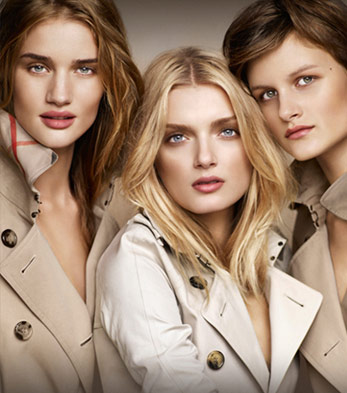 Here are some more promo photos and video with the review
Read More