I love MAC lipsticks! I love almost all finishes and am happy to hear that the new finish called Dazzle is already available!
It is described as:
"High-shine lip color meets triple-drama sparkle and shine when multi sizes of pearl pigments team up with rich, creamy color to create a superb glam-rock effect for the lips. Layerable. Long-wearing. Hydrating for smooth application."
I wonder what they mean by sparkle and pearl pigments, I hope not big pearls that feel like sand on your lips.
So far 13 shades are available
Read More
I re-discoverd my love for Shiseido! When you have a lot of makeup sometimes it's easy to forget what you once loved.
But this month I've discovered some Shiseido products that I love and I got 2 eye pencils recently. Shiseido is an amazing brand with a talanted Creative Director Dick Page.
Here are some photos and information about their fall 2010 collection that I am eagerly looking forward to!
Collection includes
Automatic Fine Eyeliner: 2 shades
Lash Conditioning Primer
Perfect Mascara Defining Volume:  waterproof mascara in 2 shades
Perfect Rouge in:
PK331 Devine
RD732 Blush
BE333 Caramel
RD734 Roseate
BR735 Tawny
Natural Finish Cream Concealer
Pore Smoothing Corrector
Softening Makeup Primer SPF 20

Luminising Satin Eye Color Trio in:
GY901(blue tones)
OR302 (black/orange)
Read More
Take a look at Essie Fall 2010 collection which includes 4 shades:
Sew Psyched
Merino Cool
Limited Addiction
Little Brown Dress
I am over brown nail polishes now but I love the other 3 shades. Plus one can never have too many red nail polishes, right?
Read More
I saw this video about rainbow manicure  several weeks ago and I totally loved it. I wish I could be so accurate when I am using nail polish.
What a wonderful and interesting idea! Maybe I should ask my manicurist to create it for me because I certainly can't create this myself. Well, maybe on the left hand, but not on the right, that's for sure.
And what about you? Are you good at your own mani? Or do you visit salon every time? Would you like to see this rainbow on your nails?
Read More
You could already see some photos from Dior Fall 2010 makeup collection but here are more photos.
You know, when I think about makeup by Dior makeup the first thing I can think about is purple because often we see this shade in Dior's makeup collections (Just take a look at Dior Fall 2009 for e.g.).
This collection is also based on purple tones.
Here is the promo image of the collection: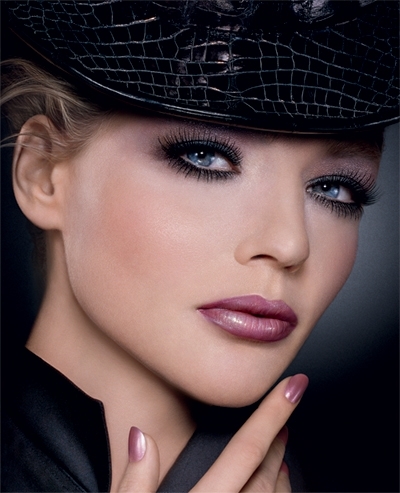 Collection includes:
2 Colors Edition Collector – this is a star product of the collection which is a product that includes black and silver shadows with Dior logo
# 5 Colors eyeshadow palette in 844 Misty Mauve
# 5 Colors Designer palette in 808 Pink Design
New shades of Sérum de Rouge
New shades of Dior Addict lipsticks
Read More