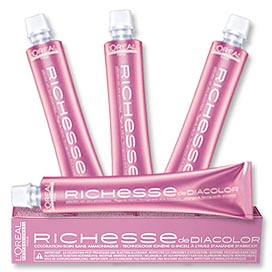 Hair was never the "best part of myself"  because it is thin and has no shine. I was always jealous when I saw girls with healthy shiny hair.  I knew that they did something with it!
I always visit L'Oreal Professionnel Salon because I like it a lot and I find most products amazing. All the girls that work there have the most amazing hair and it looks like from the promo photo of a hair product. You know what I am talking about : healthy and shiny hair, pure perfection! So several weeks ago I asked them what's the secret.
And their secret is
Read More
I was waiting to see the new duo eye shadows by Chanel when I first heard about them several months ago and finally we have the promo photos. You will be able to get a new mascara and 6 duo eye shadows in April.
Also don't forget to check out the  summer 2010 collection Les Pop Up De Chanel.
50 Berry- Rose
60 Khaki – Clair
40 Misty – Soft
Read More
Black eye shadow is a must have for every woman! Today I've picked up 5 shades by Lancome, Urban Decay and NARS. I will tell you my opinion(this is not a detailed review just several words) and will show you swatches. To find out more about the shadows and to get your own click on the image.
1)Color Design by Lancome in Statuesque, $17
I have 9 Lancome Color Design shadows and I like them all. I love almost everything that I have by Lancome (and I have a lot) and these shadows are also great. But you will need to use this shade several times to get a real intense colour.
2)Matte Eyeshadow by Urban Decay in Perversion, $17
Great matte shadow, intense and stays on for a long time. I love matte shadows by Urban Decay!
3) Deluxe Eyeshadow by Urban Decay in Zero, $18
It is worth getting this  eye shadow at least because of the design. All shades have different design and the products is amazing.
4) Eyeshadow by Urban Decay in Oil Slick, $17
Read More
I like Estee Lauder Bronze Goddess collections because they always look like a perfect collection for summer. Let me remind you the summer 2009 collection. I have good news for you. Summer 2010 collection is already available on-line. This year collection will be divided into 3 parts: Makeup, Skincare and Fragrance. Makeup Collection will be divided into 2 themes: Exotic Coral and Exotic Orchid. The model is wearing Exotic Coral but you can read how to create both looks at the EL website!
Makeup
Liquid Eye Shadow, $17
Molten Bronze Limited Edition
Sand Shimmer Limited Edition
Aqua Flash Limited Edition
Ultra Violet Limited Edition
Exotic Lip Gloss, $18
Wild Coral
Wild Orchid
Exotic Bronzing Blush, $35
Nail Lacquer, $18
Soft Shimmer Bronzer , $30
Luminous Liquid Bronzer, $28.5
Soft Matte Bronzer, $30
Soft Duo Bronzer, $30
Fragrance
Solid Perfume Pendant, $75.00
Body Oil Spray, $32
Solid Perfume Pendant , $75
Eau Fraîche Skinscent, $52
Luminous Body Lotion, $32
Skincare
Read More
I am always happy about the  new  Summer 2010 collection and I am always happy about the new Artdeco collections.  I really love this Safari Bronzing which is just perfect for summer!  Promo photos look amazing so I can't wait to check out those items myself! This collection includes:
Bronzing Powder Compact SPF 15,  € 20
Eye shadows each € 4,80
No. 225 Golden Sun
No. 228 Shiny Bronze
No. 229 Cedar Brown
I love these shadows and would love to get this set. You can read my review about Artdeco shadows here.
Blusher – €8,50
Beauty Box Trio Bronzing 2010 –€ 7,50
The limited edition beauty box in which you can  put blusher or eye shadows.
High Protection Lip Stylo – €10,80
with SPF 30, vitamin E and Macadamia oil
Read More