Yves Saint Laurent holiday collection is called Metallic Colorama and it's all about bronze, gold and silver colours! LLoyd Simmons (new YSL Creative Director) was inspired by  the YSL Clutch "Metallic Colorama".
The star product of the collection is Metallic Colorama Palette
Touche D'Or
Ombres Duolumieres
33 – Silver Grey/Golden Plum
Mascara Volume Effet Faux Cils
Golden Gloss
35 Golden Carat
36 Golden Chocolat
37 Golden Red
38 Golden
Read More
This is the best video that I've seen in a long time! As a person who studied arts and culture, supports alternative culture and  loves Illamasqua and makeup in general  I was very happy to see it!
Be sure to watch it to understand more about the development of the Illamasqua and makeup in general. I hope you will enjoy it as much as I did!  I will be very happy to hear your thoughts!
Read More
Now here is the item that I would love to get and it's a Step by Step Contour Kit by Smashbox.
Why do I want it?
"This kit has everything you need to get started. Includes shades to contour, bronze and highlight. In addition, receive a specially designed contour brush and an illustrated guide inside the compact that clings to your vanity mirror for easy reference."
It saves a lot of place in you makeup bag and you don't have to take powder for contouring, bronzer, highligher, brush and a mirror with you because it's all in one set! I also like that everything is matte so you don't end up shining like a disco ball.
I haven't seen it here yet but the price for US is $45 and it's already available.
Read More
This beautiful Tailleur Bar Set is a must have for collectors and those who love vintage design.
A limited-edition coffret set containing a hand-pressed eyeshadow palette embossed with Dior's iconic new look woman and Serum de Rouge shade. Each set is individually numbered and cased in a white pebbled couture box.
Get yours at Neiman Marcus for $90
Read More
This holiday Clinique offers a lot of value sets for different taste!
Pretty Day Into Night Set £38.00/$36
Keep it casual or glam it up. Either way, Clinique favorites you can bank on. Apply it all like a pro—set includes expert tips for AM/PM looks and a pretty pink makeup bag, too.
Set contains:
High Impact Mascara in Black (0.14 oz.).
Dual-ended Different Lipstick in A Different Grape/Long Last Glosswear SPF 15 in Bamboo Pink (.04 oz. each).
Cream Shaper for Eyes in Starry Plum (0.3 oz).
All About Eyes (0.5 oz.).
Compact featuring Color Surge Eye Shadow in Seashell Pink, Light Purple, Grey and Night Plum.
Blushing Blush Powder Blush in Iced Lotus and Smoldering Plum.
How-to booklet.
Double The Kisses £22.00/ $25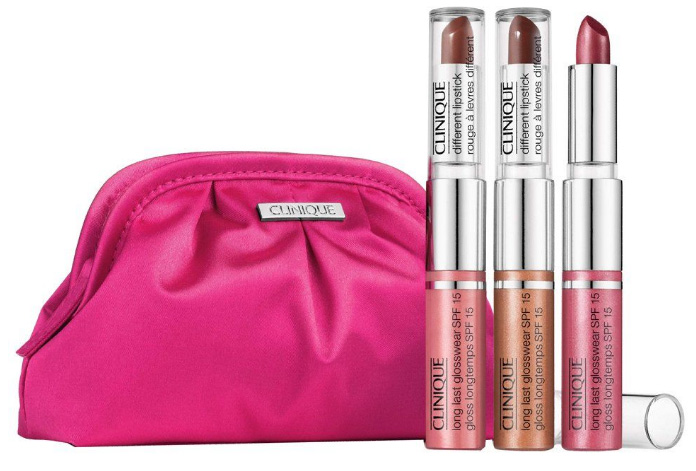 Different Lipstick Shade: Raspberry Glace .04 oz
Long Last Glosswear Shade: Kissyfit .15 fl. oz
Different Lipstick Shade: Double Fudge .04 oz
Long Last Glosswear Shade: Sunset .15 fl. oz
Different Lipstick Shade: Tenderheart .04 oz
Long Last Glosswear Shade: Air Kiss .15 fl. oz
Clinique Lip Cravings Makeup Gift Set, £20
Clinique Lip Cravings Makeup Gift Set is the perfect gift for all Clinique Lipstick lovers.
Packed in a convenient pink makeup bag, this set includes; Mini Long Last Lipstick- 2g, Mini High Impact Lip Colour- 2g, Mini High Impact Lip Colour- 2g and a Mini Different Lipstick- 2g.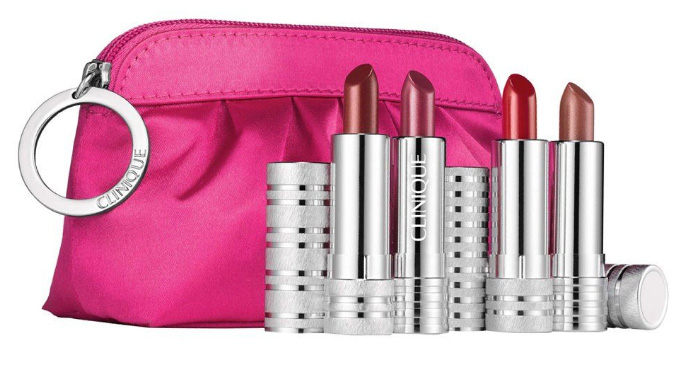 Clinique Best of Clinique – The Ultimate Clinique Makeup, Skincare and Fragrance Gift Set, £125.00
This set includes some of Clinique's bestselling must-have items including:
Read More