My beauty inspiration for this month is Cristina Scabbia.  And not only this month but in general! I absolutely love the way she looks and her style. Maybe because  we have a very similar taste in everything. For those who don't know – Cristina is a vocalist in Italian band Lacuna Coil  (I like several songs but am not a fan in genaral). It's also amazing that she is 38 years old and I would give her 30 top!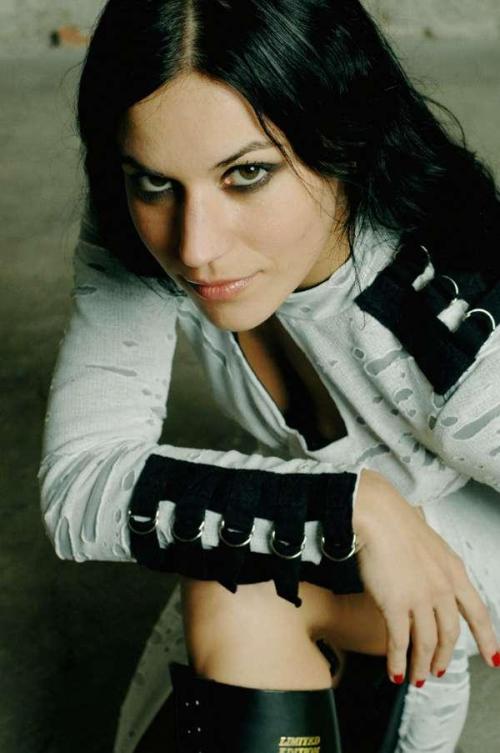 Beautiful cat eyes and red lips
Love the accent nail
More photos
Read More
Do you remember that NARS will have new trio eye shadows for holiday? Besides them and several new products (like lilac and purple lip glosses) there are  some value sets which are already available at Sephora.
Follow The Boys Lip Gloss Set ($48 Value), $40
4 x 0.14 oz Lip Gloss in
Moon Fleet (clear with silver and gold flecks),
Easy Lover (sheer hot pink),
Turkish Delight (pink sorbet),
Sweet Revenge (sheer pink grapefruit)
Orgasm Lust Lip and Cheek Set,$ 30
0.35 oz mini Highlighting/Bronzing Blush Duo in Orgasm/ Laguna (peachy-pink shimmer/ sheer light brown shimmer)
0.14 oz mini Lip Gloss in Super Orgasm (peachy pink with gold glitter)
Trouble Maker Eye Set ($89 Value), $60
Read More
I love multipurpose products especially with the beautiful design! And today I would like to tell you about one of them – Bunny Rouge Decadent Duos Joys and Desire. It is a liquid blush and a lip gloss 2-in-1. Mine  is in Rumba Cubana and I'd describe the colour as  a rosewood.
So you get a liquid blush  with a small brush on one side and a lip gloss  with an applicator on the other side.
I love liquid blushes and this one is amazing, it blends easily and is not patchy, it looks like your own blush. It is said that it's an oil-in-water emulsion with rose-water to provide a cooling and toning effect for your skin.
As for the lip gloss, it has a nice moisturizing texture which is not sticky at all. It contains a soothing blend of Lotus Flower Extract and  Mango Butter. Moreover, it's also an anti oxidant and anti ageing formula because of  Green Tea, and Gingko Biloba.
You should get this product if you:
Read More
Do you want to know what makeup trick I've been loving a lot these days? I love using eye pencil on the upper waterline. This trick makes a huge difference in your look!
All you need for this is a dark and soft eye pencil.Apply it on your upper water line, not on the lash line how you would usually apply the  liner but on the water line. I know that it's not the easiest and  not the most  pleasant thing to do but the results are worth it.
You can apply it on one eye and compare it with the other – you will be impressed!
So what's the point of doing it?
You lashes will look blacker and fuller and the eyes  will look more defined.
But, as I already said, make sure that you use a soft eye pencil that  glides easily. It's also nice to use a waterproof one that stays on for a long time.
Read More
If you are a girly girl, love pink and cute design, you're gonna love this new Victoria's Secret Radiant Face Trio which is available in 4 shades ($16). "Be a bombshell beauty. Unleash your inner glow with three radiant powders that combine to lighten and contour for a beautiful, illuminating effect."
Perfect Lipstick, $14 (available in 4 shades)
Read More