I saw this video about rainbow manicure  several weeks ago and I totally loved it. I wish I could be so accurate when I am using nail polish.
What a wonderful and interesting idea! Maybe I should ask my manicurist to create it for me because I certainly can't create this myself. Well, maybe on the left hand, but not on the right, that's for sure.
And what about you? Are you good at your own mani? Or do you visit salon every time? Would you like to see this rainbow on your nails?
Read More
You could already see some photos from Dior Fall 2010 makeup collection but here are more photos.
You know, when I think about makeup by Dior makeup the first thing I can think about is purple because often we see this shade in Dior's makeup collections (Just take a look at Dior Fall 2009 for e.g.).
This collection is also based on purple tones.
Here is the promo image of the collection: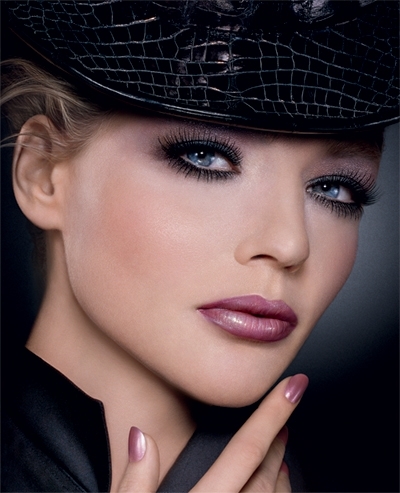 Collection includes:
2 Colors Edition Collector – this is a star product of the collection which is a product that includes black and silver shadows with Dior logo
# 5 Colors eyeshadow palette in 844 Misty Mauve
# 5 Colors Designer palette in 808 Pink Design
New shades of Sérum de Rouge
New shades of Dior Addict lipsticks
Read More
Check out the new Swiss collectiom by OPI for Fall 2010. Mostly reds, blues and metallic shades.
Collection includes:
I'm Suzi & I'm a Chocoholic
From A to Z-urich
Color So Hot it Berns
Diva of Geneva
Lucerne-tainly Look Marvelous
Glitzerland
Just a Little Rösti at This
William Tell Me About OPI
Ski Teal We Drop
Yodel Me on My Cell
The Color to Watch
Cucoo for This Color.
I really love how OPI names their "country collections". Sometimes I want to get a nail polish only because of the name:) And what about you? Which one do you like? By the way, you can already see the swatches of this collection on some nail polish blogs!
Last week I've been  looking at different resort collections and of course not only clothes, but also makeup, nails and hair. This is what I do all the time!
So here are the details about the look from Chanel Resort collection, looks like the spring 2011 makeup collection will be full of pale and pastel colours.
Here is what Peter Philips(Global Creative Director of CHANEL Makeup) says: "Effortless, natural beauty, relaxed girls who are enjoying their holidays. That was the main idea behind the look for this show."
Products that were used:
Skincare
Skin prepared with Hydramax + Active Nourishing Cream
Complexion
Vitalumière Aqua Foundation ( March 2011)
Poudre Universelle Libre Natural Finish Loose Powder
Éclat Lumière Highlighter Face Pen
Correcteur Perfection Long Lasting Concealer
Soleil Tan de Chanel Bronzing Makeup Base
Cheeks
Soleil Tan de Chanel Sheer Illuminating Fluid
Eyes
Ombres Contraste Duo Eyeshadow Duo in Taupe-Délicat ( September 2010)
Le Crayon
Read More
Hi girls, today I would like to tell you about the cream that I've been loving for the last 2 months. And it is Pulpe Vitaminee 1st Wrinkle Eye and Lip Cream by Caudalie (read about it).
I've been looking for good eye cream for  quite a long time and I read so many good reviews about this one that I just had to try it. I also read the review of 20 years old girls, so I guess it's ok for you to use it even at that age. I personally started using eye cream when I turned 20, but it was only a moisturizing cream.
The problem
I had  dehydrated skin and  some dark circles under my eyes (but who wouldn't have them with such schedule?!). I don't really have any visible wrinkles yet but,as I said this cream should be ok even if you are 20 years old, which I am obviously not.
The Results
I have to say that
Read More