I've already posted 2 covers of September  Love magazine with Giselle Bundchen and Alessandra Ambrosio that I really love and here are 2 more. This time it's Sienna Miller and Rosie Huntington Whiteley.
Sienna Miller

Rosie Huntington Whiteley
Read More
Have you seen the Gossip Girl 4 Official Trailer? I've seen so many lovely photos already, can't wait for the season to start! I love it because of the style first of all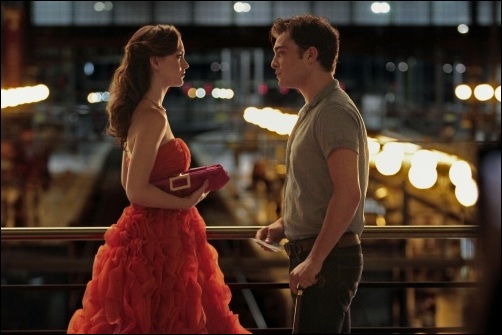 Read More
Since today we are talking about perfumes I will show you my favourites of the moment: Parisienne by YSL and Black XS by Paco Rabanne.
"Parisienne is the fragrance of ultra-femininity and sensuality, built with notes of blackberry, damask rose, and sandalwood. The grand floral with a woody structure is luminous even in its mystery."
" Black XS for women is a modern floral-fruity composition. Top notes starts sharp and spicy with cranberry, pink peppercorn and tamarind, middle notes hellebore noir rose, black violet and cocoa blossom. The base notes are patchouli, Massoia wood and vanilla."
And what are your favourite perfumes? Do you know any  that I should check out that have something in common with these two?
Read More
So many celebs have their own perfumes and some of you like it, some don't ( I don't) so now it's not a big deal. But I was still a bit surprised to find out that Shakira has her own fragrance as well. It is called S and will be available in September.
Notes of S are:
jasmine
sandalwood
benzoin
amber accord
vanilla
Your thoughts? Do you like Shakira? What celebrity fragrance would you use? I would take a look if Monica Bellucci had one, I guess.
Read More
I really like products from Elemis Exotic line and I've already reviewed the Exotic Frangipani Monoi Moisture Melt and Exotic Lime and Ginger Salt Glow. This is why I was happy to find out that there will be a new perfume from exotic line. I haven't tried it yet but I'd love to.
Close your eyes…take a deep breath…sense the mystery…escape to a faraway place. And…reconnect
Elemis exotic is an intoxicating blend of warming Sri Lankan Cinnamon Bark, Pink Pepper, Clove Bud Oil chased beautifully by the floral heart of Ylang Ylang, Indian Jasmine Sambac and precious Tuberose. As the fragrance evolves the bass notes of Frankinscense, Somali Incense, Cedarwood and Sandalwood linger and are a fixative. Close your eyes and in one deep breath and let the exotic notes transport you to a faraway place. The spiciness of the top note, floral of the heart note and the accord of that final warm experience. An extension of you.
Warm Top Notes: Pink Pepper, Clove Bud and Cinnamon Bark
Precious Floral Heart Notes: Ylang Ylang, Tuberose, Indian Jasmine Sambac
Woody Base Notes: Cedarwood, Somali Incense, Sandalwood
Elemis Eau de Parfum – RRP £35 for 28ml
Will be available in September.
Read More