You've probably heard a lot about Barry M's Dusky Mauve which is a Chanel Paradoxal dupe. I've been wearing it last week so thought I'd share the photos with you.
I really like the Barry M nail paints and I think the quality is amazing  for the price (£2.99)! I do plan to get a lot of these in the future. To tell the truth, if I want to save some money on a beauty related product – it is usually a nail polish. I don't have that many expensive nail polishes, because I'd rather get a high end lipstick or mascara and save some money on a nail polish.
I like the quality of Dusky Mauve: it is opaque with the 2 coats, for me it stays on for 3 days and the shade is pretty.
Let's be honest, a lot of cheap nail polishes are completely horrible but I do find Barry M  nail pants great! And they are only £2.99, so you can try so many shades without spending a fortune.
And what affordable nail polishes do you like? If you want to save some money on a beauty product what do you choose?
Read More
I just like Aaron de Mey, I really do. I like his style and his long hair(!) and his quite rebellious collections for Lancome. Glossy black eyes, deep blue eye shadows, the vampy shades for Fall, his collaboration with L'Wren Scott and  the Spring collection.
I also like Daria Werbowy. By the way, have you seen the French Vogue's calender with her? Did you like it?
But today I want to show you the photos of Daria from Marie Claire US December 2010, makeup is by Aaron. There are 5 looks but I've chosen 3. I like that all the looks are quite simple yet elegant and beautiful.
I absolutely love the glowy skin, bronzy eyes and this bright lipstick, amazing combination!
Products that are used: Matte Color Design Matte Lipcolor in Posh Pink, Blush Subtil inShimmer Mandarin Sky, Essie nail polish in Secret Affair.
The second look is
Read More
Have you ever heard of a scented nail polish? Have you tried it? Looks like more and more brands are bringing us this  product!
Revlon will launch the collection of scented nail polishes in Spring (they are already available in the US I believe) and now I came across this collection.
I've spotted this set at Nordstorm for $12
Have you tried a scented nail polish? Did you like it? What are your thoughts about this idea anyway? Do you believe it can acually be a nice scent?
I would really love to try such  nail polish to see for myself but if you already did –  please share your experience with us.
Read More
Get ready for the holidays with the new Sleek Sparkle i-Divine palette. It is a "palette of 12 glitter-laced velvety-smooth eye shadows. "
I think it's a great and affordable palette for Christmas and I think it's nice to get it, I am still upset that I've missed the Circus one. And what are your thoughts?
I hope that you remember my post about Elemis holiday 2010 gift sets. So here is the  Skin Brilliance set which includes:
Rehydrating Rosepetal Cleanser 200ml
Soothing Apricot Toner 200ml
Maximum Replenish Night Cream 50ml
Maximum Moisture Day Cream 20ml
This is how amazing the set looks like! You don't have to think about the box and how to wrap it, really every woman would be happy to get such set, it looks beautiful!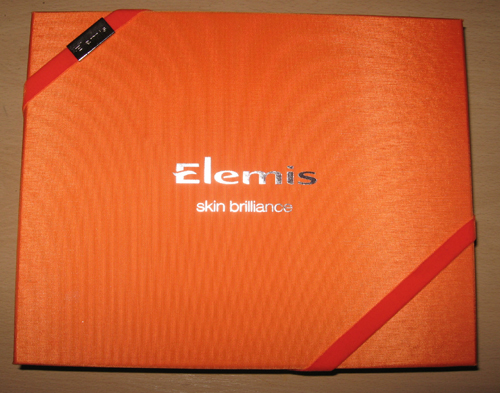 And this is how it looks like inside and my thoughts.
I've been using these products for some time now and  I really like the condition of my skin. It's a pleasure to use all the products and I am happy with the results. I won't get into details because everyone has a different skin type and skin needs but here are just some general thougts:
Read More