I love vintage and old makeup ads, they are so inspiring and it's nice to  see how the art of makeup has developed. Even if you look at the makeup ads which were made 5 years ago you can see a huge difference!
I have so many of them so I've picked some to share with you.  If you have  any vintage or old makeup ads or just those that you like a lot – I'd be very happy if you could share with us!
This is an old Maybelline ad (1952?)
Revlon 1952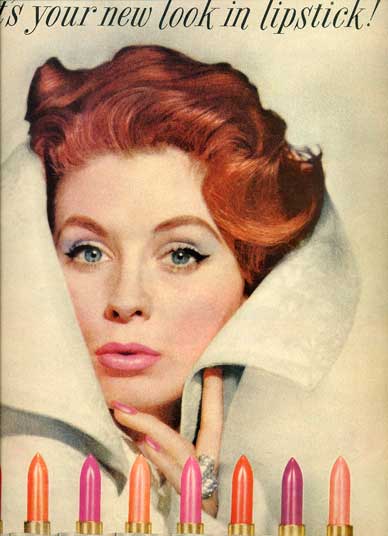 Chanel
Carla Bruni for Givenchy
Read More
I am sure that you all know that October is a month of Breast Cancer Awareness. And it's great that a lot of  beauty companies take a part in it! You can find a  lot of beauty products which are  marked with the pink ribbon which means that the profits (all or part) from those products will be donated to the Breat Canser Organizations.
Be sure that you also take a part and get yourself something. My choice is Becca Cosmetics Glossy Lip Tint in Julep: 15% of proceeds will be donated to Breast Canser Network of Strength.
If you are not familiar with BECCA's Lip Tints you can read my review here.
Read More
My Lips But Better writes about the MAC Venomous Villains launch party and shares her thoughts about the products.
Check out the duo-chromed awesomnicity (yes that is a word!) that Aijuswhanakno found through Persephone Minerals.
Tammerly at Pink Diva's Beauty Spot gives you the 'gloss' on the 2010 Sydney International Beauty Expo.
Amy Antoinette experiments with Kim Kardashian curls.
Lisamarie from Beauty Crazed gets to pretend she is a real makeup artist with the TEMPTU AIRbrush system!
Kim Porter reviews Dr. Miracle's Follicle Healer Hydrating Oil, a great product for dry, damaged hair.
With blogger events and launch parties, it's Illamasqua overload at Hellcandy make-up! Check out the photos from the launch party here.
Majolica Majorca Lash Expander Mascara and Yinnie's lashes become BFFs over at Looking Glass Beauty.
Daily Polish professes her love for all things Catrice with the turquoise lacquer, "I Sea You!"
Over at The Glamorous Gleam, Mz. More gives you a sneak peek at the new Sleek MakeUp Bad Girl & Good Girl Palettes, due to be released on October 27th!
Eyelining uses some NYX pigments to demonstrate how bad packaging can ruin a perfectly good product.
Vex in the City shows you how to step up your nail game on the cheap, with the new Instant Nail Effects from Barry M.
Emma swatches the best Orgasm dupe yet for only £3.99 at BirdsDecorateBranches!
Melissa reviews Smell Bent's limited edition Halloween Killer Smellies over at LovelyAndroid.
You need an idea for Halloween? Vesna at Beauty addict blog has one: turn yourself into a Dark Fairy for this year's Halloween!
Love NARS makeup but not the price tag? Lipglossiping signals the "dupe alert" siren when she shows off a serious but affordable dupe for NARS Albatross!
The Pink Sith is less than impressed with the Too Faced Naked Eye Palette, despite it having a few great taupe shadows.
Jellyminx jumps on the naked band wagon and shares a look created using the Urban Decay Naked Palette.
Jolie Laide girl gets to work showing you the best of the Elf Mineral Shadows.
Louise spends a day chatting with Daniel Sandler and getting a whole new look!
The Lip Print discovers a products with a Happy Philosophy; you can share the love too!
theNotice finds a fab product to banish under-eye bags, and it's under $5!
L at Beautifully Addicted To gives a run down on Liz Earle's Cleanse and Polish Hot Cloth Cleanse.
***
Jeweled Thumb is celebrating reaching her 400th post with a giveaway! Enter to win Stila, ELF, BE, Milani Bare To Wear and more!
Enter Phyrra's Beauty for the Earth The Wizard of Oz-Some Giveaway for a collection worth $60!
Read More
I've been wearing Balenciaga Paris perfumes all week and I've been loving it a lot!  I have to say that I love everything about them: the elegant bottle and the design, the promo photos with the amazing Charlotte Gainsbourg photographed by Steven Meisel and the scent of course.
It is created by Olivier Polge and described as:
" Luminous, sophisticated fragrance with beautiful ingredients shaped in an innovative structure. Both modern and classic, just like traditional haute perfumery . A Chypre Violet with the green, fresh signature of the flower and its leaves, blender into a precious harmony of pure woods . A refined, feminine fragrance with a unique trail"
It's a wonderful  fragrance with violet, airy blossom and delicate peppery notes which is great for day time, office or evening. It has an amazing lasting power and you can feel it even at the end of the day!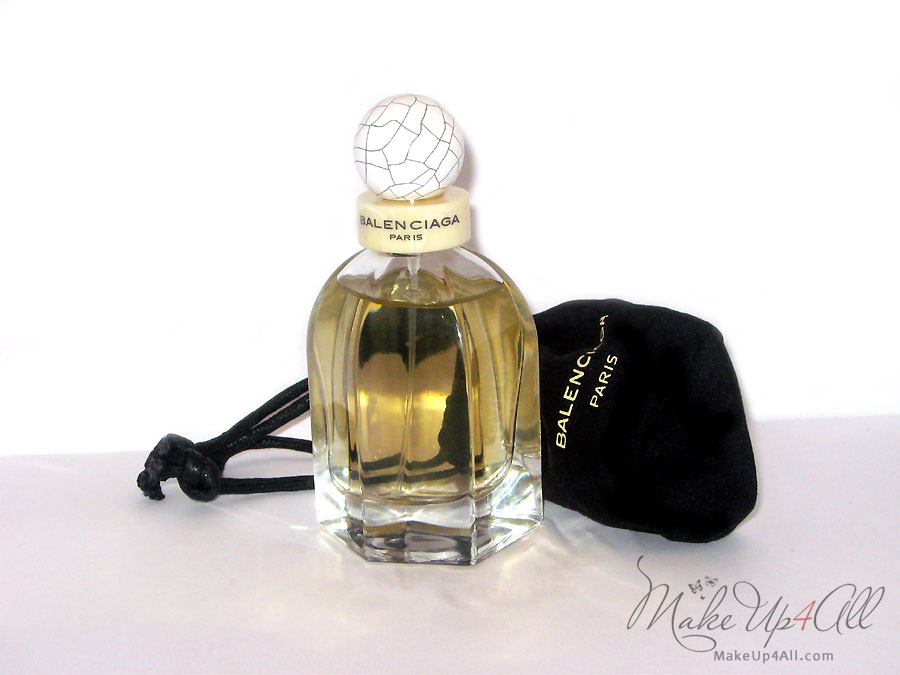 And here is the official promo photo and exciting infomation!
Read More
I've promised to control myself and get only those beauty products that are on my list but I can still look, right?! There are so many amazing new products and value sets.  Here are only some of them. All of them are already available!
NARS Precious Mini Nail Set, $30 (Nordstorm)

Exquisite high shine and shimmer for stunning effects at your fingertips. The mix of modern shades signals the mark of a true beauty maven, while the advanced formula provides a high-gloss, durable, chip-resistant finish.
Shiseido Collector's Edition Palette by Dick Page, $50
Created by Shiseido's Artistic Director, Dick Page, this limited-edition palette is a warm collection of shades with everything you need to create a beautiful look this holiday season! Features the following seven products for gorgeous color combinations: Pearly eyelid primer, Brown and Silver Grey eyeshadows, Purple Cream eyeliner, Pink and Orange blushes and Red lip tint—all in a
Read More