As you already know next month Lancome celebrates 10 years of Juicy Tubes so I thought that it would be nice to write a post with my impression about this amazing gloss!
This is what is written about Juicy Tubes:
"Ultra Shiny Lipgloss. Add power to your pout with brilliant shine. Dial up the glamour with shimmering color. Discover a favorite shade and flavor for every mood. Lips glisten with an ultra-glossy formula that glides on easily with its tube-tip applicator."
Juicy Tubes glosses are so famous that almost every woman tried them or at least heard about them. Although Lancome has permanent collection of glosses there were so many  limited editions and so many different sets that it's hard to count them all.  So today I will tell you my opinion about the gloss and will show you a lip swatch of my favourite shade from permanent collection  - Simmer.
Juicy Tubes is a
Read More
To celebrate 10 years of Juicy Tubes Lancome created 6 limited edition Juicy Tubes with a cute design. These pretties will be available from April. I am a big fan of this gloss and I really can't believe that it's been 10 year already.  I have tried a lot of juicy tubes and would like to get a gloss from this collection, too. And what about yourself?
Here are the colours that will be available:
120 Pop Art Hazelnut
121 Happy Honey
122 Rose Blossom
Read More
Summer is almost here so it's time to make your legs looks smooth and sexy (not trying to say that they didn't look like this in winter lol ). There are so many ways to remove hair  and I personally like waxing and shaving the best.  When it comes to shaving I like Venus by Gillette. I've been using it for ages and I am very happy with it.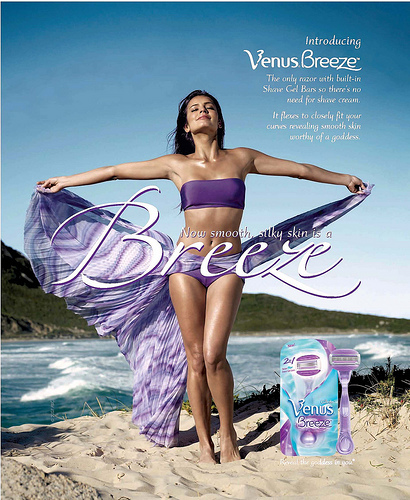 But I also use Venus shaving cream (usually with avocado). I've been bying the same  razors all the time and just didn't pay any attention to other. But last month when I was shopping I saw this pretty purple razors  and I wanted to try them just because my Venus is purple!
So what was my impression?
Read More
I already wrote about the new Noir Radical Luxurious Mascara by Yves Saint Laurent but I am sure that you want to know about the other eye products from the brand! New Eye Shadows and new Eye Liners. And they look damn good to me!
I love shadows by YSL and you can see my favourite palette on the photo which I posted on twitter several months ago. I promise to write a review soon. But now I can tell you 3 words: I LOVE IT!
But back to the new collection.
There are 12  single eye shadows Ombre Solo: 6 light shades and 6 dark shades, $30
YSL introduces OMBRE SOLO. Easy to apply, with a silky soft and rich texture, the colour remains vibrant and pure for hours. Blending is effortless; colour and intensity are easy to adjust to your desired concentration. Set in a luxurious gold compact, this eye shadow allows for easy application with both a sponge tip and a brush applicator. A soft and long-lasting eye colour for a truly professional result.
12 new Eye Pencils, $28
DESSIN DU REGARD CRAYON YEUX HAUTE TENUE
YSL's EYE PENCIL has been updated with a new formula, with highly pigmented colour for a deep impact and long-lasting finish. The texture glides onto the
Read More
I already wrote some reviews about L'Oreal Professionel hair care products and today I would like to write a review about one more product by L'Oreal. It is L'Oreal Professionnel Serie Expert Volume Expand Root Lift Spray(£11), 125ml
What is written about it:

"Get big, voluptuous hair from root to tip with L'Oreal Professionnel Serie Expert Volume Expand Root Lift Spray. It gives fine hair added body and bounce and long-lasting hold and enhanced volume.
L'Oreal Professionnel Serie Expert Volume Expand Root Lift is formulated with mineral calcium to give your fine hair added body and bounce for enhanced volume. Working from root to tip to ensure your hair is left soft, supple and with enough body to give you added confidence.
Directions of use:  Spray onto the root area, section by section, on shampooed, towel-dried hair. Comb through to spread the product evenly."
I absolutely love this spray and was using it several times a week since the day I bought it. Here are the reasons why I think that it is great:
Read More