Like it or not, but Valentine's Day is almost here and it seems that almost every girl I know is obsessed with finding a nice red lipsticks. I can't even tell you how many times during the last several weeks I've been asked about the best red lipstick, and how to wear it…
Plus so many brands have  realised  mini collections with red lipsticks and nail polishes. It seems that red is everywhere. Have you seen this cover of Vogue UK for March?I love red but I wish they used the other colour for the background as it is a bit too red even for me…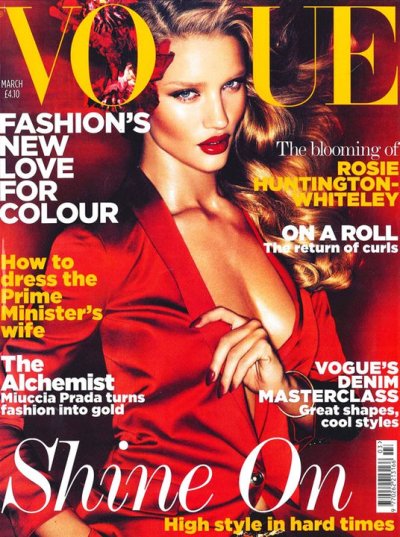 My friends are obsessing about the red lipstick because they actually want their husbands/boyfriends to like it. But do men like red lips? I was really curious to find it out so was asking everyone I could  and asked you on Twitter and Facebook to help me out. So here are some of the responses that I've got:
Read More
This week there have been hardly any reviews and it is because of this…
Some of my favourite makeup ads on the background
All my free off work time I spent  doing makeup on different people. I really want to improve my skills. Everything is working out really great and I am very excited about certain things in the future but I can't tell you anything yet!
Plus I've started working on the Spring Magazine and I already have some great material and a lot of ideas.
And how are you doing? How is your weekend so far?
Read More
I said it already and I will say it again! I think Dior had/has the best celebrity spokeswomen: Monica Bellucci, Eva Green, Marion Cotiallard etc . And now they have Natalie Portman who may not be my most favourite among them, but you have to agree that she is everywhere now, the Black Swan itself is a huge success, so that's a great choice for Dior.
And now that Chanel is launching their new Rouge Coco Shine lipsticks with Vanessa Paradis, Dior is also launching the new lipsticks with… who do you think?! Kate Moss herself! Kate was spotted several months ago wearing their new lipstick and now it's official. Excellent! I don't think Dior could do it better, honestly!
As we have Dior and Chanel here there are no doubts that
Read More
So I've been wanting Daniel Sandler's Watercolour blush for some time already because it looks like something that I would really like.
This is how it is described:
"The award winning Watercolour liquid blush is the Hero product of the Daniel Sandler cosmetics collection.
Each Watercolour is 100% blendable, it can be worked onto skin and manoeuvred using the fingers to create beautiful colour-contoured cheeks.
The silicone-based, oil–free formulation is perfect for any skin type and creates a water resistant, sheer finish that needs no powder to set and lasts all day."
Now the only problem is to choose the shade. Probably I will get the best-selling shade in Cherub (a delicate sheer, pastel pink). The price is £12.30 for 15ml.
Read More
I believe that you all probably already know about the new Coco Rouge Shine lipsticks and you could already see lot of celebs wearing it! These will be available in March.
But one shade in Boy which is a natural pink is already available for the Valentines Day (at least in the US according to the US blogs).
By the way, there should be also new Dior lipsticks in March and not only lipsticks but more details on that later. And the new Lancome lipsticks, too.

So the Chanel Rouge Coco Shine lipsticks are:
Monte Carlo
Rebelle
Liberte
Sari  D'eau
Avasion
Aventure
Boy
Chance
Romance
Read More