So many of us love Volume Effet Faux Cils by Yves Saint Laurent but did you know that now you can get the new mascara in deepest black colour?
"The ultimate luxurious mascara for a false-lash effect in our deepest black color ever, for a dangerously glamorous look. Noir Radical takes our must-have industry-leading mascara, Volume Effet Faux Cils Luxurious Mascara, to a new depth with mineral pigments more intense than
Read More
First of all happy St. Patrick's Day to all the Irish!
Also I wanted to tell you that I am now working really hard on the Spring Project that I told you about. I hope that it will be ready till next week. It takes me much longer than I thought and I hardly have time for anything else.
And here is the beautiful Artdeco box for shadows/blush that I got myself for Spring. It is a part of their spring collection. Looks absolutely amazing in real life. I can't wait to get shadows to fill it in :). I hope that you know how much I love their shadows.
And what did you get yourself this Spring?
Read More
I am very happy to tell you that Illamasqua has a great proposition. When you spend  £120 you get a Dark Love book for free. What is it? It's a book about alternative cultures. For me this is an item to die for. First of all I've studied culture (and art) at university so I am interested in everything that is about culture. And the other thing is that I am in love with alternative cultures . Always was and always will be!
I am not 100% sure what the book is about (just history, makeup looks etc) but I really want it. I have a lot of books about culture and arts and am always happy to get new. But unfortunatelly I don't have extra £120 right now. I hope this book will be available later.
And what about you? What non-makeup item you would like to get?
Read More
I wanted to try Butter London for a long time already. This is what is written about the product:
"Butter London brings us non-toxic nail treatments and lacquers in an array of delicious shades. The hero product is the 3 Free line, which waves goodbye to typical (but nasty) ingredients such as formaldehyde, toluene and DBP. We love their on-trend shades and entertaining names!"
I read some reviews including these at London Makeup Girl. So now I was sure that I want to try it. But what shade? It was very hard to decide because they all looked amazing to me plus the names are great. At first I wanted to get Artful Dodger but I just decided to wait for Chanel's Nouvelle Vague .
So Yummy Mummy looked liked a perfect shade to me. I've spotted some other shades that were calling my name but I when I try something for the first time I get only one product.
What were my thoughts now when I got it? First of all it's the best nail polish design that I ever saw. I also love the name "butter London". And in my opinion these are also important factors because now you can choose from so many brands that you should like as many factors about the product as possible.
What about the nail polish itself? I really liked the brush which is kind of small and thin. For some of you this is not the best thing to hear. But I love brushes like this because it helps you to apply the product neat and tidy. Often I do my manicure myself so this is very important for me. You get an opaque cover after you use it only once and it is one of the most important factors. But if you want to get the more intense colour – go for 2 layers.
How long it stays on nails? In my case the products started to chip on 3rd day (without top coat) but it still looked ok. But on the 4th day I had to remove it. Also I have to mention that butter London doesn't stink like some polishes.
In general I am
Read More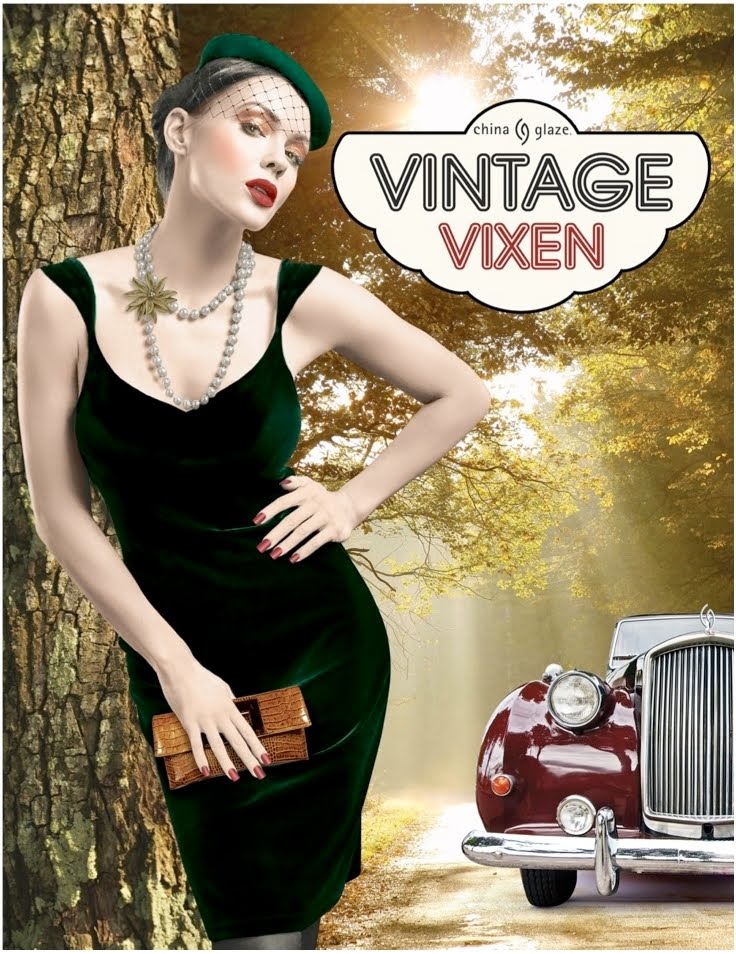 China Glaze captures the vivid and saturated hues of the 1940's with this seductively complex palette. The classic shades of the season recreate the timeless tableau of movie land mystique, red perfected pouts and steamy nights where swing was the scene. Multi-faceted jewel tones, rich reds, titillating taupes and smoldering sands deliver a major dose of high octane 40's era glamour.
All colours are with glitter and shimmer
Read More