I just love those OPI collections which are inspired by countries. This Spring 2011 collection was inspired by Texas, one of my favourite States in the USA because I know a lot of ah-mazing people from there and in fact I've been friends with some people from Houston for as long as I remember myself, I even got this  Texas pendant as a present.
But back to OPI collection…There are 12 nail polish shades with a very Texas names which I like.
Don't Mess With OPI – A lean, mean, kick-grass forest green
Austin-Tatious Turquoise – Cowgirls love this bodacious blue-green
It's Totally Fort-Worth It – A shimmery lavender grey that's so worthy of you
Do You Think I'm Tex-y? A "berry" sexy bloom of Dallas dahlia
Big Hair…Big Nails – A rosy pageant peach
I Vant To Be A-Lone Star – You won't want to share this starry Texas-sky blue
Houston We Have A Purple – A galactic
Read More
Just as the Gris City nail polish collection by Dior their Spring 2011 makeup collection is inspired by grey colour. As Tyen himself says : "Grey is the color of the eternal".
Grey and pink are the colurs from Dior's childhood, a small town located in Normandy so this is the reason why collection has a lot of grey and pink shades in it. This collection was also inspired by the first boutique of Christian Dior on Avenue Montaigne which was designed in pink and grey.
So the main colours of this collection are the elegant pink and the "Avenue Montaigne" grey.
This collection includes:
Serum de Rouge Lip Treatment
Pink Coral Serum # 240
Pinky Mauve Serum # 460
Addict Ultra Gloss
Pink Veil # 654
Trianon Silver # 707
Rouge Dior Lip Color
Spring Pink # 540
Chic Pink # 658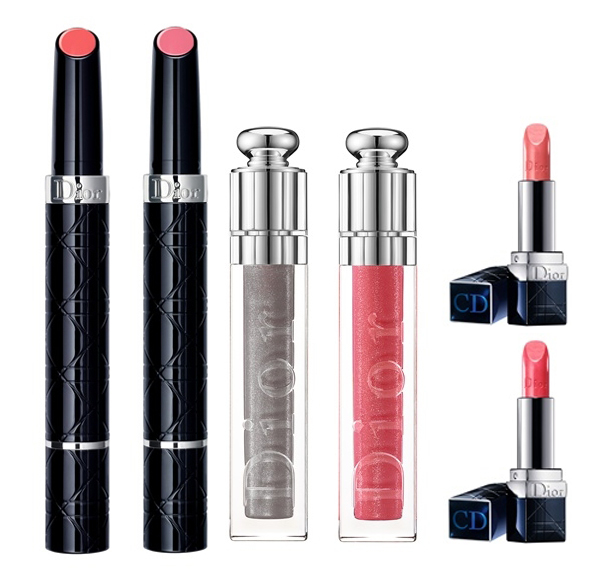 Dior  Dior 5-Colour Designer Eye Palette in Soft Pink Design #018
Dior   5-Colour Eyeshadow in Gris-Gris #034
Dior Cannage Palette # in Whisper Grey and
Read More
So Urban Decay showed us one (out of 4) of their anniversary sets which is called 15-Year Anniversary 24/7 Pencil Set. It contains 15 24/7 liners, 6 new shades and 9 regular shades plus a pencil sharpener. Thee value is $264 but it costs only $92 which makes each liner under $7 (the original price is $17).
It will be available in January and I would really like to know what other sets are waitng for us!  Can you guess what is it?
6 Brand new shades:
Asphyxia (pinky iridescent purple)
Corrupt (dark metallic brown with silver sparkle)
Midnight Cowboy (beige with gold sparkle)
Perversion (blackest carbon black)
Stray Dog (shimmery brown taupe)
Uzi (gunmetal with grey sparkle)
Other shades:
Baked
Read More
Today I want to tell you about the Make Up For Ever HD Powder which is a translucent finishing powder which can be applied over the foundation or worn alone. MUFE HD powder is very finely milled and is made of pure mineral silica (talc- free formula). It sets the foundation and evens out the complexion, it is also said that it slightly mattifies the skin.
To tell the truth,  I rarely (almost never) wear any kind of  powders on my face and I have a lot of reasons for that but the post is not about it. But I do have several powders to use them on  others. And I do like the effect that this one gives a lot. In fact all the girls I've used this powder on loved the effect it gives and were happy with the results.
And here is my impression:
I absolutely love the finish it gives, the skin looks so smooth and the makeup is set, it really improves the way your skin looks, especially it is good for
Read More
This time makeup collection by Chanel was inspired by pearls and we all know how much Mademoiselle Chanel loved pearls. Peter Philips wanted to create a beautiful collection which would reflect the iridescent refections of pearls.
Beautiful pearls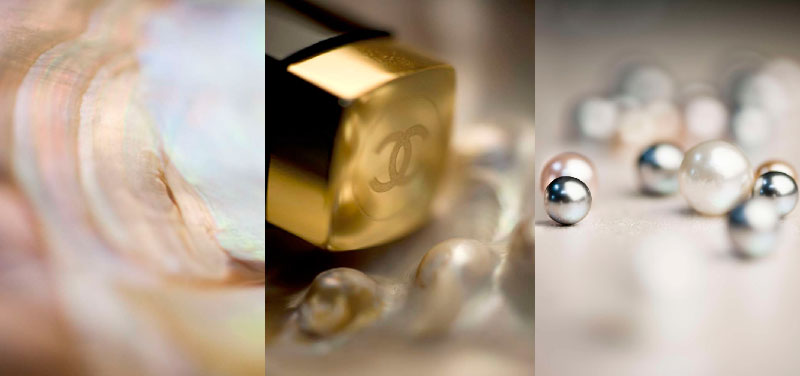 Collection includes new format of eye shadows – quints Ombres Perlees De Chanel
"CHANEL has created a tailor-made case to hold all of this magic. The classic black case becomes rectangular to contain five iridescent shades captured in a rich cream texture that glides smoothly over the skin. Blanc perlé, Rose porcelaine, Violine clair, Gris vert and Gris noir scintillant offer a bewitching odyssey with each sumptuous and capricious colour. The exquisitely fresh eye shadows are applied easily with the double-tipped foam applicator or fingertips. They can even stray from the eyelids to enliven cheekbones with a touch of shine."
Poudre Universelle Compacte
Rose Merveille, a pale pink with subtle sparkles for a halo of light.
Joues Contraste
Espiegle, a silken rosy peach blush.
Rouge Coco
Jersey Rose, a pink that flatters all skin tones, to wear to your heart's desire.
Peregrina, a delicate coral for the great outdoors.
Rouge Allure
Flamboyante, a  rosy red that shimmers like a promise of happiness.
Coquette, a vivid, energising pink, steeped in radiance.
Le  Crayon Levres
Levres Scintillantes
Nakkar, an intrepid soda pink warmed by
Read More