This is not fair! Just after I got this set by Jo Malone, which I really love and will write my thoughts about it later, there is a new collection which I want.
Of course! Now it's the Jo Malone Tea Fragrance Blends.
As a huge fan of tea and have quite a big collection, I never have less than 10 different teas at home, so these colognes  sound like a must have for me.
So far here is the official information and I hope to share my own thoughts later.
Jo Malone Tea Collection Sweet Lemon Cologne
Sweet Lemon is a vibrant, mouth-watering cologne that mirrors the custom of adding a slice of freshly cut lemon or a sprinkle of sugar to a cup of just-brewed tea to lift, lighten and brighten the infusion. A spritz of Sweet Lemon Cologne—with its hints of pineapple, peach and fresh green cypress—misted over your favourite tea fragrance will lend it translucency and a zesty fruitfulness with a sugary twist.
Jo Malone Tea Collection Sweet Milk Cologne
That particularly British notion of adding cool milk to hot tea in order to create a drink with a comforting, rounded richness is reflected in the avant-garde creation of Sweet Milk Cologne. Just a splash beneath your favourite tea scent will give it an incredibly creamy depth. The expertly crafted milk accord has an aroma that is fresh and sweet at the same time. Blended with star anise, almond and vanilla, it's addictive and reassuring. Just like the very best cup of tea.
Jo Malone Tea Collection Fresh Mint Leaf Cologne
Fresh Mint Leaf is
Read More
It's not a secret that I don't really do nude lips. I don't like nude lips on myself plus most of the shades don't look flattering on me, I look really washed out.
I am sure I could find a perfect nude but I can't say that I was searching for one. But today I am going to show you the nude that I absolutely love!
I am talking about  BECCA's Sheer Tint Lip Colour in Yasmina.
It is described as a sheer mauve nude and is priced at £22/€28/$24 (yeah, as usual everything is so expensive in the EU).
First of all I have to say that I really like the simple and elegant design of this lipstick which is a purse-friendly! It  "twists and locks" so it doesn't open in your bag. I should have read that before I got angry, I was blaming the hand cream that I've just applied in the fact that I couldn't open the tube. lol I should have just twisted it instead of pulling…
I am sorry I should have taken the photo before using the lipstick but I completely forgot
The lipstick itself gives a very beautiful light coverage, and as the name suggests it reminds me of a tint. It gives enough of  colour but doesn't feel heavy. The texture is lovely and it
Read More
I've posted this beautiful promo  image but do you want to know more about this Bourjois Spring 2011 makeup collection?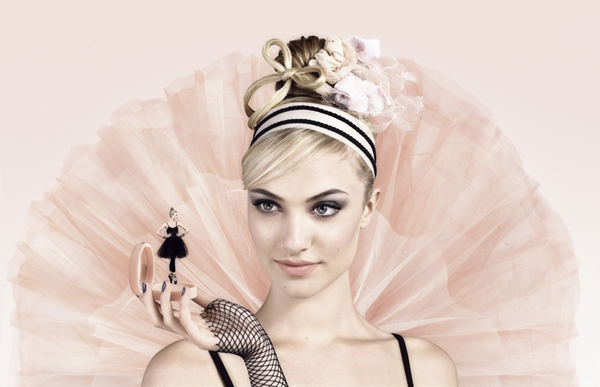 I've got all the details! This collection will include:
Little Round Pot eyeshadow (£5.99/€8.99)
Effet Smoky pencils(£4.99/€7.99)
77 Sand Rose
78 New Wave Blue (on the photo)
76 Ultra Black
I adore These. read my review and swatches of all the other shades here.
Volume Glamour Mascara (£7.99/€10.99)
06 Noir ébène (on the photo)
Effet Smoky Touch (£6.99/€9.99)
Read More
I've noticed that a lot of  beauty products are inspired by the Ballerina theme lately. Can this do anything with the Black Swan?
Here is for e.g the new Sephora nail polish collection which is called Urban Ballerina.
It didn't come with Natalie Portman of course, I just put the images together myself
The shades are: 4 x 0.125 oz Nail Colors in (from left to right): Leotard-Optional, The Way Tutu His Heart, Who's Spinning Tonight?, and Break a Leg-Warmer!
I LOVE that grey and purple! I would so get this set (if it was available here) especially for $18 only.
And here is one more Ballerina inspired collection
Read More
So I've got my No 7 Spring products. As I already said, this is one of my favourite Spring 2011 makeup collections, I loved everything in it.  So I've got myself an eye shadows palette and 2 lipsticks.
Let's start with an eye shadow palette (£12.50)
The design is very cute and pretty, I love it, perfect for spring!
I had to get this palette not only because it is so pretty but because I don't really have such shades and it is nice to have a palette of beautiful pastels.
There are 4 shades:
a nude beige which you can use as a base and to even out the skin tone on your lids
a subtle coral
beautiful pastel turquoise
sea foam  green, the brightest shade
All the shades are slightly shimmery and have a nice texture, they are not chalky as a lot of pastel eye shadows.
I'd say that
Read More