I have to say that I am a huge fan of cream products: blushes, highlighters, shadows, liners etc. And I am also a big fan of blushes. And, yes, I love cream blushes but there are several powder blushes that I really like.
So today I want to tell you about the  powder blush that I totally love. And it is Blush Subtil by Lancome. This is how it looks like on the promo picture and I am showing you a promo picture because my blushes are in a set.
This is how 2  blushes that I've got look like: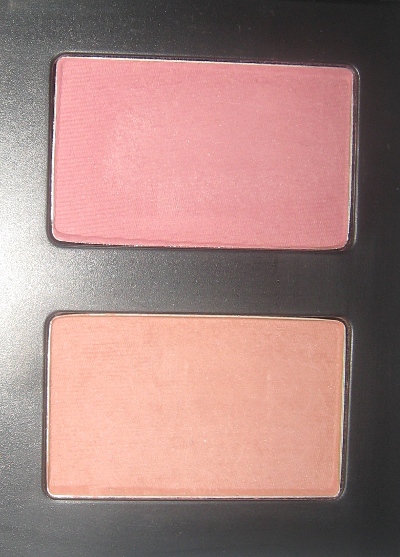 Why do I like this blush so much?
First of all it is oil free which is very good, especially for summer.
It is matte, so it won't look horrible on your pores. And to be honest, I don't really understand how can anyone like very shiny/with shimmer blushes and bronzers.
Because it's matte it gives you a natural finish.
It's easy to work with this blush and  it's easy to blend it.
These particular blushes are from
Read More
It's not a secret that I like Emma Watson and I already wrote about several looks she was wearing  and today I want to share with you what products were used to create her look for Vanity Fair June 2010. You can check out the video about the shoot  for the magazine below.
I think Emma looks fabulous and, although it's not very hard to look amazing when you are only 20, some manage to prove the opposite. But not Miss Watson of course.
Here is the list of products that were used to create this look
Read More
Here is a preview of Bobbi Brown's Fall 2010 makeup collection  Denim & Rose and Chocolate & Navy collections. The photos look lovely and some products look interesting.
Collection includes:
Denim and Rose palette
Demin & Rose mini brush set
Long Wearing gel eyeliner ($40?!)
Read More
I can't believe that I forgot to publish this post (it was among drafts for several days)! Alice in Wonderland the Book Of  Shadows by Urban Decay is back in stock! You can see my photos of the palette here and review and swatches here.
But now it is available in a set for $211 which includes:
Alice in Wonderland Book of Shadows
and full-sizes of:
Honey Body Powder
Eden Eyeshadow Primer Potion
Midnight Cowboy Glitter Liner
Kirk Pocket Rocket Lip Gloss
Razor Sharp Ultra Definition Finishing Powder
De-Slick in a Tube
Big Fatty Mascara
But guess what? Urban Decay created a new Book Of Shadows
Read More
I really love looking at the new promo images of the collections and I was very happy to see the promo picture of summer 2010 makeup collection by an Asian brand Addiction.
In my opinion, it's just a perfect summer look and I absolutely love it. Sun kissed skin, bronze blush, juicy pink lips and perfect blue liner. Blonde hair goes amazing with this look and I also imagine a model in a navy themed outfit.
What can I say? I can't wait till I get time to create such look on one of the models. You can check out all the collection and read (if you know the language) how to create it here.
And what promo picture inspired you lately? Besides this one, I really love Illamasqua's Sirens and Givenchy Summer 2007.
Read More