I always loved makeup so nothing changed when I've started Makeup4All! But I was quite indifferent when it was about nail polishes but looks like I am not anymore. Of course I will never like nail polish as much as I like makeup, but I find myself being more and more interested in the new collections.  I am afraid that some of my friends from "real life" are also affected with this nail polish "disease" because of me, lol
So I would like to tell you about the new nail polishes by Models Own. And take a closer look to the last 3 in the firts row! Don't they look familiar to you?! Yes, that's the Models Own take on Chanel's Khaki collection. The colours are very similar but they are more budget friendly.
And don't forget about 3-for-£12 and 5-for-£18 deal!
Any shades you like? I am interested in Mushroom because I still don't have a nice grey nail polish. Any recs maybe ?
Read More
Illamasqua is famous for their Liquid Metals (£17) and I've already reviewed 2 of them - Phenomena (molten silver)  and Surge (molten pewter, my favourite of them all). Today I would like to tell you about their new Liquid Metal which is called Stoic and which I got from the brand (metallic emerald). It is from the Fall/Winter 2010 collection Art of Darkness.
And it's a beautiful green which is a perfect shade for this Fall! It looks great paired with Illamasqua's Viridian nail polish. A lot of people complimented on my look when I was wearing both products. By the way, Stoic looks beautiful with
Read More
My beauty inspiration for this month is Cristina Scabbia.  And not only this month but in general! I absolutely love the way she looks and her style. Maybe because  we have a very similar taste in everything. For those who don't know – Cristina is a vocalist in Italian band Lacuna Coil  (I like several songs but am not a fan in genaral). It's also amazing that she is 38 years old and I would give her 30 top!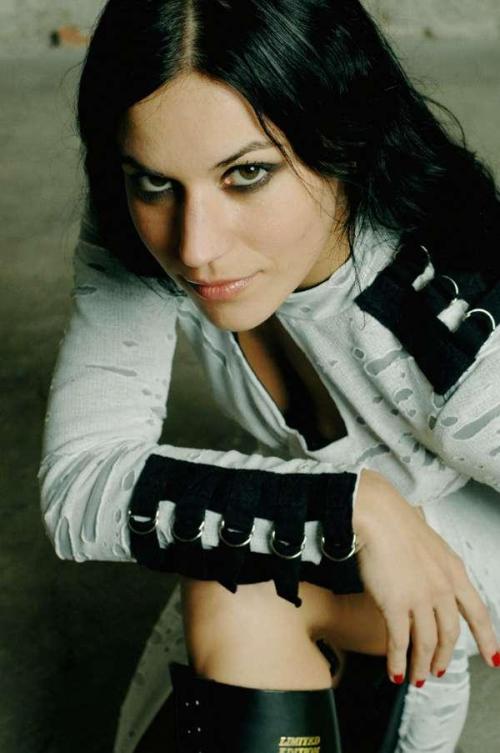 Beautiful cat eyes and red lips
Love the accent nail
More photos
Read More
Do you remember that NARS will have new trio eye shadows for holiday? Besides them and several new products (like lilac and purple lip glosses) there are  some value sets which are already available at Sephora.
Follow The Boys Lip Gloss Set ($48 Value), $40
4 x 0.14 oz Lip Gloss in
Moon Fleet (clear with silver and gold flecks),
Easy Lover (sheer hot pink),
Turkish Delight (pink sorbet),
Sweet Revenge (sheer pink grapefruit)
Orgasm Lust Lip and Cheek Set,$ 30
0.35 oz mini Highlighting/Bronzing Blush Duo in Orgasm/ Laguna (peachy-pink shimmer/ sheer light brown shimmer)
0.14 oz mini Lip Gloss in Super Orgasm (peachy pink with gold glitter)
Trouble Maker Eye Set ($89 Value), $60
Read More
I love multipurpose products especially with the beautiful design! And today I would like to tell you about one of them – Bunny Rouge Decadent Duos Joys and Desire. It is a liquid blush and a lip gloss 2-in-1. Mine  is in Rumba Cubana and I'd describe the colour as  a rosewood.
So you get a liquid blush  with a small brush on one side and a lip gloss  with an applicator on the other side.
I love liquid blushes and this one is amazing, it blends easily and is not patchy, it looks like your own blush. It is said that it's an oil-in-water emulsion with rose-water to provide a cooling and toning effect for your skin.
As for the lip gloss, it has a nice moisturizing texture which is not sticky at all. It contains a soothing blend of Lotus Flower Extract and  Mango Butter. Moreover, it's also an anti oxidant and anti ageing formula because of  Green Tea, and Gingko Biloba.
You should get this product if you:
Read More