Today I am wearing Revlon's Revlon Red, which I had to get after seeing the swatches of it online, and I have mixed feeling about it. I like a lot of products from Revlon and I really wanted to like the nail polish, too, especailly after reading some great reviews.
So why do I have mixed feelings? First of all lets start with the positive things about it!
The colours are really beautiful and there are quite a lot to choose from. I have 2 Revlon nail polishes and they are both very beautiful! The colours are very pigmented and are opaque with only one layer (but two layers give a even better coverage).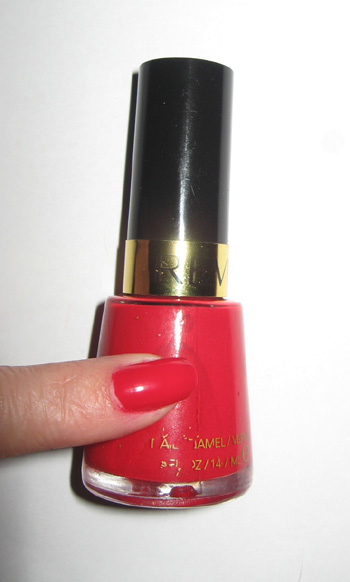 Now this swatch is just UGLY! I know. But I just wanted to show what I mean by saying that I can't manage to use this brush – the nail polish is all over the place as you can see and I can't manage to paint my nails near the cuticle. But the colour however is stunning!  I am showing you only one nail because all the others look the same unfortunately.
And what I don't like about it. For some reason Revlon nail polishes don't stay for a long time on me even after I've used a Seche Vite top coat.  I am also not sure if I like the brush, maybe I just need to get used to it but that is obviously my personal preference. I am not saying that it's a bad brush but for some reason I can't use it without making a huge mess.
I will try to experiment with these nail polishes more and I really hope that they will stay on for a longer time. It is such a shame that it starts chipping on the second day as the colours are SO beautiful.
And for how long does the Revlon nail polish stay on your nails?
Read More
So there is a new nail polish by Revlon which is called Top Speed and is described as: "A built in top coat delivers a salon – smooth finish. Available in 32 cool colours that set in 60 seconds."
Well, I guess it's easy to find a shade or two  for yourself when you get 32 shades. I like Vintage (crimson), Cherry  and Sugar Plum.
The polishes are already available in the USA.
Read More
If you are a fan of Bourjois Healthy Mix foundation (and I am) you'll be happy to find out that there are 2 new foundations in the Healthy Mix range. I've spotted this information at Bourjois Facebook page and I am happy to share with you.
I like the promo photo. The girl looks so healthy and pretty.
So after the success  of Healthy Mix Foundation and Concealer Bourjois created the new Healthy Mix Serum Gel and Healthy-Glow Foundation..
Healthy Mix Healthy-Glow Foundation is a loose powder which formula is  claimed to be 96,8% natural. "It blends perfectly into the skin and gives you a matte finish, it brightens the complexion in one simple step."
There  should be 2 shades:
51 – pale and medium skin
56 – dark and tanned skin
Healthy Mix Serum contains the extracts  of
Read More
Take a look at the beautiful Zoya Intimate Collection for Spring 2011.
Temptations, whispers, dreams, secrets, illusions, liaisons, trysts… lingerie… kisses.
Zoya Nail Polish presents six new, elegant, full coverage yet revealing, metallics and creams for Spring 2011 to rendezvous with.
Collection includes:
Marley (ZP542) – lavender pink with a whisper of metallic
Dove (ZP541) – delicate, pale gray cream
Caitlin (ZP540) – misty, moody
Read More
I've been really in love with Revlon lately and I've been wearing the Colorburst lipstick a lot this month! So I was super excited to find out about the new Colorburst lip glosses.
Revlon describes them as: "Lips that shine with killer color. This weightless gloss makes lips pop with 5X more shine than patent leather."
These babies are already available in the US so I hope that we will get them soon!
The shades are (please mind that in EU and UK we usually get less shades than in the US, :so unfair, right:?):
CRYSTAL LILAC
PINK ICE
STRAWBERRY
PEONY
HOT
Read More