OMG! I have to say that I am SO in love with the new website of Illamasqua. Now I love this brand even more!  Here you can find everything that a beauty junkie needs including amazing tutorials and… SWATCHES! How amazing is that? Now you can actually see what you are buying!
You can find a lot of shades for your alter ego, not just pinks and reds. Love it!
You can also shop collections
Read More
Get 20 % OFF at Bobbi Brown during November 30 – December 2. You get the discount automatically.
Also check the details about Armani
Read More
Second Skin Foundation from Max Factor (£13.99 at Boots)
What is written about this foundation:
It's easy to see why Max Factor has named its new foundation Second Skin – it really does blend seamlessly, leaving the most flawless finish, with no tell-tale lines.
While many other foundations aim for uniform all-over coverage, disguising every hint of natural colour, this innovative new formula doesn't attempt to hide tone, working in harmony with your complexion instead.
This is foundation for those that want their skin to look its natural best – rather than obviously made-up.
My opinion:
This foundation was sent to me by Max Factor PR and I've been using it for quite a long time already so what is my verdict?
Read More
Did you hear about the new Force Vector products by L'Oreal Professionnel? There are 5 new products:
Force Refill Intense Reinforcing In-Salon Treatment
Force Vector Reinforcing Anti-Breakage Shampoo
Force Vector Reinforcing Anti-Breakage Conditioner
Force Vector Reinforcing Anti-Breakage Masque
Force Vector Reinforcing Anti-Breakage Thermo-Active Treatment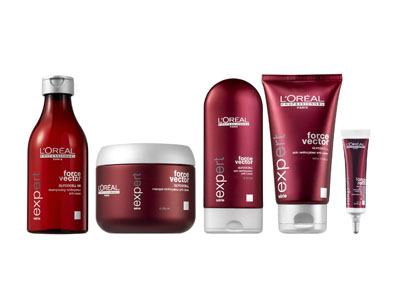 New Force Vector counters this damage with Glycocell, the latest in haircare technology from L'Oréal Professionnel. Glycocell combines Incell technology and Royal Jelly Extract to deliver targeted strength and reinforcement to fragile, weak hair. Incell strengthens the natural cohesion of the hair and increases its resistance to external stressors, for long-lasting conditioning results. Royal Jelly Extract is a nutrient-rich substance produced by bees that provides concentrated essential amino acids and vitamins to the hair. Together these technologies are designed to reinforce hair that has been compromised due to external aggressions, leaving it stronger and more resistant to breakage.
So today I went to L'Oreal Professionnel Salon and got 3 products out of 5!  But I also got some other products. Check them out on the photo below. I will be using all these products during the next month and will make a post about the results.
Read More
As you all know every month I write about my favourite beauty bloggers. This month I'd love to tell you about 2 very special girls. I am so lucky to call them my friends now. They have amazing blogs, both are very beautiful ladies and very nice people.
I am talking about Aleksis from Alpha Blonde and Mona from Make Me Blushhh. By the way I have links to their blogs on my blog. So be sure to check them out sometimes! So here are the reasons why you should like their blogs!
You can read about Aleksis here
Aleksis is a Make Up  Artist and she was working for a lot of beauty brands including, MAC, Nars and Lancome. So she knows a lot about makeup and beauty
I usually don't like videos but I watch all of her videos till the end. They are very useful, original and interesting.
Aleksis has a lot of amazing ideas which I never met on any other blogs!
She has some awesome tutorials and tips for all of you and not only about makeup.
Alpha Blonde is just a very beautiful girl and I love all her looks!
I love her In and Out posts and things like that. I mean posts about what she likes and doesn't like.
Aleksis writes not only about makeup, beauty and skincare, she also writes about fashion, style and her amazing cat Ivan!
Read about Mona here
Mona is also one of my favourite bloggers, beautiful girl and very friendly lady.
If you like reading posts about travelling and find out what beauty products you can buy in different countries you should check out Mona's blog.
Do you like tasty food as much as I do?
Well, this girl knows a lot about cooking and you can find amazing dishes on her blog. By the way she just created a special blog about food  -  Cooking Momo.
Fan of NYC? She will tell you a lot of details about beauty life of this amazing city
You should also check out her blog if you are  a Guerlain fan. There are a lot of photos and reviews of this brand!
Mona has sales quite often so you can get  products that you want with a big discount.
While Aleksis shows us photos of her handsome) cat Ivan , Mona shows us her cute dog Charlotte.
And what do you think about these blogs? Do you read them? What do you like about them?
Read More