Chanel created a new Eye Essentials collection which is already available. It is described as:  "An expertly harmonized, ultra-wearable eye makeup collection creates a range of subtle-to-sophisticated effects."
Collection includes:
Ombre Essentielle $28.5
A range of complementary matte eyeshadow shades impart soft, perfectly blendable colour:
Vanilla, a light beige;
Lily, a pastel pink;
Heather Rose, a dusty pink;
Slate, a soft khaki-grey;
Deep Taupe, a dark brown;
Mahogany, an intense chestnut.
INIMITABLE MASCARA MULTI-DIMENSIONAL, $ 30
Now, in a single stroke, CHANEL sets a new standard in mascara with a formula that does it all. A sophisticated formula and unique brush design combine to lengthen, plump and curl, delivering lush, long-wearing colour so precisely that each lash, even the finest, is perfectly defined and separated.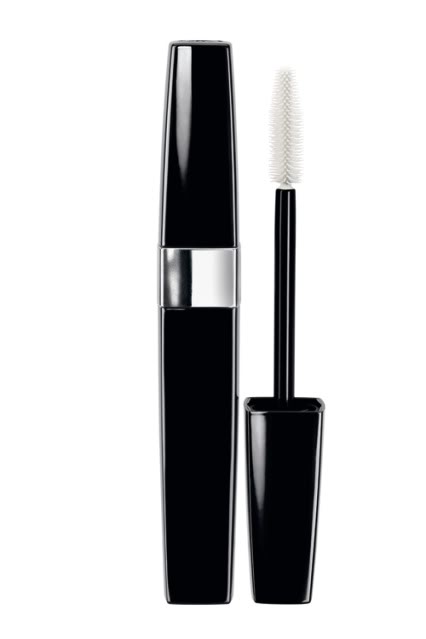 LE CRAYON SOURCILS Precision Brow Definer, $28
Four natural shades of LE CRAYON SOURCILS Precision Brow Definer:
Blond Clair, a deep flaxen gold;
Taupe, a honeyed brown;
Soft Brown, a muted chestnut;
Cendre Noir, an ebony brown
LE CRAYON YEUX Precision Eye Definer, $ 28
Eyes become the focus when rimmed with a precise line or smudged stroke of LE CRAYON YEUX Precision Eye Definer in:
Violet Smoke, a deep purple;
Coffee Bean, a dark sienna;
Black.
LE CRAYON KHÔL Intense Eye Pencil, $ 27
Achieve an instant eye-brightening effect by tracing the inner rim of the lower lashline with LE CRAYON KHÔL Intense Eye Pencil in
Read More
Christina Ricci is wearing NARS to Marina Abramovic's "The Artist Is Present" at New York's Museum of Modern Art on the 1st of June 2010.
Products that she is wearing:
Skin
NARS PRO-PRIME Skin Smoothing Face Prep
NARS PRO-PRIME Smudge Proof Eyeshadow Base
NARS Siberia Sheer Matte Foundation
Eyes
NARS Galapagos Eyeshadow
NARS Misfit Duo Eyeshadow
Read More
I know that there are a lot of Twilight fans out there so I am sure that you will be happy to find out that soon you will be able to buy Twilight themed collection by Essence.
This is dedicated to the 3rd part of the Saga "Eclipse" that will be out in theatres in this month.
Check out the photo of the collection
Read More
Specktra published information and photos from  the new MAC Cosmetics Dare to Wear collection that will be available in  August.
Dare to Wear includes 6 bright lip glosses and 12 eye shadows.
Dare To Wear Lipglass – €20
Ban This! Deep purple with multi-pearl
Bold & Brash Bright red with multi-pearl
Dare to Dare Light blue pink with multi-pearl
Gimme That! Bright fuchsia pink with pink pearl
So Bad Mid-tone coral orange with pink and gold pearl
Wind me Up Dirty bronze with pink and gold pearl
Eye Shadow – €15
Aqua -Subdued, pale greyed aqua (Matte) (Permanent, PRO)
Atlantic Blue – Bright violet blue (Matte) (Permanent)
Crazy Cool – Mid-tone lavender
Louder Please – Bright fuchsia pink (Matte)
Sassy Grass - Bright pale green (Matte)
Shock-a-holic – Bright purple
Free to Be – Bright true coral (Matte) (Permanent)
Read More
This week I got the information about Spring/Summer 2010 Jelly collection by butter LONDON. Probably most of you already know this information and alredy bought those nail polishes but still let's take a look at the collection.
Introducing Jelly by butter LONDON – an utterly unique approach to nails for Spring/Summer 2010! Soft hints of colour, which can be adjusted to compliment the diverse trends on the runway. For this season we saw ethereal fabrics and nude color, high impact sparkle, body conscious silhouettes, even flashes of striking colours such as red on the catwalk. butter LONDON wanted to reflect all these strong trends with this new collection.
So why these shades? "At first the Spring/Summer collections for 2010 left me baffled!" explains Nonie Creme, Founding Creative Director and product creator for butter LONDON. "How would I create nail shades for such a polarized season? There was a big divide between intense colour and total nudity in terms of catwalk makeup  and nails. The challenge was to find a middle ground that suited both directions."
Juicy, sheer colour that looks and feels like slick, wet "lipgloss" for your nails. These are designed to be layered, so you can wear just one coat for a hint/blush of colour and healthy glow, or two for better coverage of little nail problems and more colour, or three for juicy, barely sheer summer colours that are good enough to eat. They are also stunning when mixed and matched over one another! So many options in three bottles!
As always, the "3 Free" butter LONDON formulation offers a safer alternative to chemicals you are exposed to by other nail products. We believe in colour, not carcinogens.
Three NEW Jelly Colours:
• CHUFFED – A cool cantaloupe that becomes more of an iced tangerine with each coat.
Definition: Pleased and delighted
• STROPPY – A pale grape Jelly that becomes
Read More