Do you want to know what makeup trick I've been loving a lot these days? I love using eye pencil on the upper waterline. This trick makes a huge difference in your look!
All you need for this is a dark and soft eye pencil.Apply it on your upper water line, not on the lash line how you would usually apply the  liner but on the water line. I know that it's not the easiest and  not the most  pleasant thing to do but the results are worth it.
You can apply it on one eye and compare it with the other – you will be impressed!
So what's the point of doing it?
You lashes will look blacker and fuller and the eyes  will look more defined.
But, as I already said, make sure that you use a soft eye pencil that  glides easily. It's also nice to use a waterproof one that stays on for a long time.
Read More
If you are a girly girl, love pink and cute design, you're gonna love this new Victoria's Secret Radiant Face Trio which is available in 4 shades ($16). "Be a bombshell beauty. Unleash your inner glow with three radiant powders that combine to lighten and contour for a beautiful, illuminating effect."
Perfect Lipstick, $14 (available in 4 shades)
Read More
I am happy to tell you that Laura Mercier holiday collection is already available and it contains a lot of value sets so it's a great way to try the brand!
Mini Lip Glacé Set, $28
Laura Mercier Mini Lip Glacé Set gives lips extra sparkle, gloss and shine, and keeps them glistening throughout the holiday season. This perfect stocking stuffer includes five portable Lip Glacés for every gal on your gift giving list, including you!
Eye Colour Sampler,$ 48
Laura Mercier Eye Colour Sampler perfectly pairs eight fun and festive Eye Colours into one convenient compact. Mix, match and be merry with this amazing selection that lets you create endless looks and unique colour combinations for every occasion.
Colour Wardrobe, $98.00
Laura Mercier Colour Wardrobe lets you have it all with this specially-selected palette of
Read More
I love vintage and old makeup ads, they are so inspiring and it's nice to  see how the art of makeup has developed. Even if you look at the makeup ads which were made 5 years ago you can see a huge difference!
I have so many of them so I've picked some to share with you.  If you have  any vintage or old makeup ads or just those that you like a lot – I'd be very happy if you could share with us!
This is an old Maybelline ad (1952?)
Revlon 1952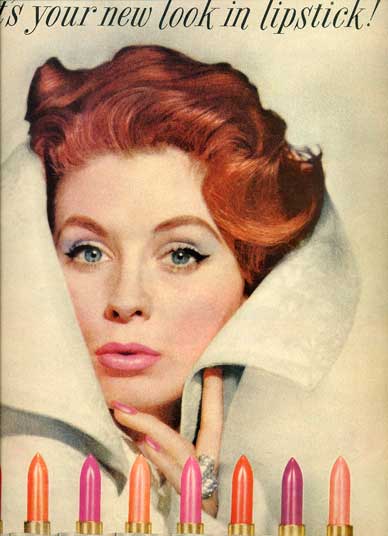 Chanel
Carla Bruni for Givenchy
Read More
I am sure that you all know that October is a month of Breast Cancer Awareness. And it's great that a lot of  beauty companies take a part in it! You can find a  lot of beauty products which are  marked with the pink ribbon which means that the profits (all or part) from those products will be donated to the Breat Canser Organizations.
Be sure that you also take a part and get yourself something. My choice is Becca Cosmetics Glossy Lip Tint in Julep: 15% of proceeds will be donated to Breast Canser Network of Strength.
If you are not familiar with BECCA's Lip Tints you can read my review here.
Read More