I've been very impressed with Bourjois lately and I am happy to tell you that they have a brand new gloss which sounds amazing and which I would really love to try.
It  is called Rose Exclusif lipgloss.
It is described as:
"Clear lipgloss that self-adjusts into a unique and personalised pink when applied to lips!
Because the pH of your lips is unique, this lipgloss enriched with pH reactive pigments will self-adjust into a bespoke pink to suit your skin tone!"
So, what will be your pink?
Yes, I would really like to know that! I am huge fan of
Read More
If you are a fan of Guerlain – you'd be happy to find out that they have a new version of Idylle which is fresher, more green and more uplifting.
Idylle Eau De Toilette now tells the story of the moment when a woman shows herself at her most fragile, when she reveals a more moving sensuality, veiled in mystery.
Some of the ingredients are:
Rose, lilly-of-the-valey, white lilac, peony, freesia, pure jasmine, musks, ylang-ylang.
Availability and price:
35ml – £33/€50
50ml – £46.50/€66.73
100ml – £69/€96.61
If you are in the UK, from 16th August at Selfridges.
There will be also a lot of different offers at Selfridges from 16th  of August.
If you buy the new Guerlain
Read More
I hope  that you all already know that I am a huge fan of ArtDeco eye shadows. I think these are one of the best eye shadows out there and  they are really worth getting! They have so many shades to choose from and they always have these beautiful LE palettes for the eye shadows. My fave is probably from Holiday 2009 collection.
Several months ago I got a LE palette from their Spring collection which looks like this. So I thought that it was time to get 4 more eye shadows to fill it in.  I've got only 1 so far because all the other shades that I've wanted were sold out (but I will be back). The price of each shadow is ~ €5, depends on the country.
I got eye shadow #605 which is a gorgeous silvery grey.
As usual, I am very happy with the quality. The eye shadows are:
Read More
Take a look at the beautiful ArtDeco fall 2010 makeup collection.Deep blue and warm caramel tones for the eyes and pinks and berries for beautiful lips. There is also a blush and some new nail polishes.
As usual, ArtDeco has a LE design for the eye shadows!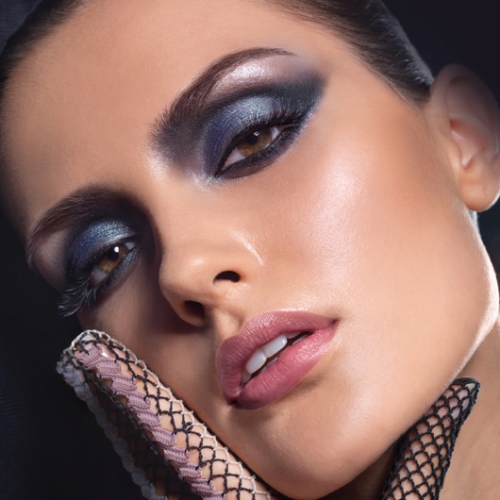 Eyes
Eye shadows €4,80
Beauty Box Quattro Art Design€ 7,50
#80 Pearly Midnight Blue
#84 Pearly Lavender Blossom
#205 Lucent Ferrite
#203 Silicia Glass
The Loose Powder Eye Shadows
Eye Designer Refill €7.50
#95 Designer Eye Pearly Violet Silk
#89 Luminous Night Sky
#15 Shimmering Rock
#7 Tobacco Brown
The Magic Eye Liner € 10,80
Waterproof  Eye Liner € 6,80
Star Liquid Liner €12,80
#4 Timberlake
#9 Sapphire
Eye Brow Color Pen € 9,50
Lips
High Performance Lipstick €12,80
Read More
While we all are still under the impression of Paul & Joe Fall 2010 makeup collection with the cat lipsticks here is a sneak peak of their holiday collection.
This collection is inspired by the symphony. The eye products have the musical theme while other products have a floral design.
More photos
Read More