"Karl Lagerfeld gave me three key words: Neon Baroque, Chemical Pastels and Liquid Silver. For the lips I used the new Summer 2010 Rouge Allure Lipstick in Genial. This coral shade perfectly matched the Technicolor and Neon Baroque spirit Karl wanted for the makeup at this show."- Peter Philips
It seems that we all are waiting for the new Summer 2010 makeup collection by Chanel. I already made a post about it but here are more details and closers looks.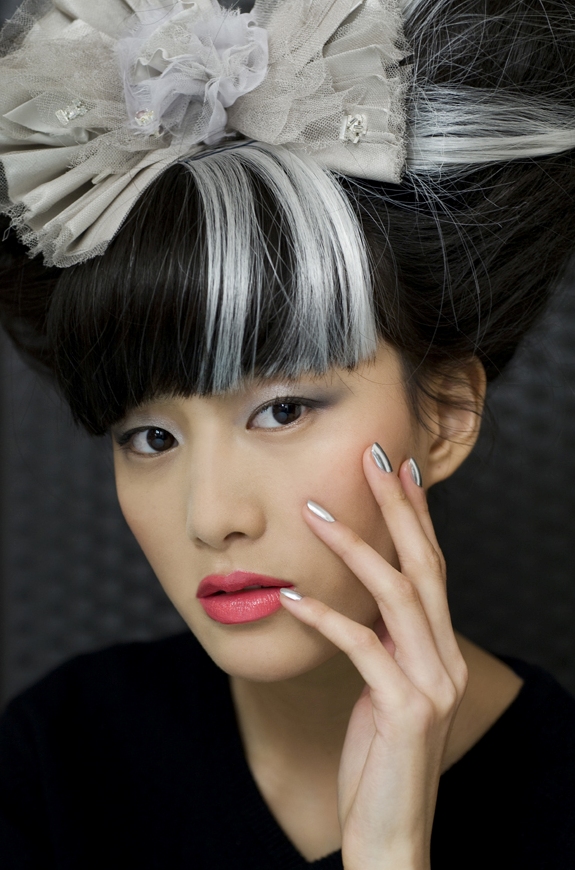 Here are the products that were used to create this look:
Eyes:
1. Ombres Contraste Duo in Gris-Subtil (summer 2010)
2. Le Crayon Khol Intense Eye Pencil in Graphite
3. Inimitable Mascara Multi-Dimensional in Black
Cheeks:
Les Tissages de Chanel Blush Duo Tweed Effect in Tweed Corail
More products and the photo of the new amazing coral lipstick
Read More
We made it to February! Have a great month everyone! On Saturday I spent lots of hours looking at photos from Haute Couture shows. So I want to share some of them with you. If you follow me on twitter – you already saw several but here are some more.
Dior
I absolutely love the first photo
Givenchy
Read More
Check out the summer 2010 collection by Clarins – British Beauty Blogger
One of the best posts I've read in a long time. You don't have to agree with what is written but you can't deny that it's an  interesting post about MAC Cosmetics – Beautiful with Brains
Review and swatches of Very Hollywood collection by Michael Kors for Estee Lauder – Mizz Worthy
You are a fan of luxury beauty? Then you need to find out more about La Mer – Chic Profile
Monika shares with you the beauty products that she is using now -  Rocaille Writes
Mona shows you the look she created with shu uemura and MUFE mascaras – Make Me Blushhh
I am not sure if I love the Muse after this review  of the Cabana Corals collection by Bobbi Brown
because now I just HAVE to get at at least 3 pieces – Musings of a Muse
How is your Sunday everyone? I hope you are having a great time! Today my only brither's has BDAy so I am with the family and it's time for celebration!
Read More
French & Fabulous palette ($28.5) was a part of  a  holiday collection by Too Faced but it is still available at their website.  Since I didn't find anything interesting for myself in their Spring 2010 collection I got this palette and I am very happy  that I did!
Here is what is written about it:
"Become beauty royalty and claim your throne with this majestic Collection of six eye shadows, highlighter and bronzer! This queen's treasure of Too Faced's most legendary shades will secure your crown and your place amongst the glamour monarchy!"
Tips and Tricks
1. Intensify your eye color by applying the deeper shades as liner, then smudge color under the eye.
2. Apply the paler shadow shades all over from lash to brow for use as a soft, eye-opening base.
3. Use Shadow Insurance Eye Primer before shadow application to lock in your lid look!
4. Use Pink Leopard Bronzer for a skin-perfecting, illuminated finish.
And this is how the palette looks like inside:
As you can see that there are 2 bronzers and 6 eye shadows. So here is my opinion about them all + swatches.
Bronzers
"Best-Selling Bronzers: Our two most coveted bronzers work with a variety of skin tones to illuminate and bronze."
Pink Leopard Highlighting Bronzer
Sun Bunny Bronzer
I really love both bronzers, they are amazing! Although Too Faced has a set with 3 bronzers and a brush I wanted to get some of their shadows so this is why I got this set.  Now I understand why these 2 bronzers are bestsellers – they are perfect. The colours are amazing and look they great on the face.  Plus it's easy to work with them. (sun bunny is darker and pink leopard is lighter)
Single Eyeshadows
Totally Toasted Brown & Totally Toasted Beige
These two are great colours for everyday use and will look nice on everyone.
Poodle Puff Raisin, Poodle Puff Pink, Ooh & Aah
All 3 shades contain
Read More
Only today I've made a post about CORAL collections by MAC and Bobbi Brown and this is not all! Guess who is into coral, too? CHANEL!  You can see coral lips, cat eyes and silver nails on the models. I thought there could be nothing better than their Spring 2010 Les Impressions de Chanel collection but now I am dying to see the Summer collection.  I am sure you've noticed that this Fall most brands had a lot of purple and lilac in their collections and I even made a post about it. Now coral is the hottest colour and this makes me extremely happy. Are you with me?
Freja Beha at Chanel Couture SS2010 show
Snejana Onopka, Karl Lagerfeld at Chanel Couture SS2010 show and more about coral
Read More