Take a look at the new Bobbi Brown palettes Pretty and Powerful.
Bobbi Brown  Pretty Palette
Feeling pretty? Designed for light to medium complexions, this palette was inspired by Bobbi's signature natural, healthy look. Four eyeshadows in beautifully wearable pink and brown tones create a softly defined eye. New Pretty Pink Powder Blush adds a fresh pop of color, and two rosy glosses complete the look with a hint of color and lots of shine.
Palette inlcudes: Ivory Eye Shadow, Pink Flannel Eye Shadow, Pink Chiffon Shimmer Wash Eye Shadow, Chocolate Caviar Eye Shadow, Pretty Pink Blush, Sandwash Pink Lip Color, Bubble Bath Lip Gloss and Soiree Pink Glitter Lip Gloss.
Bobbi Brown  Powerful Palette
Healthy, natural makeup doesn't mean
Read More
If you are a fan of Make Up For Ever and love their products (who doesn't?!) I have great news!  There is a new product on the market – Make Up For Ever Uplight Face Luminizer Gel.
It is described as: "A luminising gel which imparts a natural glow to the face. The formula contains over 70% water for a fresh & light texture along with light reflecting pearls to ensure an even, radiant result. Pro Tip: Use alone on bare skin, or mix a little into your foundation to customise. "
It is available in three finishes: Dewy, Pearly & Sparkling.
Dewy
#11 Dewy Pink Beige
#12 Dewy Golden Warm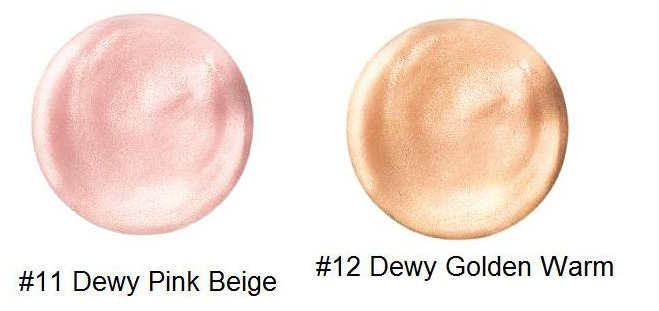 Pearly
Read More
It's almost the end of the year so I just want to share my favourite makeup products for face  of 2010! I am not going to name a favourite product in each category but will just name the products that I really loved this year. This is obviously my personal opinion and  I would really love to hear about your favourite products!
Drumroll please…
Primer
Illamasqua Satin Primer
This works amazing if you have dry skin. I just mix a tiny bit of this primer with foundation and it gives a beautiful dewy finish. It doesn't look greasy but I would use it only on the dry skin. Read review here.
Powder
Make Up For Ever HD Powder

It works like a "real life" Photoshop, it blurs all the imperfections. Now don't get me wrong it won't make your skin look perfect if you have a lot of problems but it does change the way your makeup looks a lot. It is also an amazing products for taking photos. Read review here.
Bronzers
Too Faced Bronzers
These are great for brightening up the face, I use them to give the face the warm glow. Too Faced brozners are shimmery but not over the top, they give just a perfect shade. My favourite are Pink Leopard and Sun Bunny. Read review here.
Hoola by Benefit
This was my favourite bronzer for contouring this year, I've used it a lot on myself and on others. It has a matte finish which looks nice on a lot of skin tones. Read review here.
Blushes
This was the most difficult task to choose my favourite blushes because there are
Read More
When I saw BECCA's holiday 2010 collection I knew that  it will be mine! I've picked 2 sets for myself and here are my thoughts about  the Beach Tint Trio.
So Beach Tints are:
Beautiful  stains for cheeks and lips which smell just like the fruit/berry it is named after.
These are very small, only 7ml, but you actually need the smallest amount of product (which you will see on the photo below). The shade is buildable.
Probably the best thing about the Beach Tints is that it looks very natural, just like your real blush.  It is quite hard to go overboard with most of the shades. Just make sure that you blend the edges really well.
It is not greasy. And doesn't look streaky when it's dry.
When it's put – it stays on for the whole day! BECCA is an Australian brand and the idea of this products is that you can wear it even on the beach to give yourself a natural blush and lip colour and it will stay on despite all the swimming and hot weather. Well, I didn't have an opportunity to try it out myself (but I don't wear makeup to the beach anyway) but it is snowing here right now and the blush stays on no matter what.
I haven't
Read More
Merry Christmas, my dear readers!
If you celebrate it today (some celebrate it on the January 7th) I wish you a wonderful day and God blessings!
Read More