Sephora has a limited edition Make Up For Ever Beauty In A Box – Aqua Essentials Kit ($124 Value) for only $69. And I think it's really worth getting this set! It contains some amazing MUFE products and a how-to guide.
This month I also got one MUFE set for myself so I thought I'd just share the photo of it with you before I review the products. It is also a  LE so get it now before it's too late.
Aqua Essentials Kit:
2 x 0.21 oz Aqua Cream in 13 Warm Beige (champagne shimmer) and 15 Taupe (taupe brown shimmer)
2 x 0.04 oz Aqua Eyes in Mat Black 0L (black) and Dark Grey 21L (dark metallic grey)
0.23 oz Aqua Smoky Lash in Extra Black
0.04 oz Aqua Lip in Nude Beige 1C (light neutral beige)
0.84 oz Sens'Eyes
You can see my review and swatches of both black and grey Aque Eyes here.
Recently I bought quite a few items from MUFE, including HD Complexion Travel Kit.
0.5 oz HD Microperfecting Primer
0.16 oz HD Elixir
0.17 oz HD Microfinish Powder
This is how it looks like in real life
Read More
I know that some of you don't like Sex and the City so don't bother reading this post;)  I already wrote why I like this show : "because of their friendship and because of nice places and clothes". But guess what?! Everyone looks at their clothes and style but I've never seen anything about the beauty and makeup that the girls use!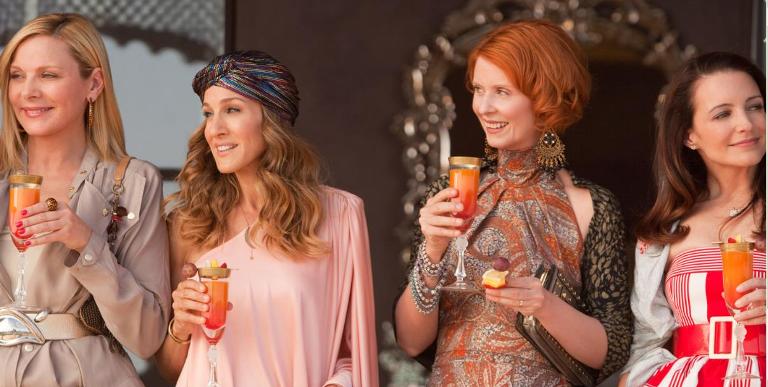 Did you ever wonder what  beauty brands Carrie, Samantha, Miranda and Charlotte use? When I was watching Sex and the City series again (in March) I coudln't help myself spotting different makeup items. So I got a great idea… To make screenshots of all such products! Unfortunately, I came up with this idea only when I was already watching the 3rd season but I remember what brands I saw, so no worries
At the premiere of Sex and the City 2
But I still managed to make some screenshots ! Are you curious? Then find out the answer just after the cut!!!
Read More
Check out the new  summer 2010 collection by Essie which is already available!
Summer is special. Aside from the wonderful outdoor activities that we wait for all year, we also revel in the opportunity to now wear lighter, brighter and more playful clothing. Finally, we can shed the wool and mohair for cotton and linen. The keyword for summer is: fun! So indulge in seriously sensational color! Don't be shy – make it the time to play with bold, playful color combinations.
Pretty Edgy – vivid palmetto green
Miss Matched – sweet, sheer, ready for anything pink
Haute as Hello – racy, scorching coral
Knockout Pout – hot supercharged pink
Read More
Let's take a look at the new products in beauty!
Naked Eye Soft & Sexy Eye Shadow Collection ($73 Value), $34 (Sephora's Beauty Insiders only)
A gorgeous collection of 9 essential matte neutrals and soft shimmer eyeshadows, complete with 3 Get-The-Look cards and an applicator tool.
Shades include: In The Buff (matte ivory),
Pillow Talk (light taupe sheen),
Like A Virgin (matte taupe),
Birthday Suit (beige shimmer),
Satin Sheets (golden champagne shimmer),
Unmentionables (steel gray shimmer),
Pink Cheeks (pale pink),
Lap Dance (silvery taupe shimmer),
Stiletto (matte black).
Too Faced also has Natural Eye Neutral Eye Shadow Collection, $34 Smoky Eye Palette , $34. I have the first one (I made photo a long time ago so I will try to write a review soon) and I really like it!
Urban Decay Eyeshadows – Sephora Exclusives, $17
I really love Urban Decay eye shadows and I have a lot of them so I would recommend you getting these new  shadows if you still haven't tried any and even if you did these are Sephora's exclusive so don't miss them!
What it is:
A pigment-rich, bestselling eyeshadow that is exclusive to Sephora.
What it is formulated to do:
The shadow is loaded with color, with very few binders (the stuff that holds shadow together), resulting in beautiful color that blends easily and lasts. Lots of finishes to suit your mood: sparkle, shimmer, duochrome or metallic.
Bourjois Elastic Mascara
Read More
After the success of the Michael Kors Collection Estee Lauder presents Tom Pecheux collection for Fall 2010.
The LE  Pure Color Collection for Fall 2010 features smouldering eyes, shimmering lips and bold nails.
The complete make-up collection includes two distinct looks : Blue Dahlia and Surreal Violet.
Eyes take centre stage in hues of electric blue and vintage violet, while lips shimmer in subtle shades of pale pink and raspberry. Deep navy and iridescent lilac nail polishes complete the look.
Blue Dahlia
Key items include the Pure Color EyeShadow Palettes in Blue Dahlia and Surreal Violet. Each contains five shades presented in a golden, mirrored compact complete with oversized Estée Lauder cartouche.
Surreal Violet
The lip offer features Pure Color Gloss Sticks and Pure Color Glosses, in shades of raw pink and magenta, for a subdued lip look to balance strong eyes. A deeper berry shade (Midnight Bloom) delivers a stronger pop of colour.
Single eye shadows, in 4 new shade:
Read More