Hi, girls! Do you remember the Illamasqua nail varnish competition? They already have 3 winners and the nail polishes will be available in Fall (2 are amazing and one I don't like at all).
Myself, as a person who also entered  got an e-mail from the brand telling that I made it to top 50 among 6000 entries. This made me kind of excited:)
Since those nail polishes are not available yet  I've picked from those that already exist. I've picked the Alarm nail varnish( £13), which is described as "bright flame red, glossy finish."
Applied on the nails
Read More
Take a look at Too Faced Fall 2010 collection called "Get Naked" which is already available.
Collection includes:
Naked Eye Soft & Sexy Eye Shadow Collection ($73 Value), $35
A gorgeous collection of 9 essential matte neutrals and soft shimmer eyeshadows, complete with 3 Get-The-Look cards and an applicator tool.
Shades include: In The Buff (matte ivory), Pillow Talk (light taupe sheen), Like A Virgin (matte taupe), Birthday Suit (beige shimmer), Satin Sheets (golden champagne shimmer), Unmentionables (steel gray shimmer), Pink Cheeks (pale pink), Lap Dance (silvery taupe shimmer), and Stiletto (matte black).
Lashgasm Mascara
$21
A voluptuous, fluffing mascara that conditions as it thickens to create dramatically long lashes with intense color.
Lashgasm's multiple rows of flexible-but-firm, molded bristles are designed with micro-hooks that grab each and every lash for a clump-free application. The vitamin-rich, creamy formula penetrates for high-color absorbency and exaggerated depth. Meadowfoam Seed Oil forms a protective barrier to lock in soothing emollients that promote long-term wear without drying or harming lashes. A moisturizing combination of Panthenol, Vitamins A & E, and Jojoba Seed Oilhydrates and soothes lashes to keep them soft, light, and flexibl
Leopard Love Complexion Perfection Kit, $30
Bronze, blush, and brighten with this all-in-one complexion perfection collection containing three purrrfect shades to complement any pretty kitty's skintone.
Three naturally sexy shades offer a variety of application options: The new Peach Leopard offers a soft and healthy naturally apricot glow, the new Candy Leopard contains pink tones that promote a luminous, flush pop of color, and best-selling Pink Leopard contains golden bronze and gilded pinks to brighten any complexion. This palette provides an on-box, get-the-look face chart with easy-to-follow steps for creating a naturally glowing complexion. Customize your bronze or blush by mixing shades to color and contour as the formula builds evenly for a flawless finish—from sheer and sexy to deep and dangerous.
I would really love to get this set because I love their pink leopard powder and this set looks amazing(I hate leopard print but I still love how this powder looks). You can read my review with swatches about Pink Leopard here.
Primed & Poreless Powder, $ 28
Primed and Poreless Powder contains a high-resolution, reflective powder technology that transforms skin by visually minimizing pores, fine lines, and imperfections for an airbrushed-looking finish. Our weightless powder can be worn alone, or under and over foundation to prep skin, lockdown makeup, and control shine for a complexion-smoothing, flawless finish. Achieve perfect results using the new Powder Pouf Brush created specifically for Primed & Poreless Powder application.
Amazing Face SPF 15, $32
Go from sheer and natural to full and flawless with this flexible-coverage foundation. The weightless pigments float over imperfections to minimize the appearance of pores and fine lines, while instantly improving tone and texture. The formula contains the innovative Regu-Seb, which helps to control and reduce oil production and leaves skin looking fresh. It also features Bamboo Silk, a nutrient-rich ingredient that revives and renews the skintone to promote a balanced texture and impart a comfortable-feeling finish.
Vanilla Crème
Warm Vanilla
Read More
So often you all ask me where to buy this or that beauty product so I got an idea. I plan to write a post about the on-line  beauty shops that I love and on-line shops where you can get brands that are quite hard to get. What do you think, do you like the idea?
You often ask me where you can get Make Up For Ever in Europe (it's not available in all countries). The answer is – Guru Makeup Emporium. I am not sure what countries they ship to and the price for that but you can e-mail them if you are interested. It's an on-line beauty shop from the UK and although I never got anything from them (yet) I heard some good reviews about their service!
They also have the newest lip gloss from Make Up For Ever called the Lab Shine.
There are 3 different formulas:
Make Up For Ever Diamond Labshine Gloss, £15.50
Ultra bright & ultra shiny lipgloss containing the diamond powders which impart a sparkling shine with a sheer coverage & natural effect. Use alone or to boost your lipstick. Pro tip: to maximise intensity add extra diamond powder.
D0 Diamond
D2 Amethyst
D4 Grenadine
D6 Magenta
D8 Baby Pink
D10 Fresh Pink
D12 Quartz Pink
D14 Indian Pink
D16 Beige
D18 Copper
D20 Tangerine
D22 Papaya
Make Up For Ever Star Labshine Gloss, £15.50
Ultra bright & ultra shiny lipgloss containing the star powders which impart a pearly shine with a medium coverage. Use alone or to boost your lipstick. Pro tip: to maximise intensity add extra star powder.
S0 Nude
S2 Light Beige
S4 Pink Beige
S6 Peach
S8 Ruby Red
S10 Caramel
S12 Praline
Read More
Besides the huge collection that I already wrote about Urban Decay has one more new product! Flavored Body Powder. Yummy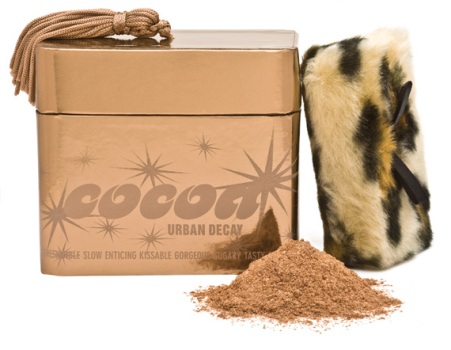 This is how it is described:

"Dust it on and let someone else kiss it away! Sweeten your look or give it a sexy kick by slipping on a seductive sheen. Try them all!.
Flavored Body Powders gives skin a long-lasting radiant glow. Dust on shoulders, face, or decolletage with Urban's signature leopard puff for glistening, soiree glamour. Makes a scrumptious gift for you, your man, or a friend. Powders are sparkly, scented and delicious, just try them and see. Mix and match for new flavors."
There are 3 different flavours:
Honey: smells, tastes, and attracts like…HONEY
Cocoa: a sinfully sweet glimmer, chocolate flavored
Marshmallow: a yummy sparkler, toasted marshmallow flavored
They all are  18g net wt. 0.63 oz, each is $26
Read More
I have special feelings for Lancome, I love this brand. This was the first luxury makeup brand that I got with my own money when I was a teenager :).And I still keep buying their new products!
I love this brand even more after Aaron de Mey joined it because he is simply amazing! Such a handsome and talanted man with a magnetic charisma.  I know some people who were lucky to work with him and they  say the best things about him.
I am  always excited to see new collections by Aaron so I was happy too see this sneak image of the new fall  2010 collection which is called French Coquettes and is based on dark and beautiful colours.
photo from biteki.com
There will be new glosses, lipsticks, nail polishes, shadows, rose face powder and many more. I can't wait to see all the details and let you know.
But so far I love the collection because for me visuals and the idea behind the collection is very important and I love this idea. And what about you? What Fall 2010 makeup collection do you like the best so far?
Read More