Here is a preview of YSL's Autumn makeup collection which is actually already available from Nordstrom.
I love how Edie Campbell is wearing all black, she looks cool with those rock chic vibes.
My personal favourites from the collection (judging by the promo photos) are the lip products:
Gloss Volupte Lip Gloss, $32
51 Rose Lurex
52 Violet Sequins
53 Rose Strass (not shown)
Rouge Volupté Shine  Lipstick, $36
34 Rose in Sound
35 Fuchsia in Grunge
36  Rouge in Rock
How cool are the names?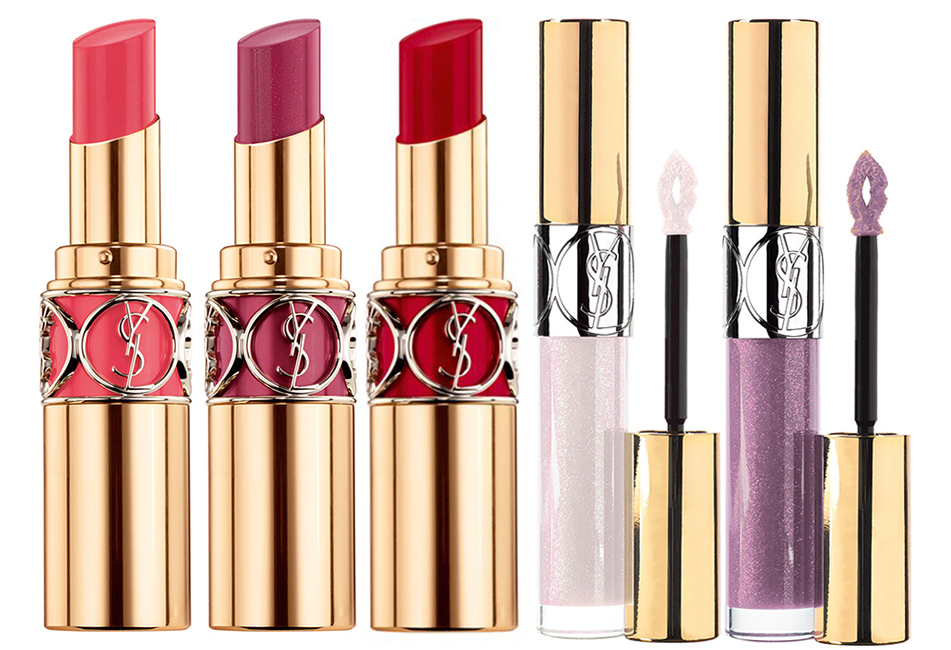 Other products are Poudre Compact Radiance Perfection Universelle  ($47) which  is a HD powder which sets foundation, mattifies, blurs and evens out all complexions without looking cakey or chalky. And also
Read More
I was away with my friends for the weekend, and it was exactly what I needed, we had such an amazing time, walked around, tried new food and just laughed a lot.
I thought I'd share what lip products I had with me. I could actually have less but since I wanted to make an effort for once and have a choice I took quite a few. And here they are together with everything else I had with me, so that you'd see the proportions.
Plus,  I've decided to share about the lip products, as regular readers will recognize all the other products as I talk about them non-stop anyway. But if you have any questions about any of the products – please leave me a comment.
Also, since I usually talk about luxury lip products, I thought it'd be nice to include some budget-friendly options this time.
Clarins Instant Light Lip Balm Perfector. (review and swatches) – the best "nude"
I am totally in love with this line. I have already used up 01 Rose and now am half way through Rosewood. These are absolutely brilliant, just like the glossy version. I also have two more shades which are equally great!
Rouge Bunny Rouge Lip Potion Devilish Nectar – just for fun.
This is actually a  lip gloss with Chilli which makes your lips fuller.  It also contains  golden shimmer so the lips do look pretty. I did not get a chance to use it this time but it was nice to have options.  I will
Read More
Here is a preview of a one more Fall 2015 makeup collection. And this time it is Stila and their Modern Goddess collection.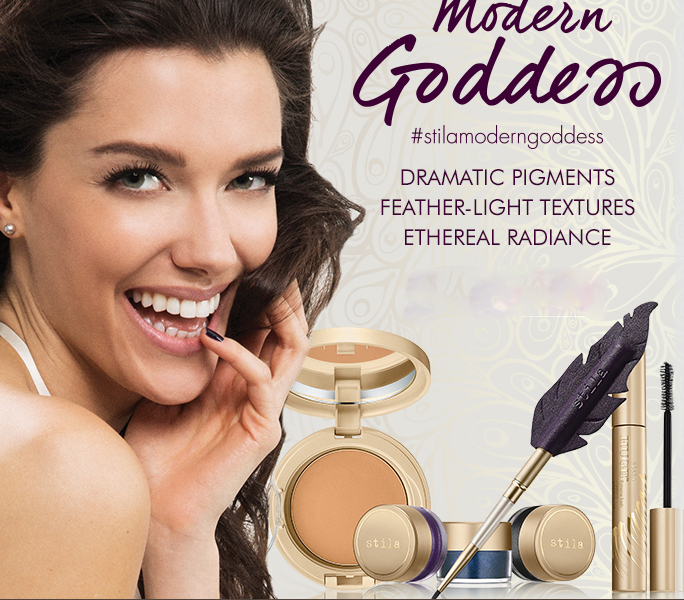 The star  of the collection have to be  Got Inked Cushion Eye Liners,  ($28)
Yes, the cushion formulas are here to stay!  These are described as  lightweight, yet richly pigmented liquid eye liners dispensed through a cushion soaked in colour. They are also long-lasting and budge-proof. There are both matte and metallic finishes.
The colours, as shown below, are: Smoky Quartz Ink, Copper Ink, Garnet Ink; Black Obsidian Ink, Blue Sapphire Ink and Amethyst Ink. How gorgeous do the garnet and sapphire shades look?
You can get a new primer and mascara as a part of the collection, too.
HUGE Extreme Lash Mascara,  $23
It sounds all kinds of amazing " For the biggest, boldest, blackest black lashes ever! With just one coat, you instantly get major volume, length, curl, lift and intense black colour. Go as bold as you want! Even with multiple coats, this flexible, buildable formula leaves lashes soft with no clumps, flakes, or fall out."
Lash Stunner Extreme Lash Primer, $26
This primer contains two different kinds of  fibers:
Read More
If you follow me on Instagram, you already saw that I've bought some new beauty products over the weekend. And here they are:
Neutrogena Deep Moisture Body Lotion
I can never have too many body lotions, I  simply have to use body creams, as my skin is ridiculously dry.  I am a huge fan of this Neutrogena lotion but this time decided to get  this version which is loved by a lot of people with dry skin.
La Roche Posay Redermic [R]  Anti-Aging Concentrate Intensive
After reading a lot of raves about this retinol eye cream, I've decided to give it a go. I hope it is as good as everyone says it it.
Caudalie Make-up Remover Cleansing Water
I've used up my favourite Clarins cleaners (with peach and with orange) and I wanted  a
Read More
Here is a preview of the new Too Faced makeup collection for Fall 2015. And I personally really love the look of the blushes, there is one colour that I personally would love to have.
 Love Flush Long-Lasting Blush, $26
As shown above: Baby Love, I will Always Love You, Love Hangover (first row); Justify My Love, How Deep Is Your Love?  and Your Love Is King.
These are described as "long-wear, fade-proof, smudge-proof,  pigment-rich and high-impact" with rich an buttery formula. And I  really love the look of the Baby Love shade.
Love Palette Passionately Pretty Eye Shadow Collection, $49
Read More