This time the new products for face, lips and eyes are budget friendly with H & M, Soap & Glory and Maybelline latest releases.
Maybelline Master Contour V-Shape, £6.99 from Boots
"The clever "v" shaped, dual-sided applicator boasts a cream-matte contour and highlighter that effortlessly blend into skin." I am loving the Maybelline powder contour and highlighter duo, and this one looks like a nice addition.
Available in 2 shades: Light and Medium
Soap & Glory SEXY MOTHER PUCKER Lipstick , £9.00 / €10.53 from Boots and Ulta
The brand brought out 24 shades in three finishes:
Read More
Check out The Great Blush Debate: Cream, Powder, or Stain?
Read More
I am not a big fan of all those "get in shape in 10 days" and "bikini ready in a week" features which are all over the Internet and in press every summer. But there are ways to make your skin look "summer ready", as cliche as it sounds. And, since it is a beauty website, here is a step by step guide on what products and procedures I swear by.
Exfoliate
I am a big fan of dry skin brushing, and I know that   a  lot of models swear by it, too.  My personal favourite is definitely Elemis Skin Brush. It is not the cheapest option but really worth the money, in my opinion. I actually have two.
Coffee scrubs will also help in terms of making your skin softer and smoother. They should also help in reducing cellulite, at least  I read such feedback from people who have been using them long enough.
Fake Tan
My skin is
Read More
I want to share about my morning serum of choice which I have been using  most days for the last several months together with this cream, and have been loving the results.
I've got a small sample with one of my on-line purchases, and loved it so much that went out and bought a bottle. The serum in question is Vichy Idealia Life Serum. Speaking of Vichy Idealia, I've noticed that it is the range a lot of my girlfriends that are not even into beauty use, and they all love it. I thought is was worth mentioning.
As for serum, it comes in a pretty pink packaging, has a convenient pump and smells really good. As for the formula, it is light and non-greasy, and works great underneath makeup.  Although Vichy suggest using it both morning and night, I've used it only in the mornings, as it contains those light-reflective, illuminating  particles that
Read More
I am sorry that there were no updates for several days, work and life in general just got too busy, but I am back with yet another selection of the new products for lips, eyes and face that caught my attention. This time it is all about Illamasqua,  Marc Jacobs and YSL.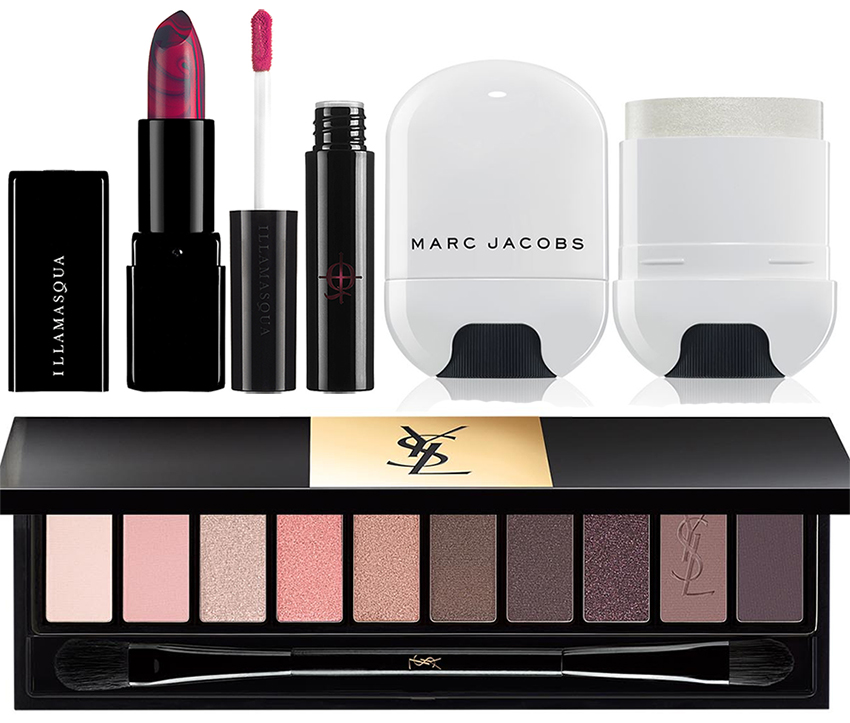 YSL Couture Variation 10-Color Expert Eye Palette, $95 from  Bergdorf Goodman and £49 from Harvey Nichols.
They say you can never have to many nude eye shadows, and this one looks gorgeous. Inspired by  the fabric swatch sheets of Yves Saint Laurent's creative studio, there are 10 neutral shades which come in different finished; housed in an elegant and sleek packaging.
Illamasqua Marbled Lava lips lipstick (£19.50) and Lip Pure Liquid Lipstick (£19.50) from HqHair, Net-a-Porter, ASOS and Selfridges.
It looks like Illamasqua are finally back to their roots with
Read More