I was looking for a new top coat, and thought I'd give Mavala's Minute Quick Finish Fast Dryer Top Coat a try!
I did not read any reviews about Mavala top coats (and there were several to choose from), and decided to buy this one when I saw in the other day in the shop.
So what do I like about it?
I love how small it is because fast drying top coats get very gloopy after some time, and it it impossible to use them up, without any special thinning products. So, hopefully, I will be able to use more than a half bottle of this one. I've been using it for several weeks now, and have about 1/4 of it gone already.
My main requirements for a top  coat are:
Read More
This summer YSL's makeup collection was inspired by Yves love for different blue shades and the  sea. Btw, I still haven't seem that new film about him, have you?
While I am not entirely sure what exactly the brand was trying to say with the visual below, I like the Bleus Lumiere release, regardless. And I really like the blue and fuchsia on Cara and the baby blue nail polish on the other model.
So what new products are a part of this collection?
Kiss & Blush, $40/£27
Palette Collector Summer 2014, $60
YSL are launching new quints, and here is the first look.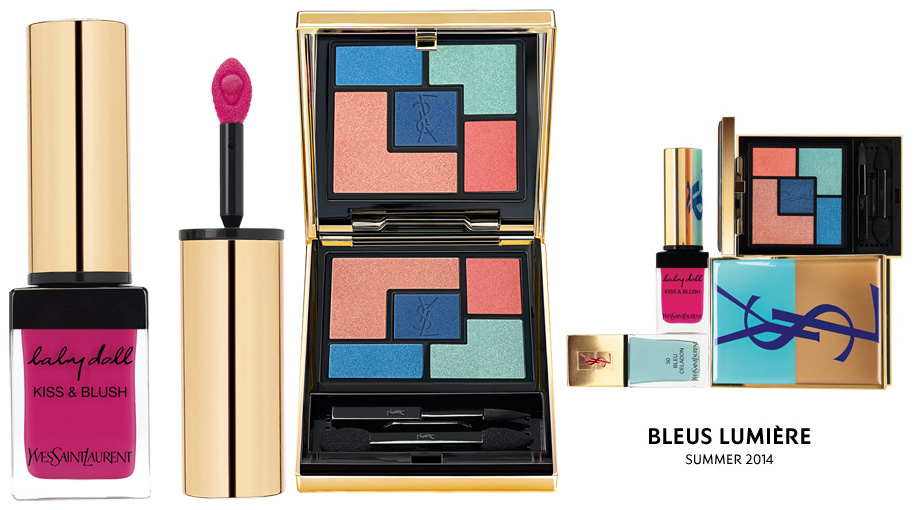 There will be two blue eye pencils and nail polishes in baby blue and indigo. And these four products have to be my personal favourites, along with the
Read More
I already reviewed Daniel Sandler's Long Lasting Waterproof Eyeliners. I have five shades out of six: Black Velvet, Brown Velvet, Purple Velvet,  Grey Velvet and Green Velvet (Blue Velvet is the one missing).
But recently those liners got a lill' makeover; now, instead of black packaging, you get a matching colourful one, which I personally like a lot. Plus Daniel added a new shade – Aqua Velvet, which he kindly sent for me to try.
And… it is my favourite one! After the brown one. But you know me and the brown eye pencils, I can't live without those.
But back to the Aqua shade. If I had to write a feature about my top 5 Daniel Sandler Cosmetics today, this would be in it, for sure.  Yes, I like it
Read More
I have already mentioned new Armani powder blushers and bronzers  but the brand actually also launched liquid bronzer and blushes, too!
All the products are a part of the Mediterranea collection.
So what you can choose from?
 Maestro Fusion Blush $52/£35 in 300, 400 and 500
Liquid blush which feels weightless on and gives a beautiful colour.
Maestro Liquid Summer Bronzer SPF 15 (LE) $64/£39 in 100
Liquid bronzer
Read More
Happy weekend, everyone!
I've managed to do a lot of things during Saturday and Sunday, and still have some stuff planned for the evening (like going to the cinema) .
The most important one is that I went out running yesterday, which you already know, if you follow me on Twitter, and it was amazing! By the way, I could have a professional career in sports, but after some time I've realized that it was not something I was ready to dedicate my whole life to. But I still love running, for me it's a great way to work out, and relax…
I have also managed to catch up with
Read More