Last week I was sorting out my nail polish collection, and realized that I never posted about the nail polish (and several other) which I've bought over a year ago, and which was a huge  back then.
And I am talking about Max Factor's Max Effect in 45 Fantasy Fire.
It is a sheer and very complex blueish purple with reddish shimmer. A total beauty! I even did not paint my nails red this week, just to wear this…
Above you can see me wearing four shades of it. Yes, that is a lot of effort, but luckily those layers are thin and dry very quickly so you don't have to wait for hours. I have also used
Read More
Yet another beautiful holiday collection is already available from Sephora. Laura Mercier brought out various kits for lips, eyes and cheeks. There is also a travel brush kit. Oh, and a lot of value sets with the brand's best-selling body care products.
Lips
Mini Lip Glacé Set, $50
Pink Pop, Wildflower, Tulip, Bare Pink and Angelic
Pink Spark Lip Transformer Trio, $32
Mini Lip Pencil in Potpourri
Mini Crème Smooth Lip Color in Creme Coral
Full-Size Lip Glacé in Pink Spark
Ruby Spark Lip Transformer Trio, $32
Mini Lip Pencil in Ruby
Mini Crème Smooth Lip Color in Red Amour
Full-Size Lip Glacé in Ruby Spark
Eyes and Cheeks
Mini Caviar Stick Eye Color Set , $55
Rose gold, Amethyst, Moonlight, Copper, Khaki and Cocoa
Luxe Travel  Brush Collection, $125.00
Read More
Do you remember the Mineral Eye Make-Up Palette Clarins released last Christmas that so many people loved?
Well, I have great news, this years the brand brought out a new one, which actually looks even nicer to me. It is called The Essentials Eyeshadow Pallete, and it is already available  and here for £35.
Which, I think, is a great price for ten eye shadows (each is 1.5gr). And it looks like a very versatile palette, too.  It contains: 
Read More
I have to give it to Illamasqua, the promo images of their new campaign Facets are the best ones they released in this year. Such a beautiful fabric on the background with the rich colours and beautiful dimensional embroidery.
And how gorgeous is the makeup? Inspiration alert!
The star products of the collection are the two new palettes, which will definitely become best-sellers.
Multi Facet Palettes, £45
Multi Facet palettes come with a compact with mirror, and a mini double-ended angled and blending brush.
Aura: Gleam in Aurora,  Cream Pigment in Hollow, Eyebrow Cake in Thunder, Powder Blusher in Tremble and four Powder Eyeshadows.
 Semblance: New Gleam in Mirage,  Cream Pigment in Hollow, Eyebrow Cake in Thunder, Powder Blusher in Hussy and four  Powder Eyeshadows.
As for other products, they are:
Lipsticks, £18.50
Read More
Guerlain's Christmas 2014 makeup collection was inspired by the opera and ballet.
Olivier Echaudemaison describes the elegant Guerlain woman in a little black dress, beautiful statement lipstick and a shimmering powder on her décolleté and arms.  You can get your inspiration from Natalia on the promo photo, and re-create the look with the help of brand's new gorgeous products.
Coque d'Or Perfumed shimmer powder body & hair, £55 / €79
Guerlain  reproduced Coque d'Or's original bottle and reinterpreted it in gold-lacquered glass just for this collection.  This shimmering  golden powder can be used on both body and hair. It is scented with the notes of rose, bergamot and patchouli.
Petrouchka Palette Eye & Blush Palette £56.00 / €77
The palette that, according to the brand is as "dazzling as the gilding of the Bolshoi or the Opéra Garnier." It contains five eye shadows and  four blushes: fresh pink and coral revive the cheekbones; rosewood and brown sculpt them to perfection. See it featured here.
Météorites Perles d'Etoile, £37.50 / €49
This year's Guerlain meteorites feature the famous bow inspired by Coque d'Or and come in a golden packaging with six shades of pearls  inside for a luminous glow.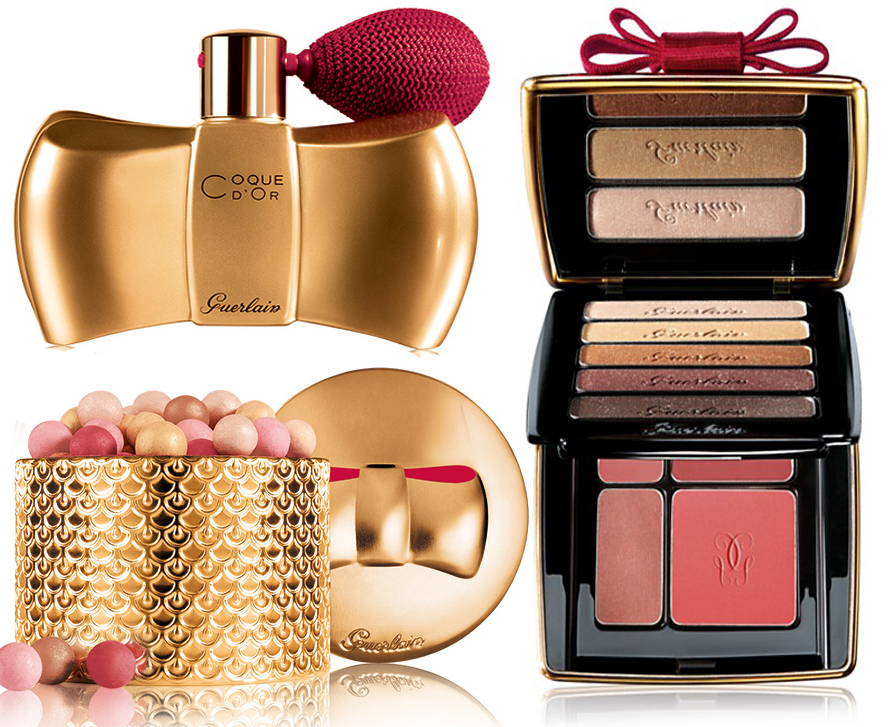 Rouge G Rouge Parade, £33 / €45
Read More