Meet the new eye makeup releases from Giorgio Armani, Lancome and Clinique.
Lancome Grandiôse eyeliner, £23 from Selfridges
Innovative pivoting, bendable wand, lightweight water-based formula ensures an intense colour payoff that dries fast for a smooth, matte, long-lasting finish.
Shades: blue (shown), black and brown.
Giorgio Armani Eye Tint,  from Selfridges  and Harrods for £27
Light and fluid texture and a long-wearing formula.
Shades: Leathersmoke,Fursmoke, Spicesmoke, Camelsmoke,  Taupesmoke and Nudesmoke (shown)
Clinique High Impact Custom Black Kajal Eyeliner, $17 from Bergdorf Goodman
Pigment-packed kajal eyeliner pencil with  long-lasting staying power.
Shades: Blackened Black, Blackened Brown (shown), Blackened Blue and Blackened Green.
And here are the mascaras:
Read More
It seems like Tom Ford's Black Orchid lipstick was released only yesterday. I really loved the look of it but got myself a Bruised Plum shade in the end…
But here is a preview of Mr. Ford's beauty collection for Autumn which is all about those Orchids, and we are talking Black Orchid and Velvet Orchid. And a brand new Orchid Soleil perfume.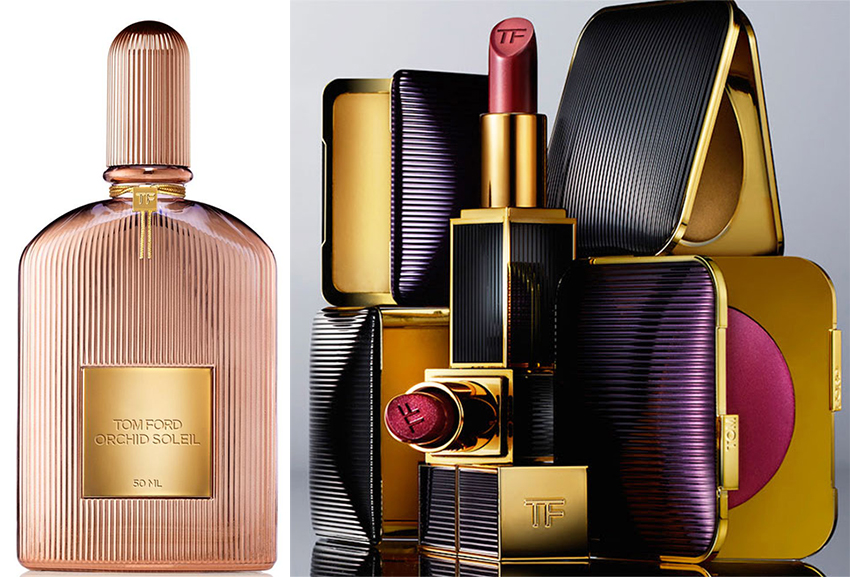 Orchid Soleil EDP  (50 ml- $120, 100 ml –  $168)
spicy notes of pink pepper, bitter orange and cypress
 red spider lily and tuberose
chestnut cream, vanilla, patchouli and orchid.
Black Orchid Collection
Lip Color, $60
Nightbloom Powder ($80)  in Black Bloom
Black Orchid
Read More
It's time for  June's favourites, and somehow this time it is all about Clarins. I have bought quite a few products from the brand and have been sent some samples, and most products were incredible. After all it is one of my favourite brands for a reason. There are also two beauty tools, self tanning drops and bath salts.
Here we go.
Makeup
Let's start with makeup, as there are only two products that really stood out to me. Technically three, but two are the same product just different shades. Clarins Blush & Bronzing Compact  (review and swatches) my love for this bronzer is still going strong. Now that I have a tan it looks amazing on, warms up the complexion and adds some definition.
As for the Clarins Waterproof Eyeshadow Shimmering Cream Colour (review and swatches) they are phenomenal, as I've already said. Extremely long-lasting and incredibly beautiful on the eyes. Just make sure you don't apply too much, as they can look a bit dry. I've been wearing  03 Silver Taupe at the end of May and beginning of June when I still had a very pale complexion but now  04 Copper Brown is my favourite. It looks perfect now, am I a bronze goddess already?
Body Products
June was
Read More
I am sorry about the lack of updates, work and life just got in the way, and I was away for a mini break at the end of last week which you already saw if you follow me on Instagram. But I  have so many news to share and so many collections to post, so, hopefully, will be able to do that soon.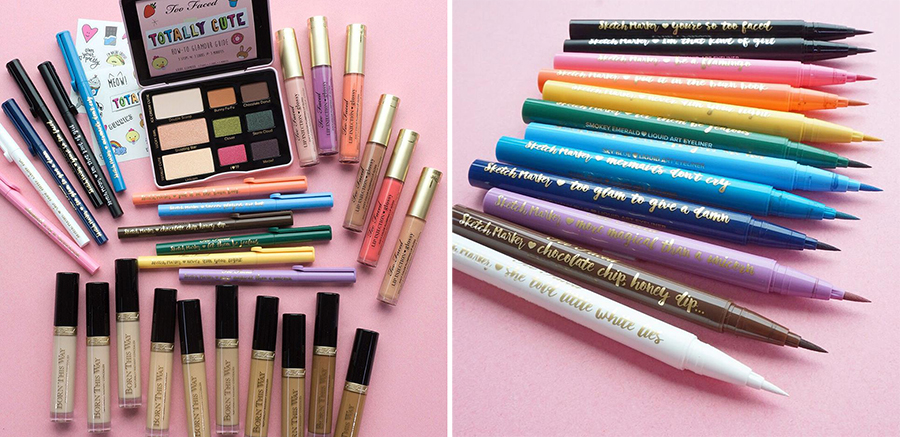 Let's take a look at Too Faced makeup collection for Autumn 2016. I have already posted about the  matte lipsticks, so here are all the other products. The photo above is actually from the brand's Facebook page.
Brow Quickie Brush-On Fiber Gel ($22)
Brush-on fiber gel technology mimics real hair to shape and plump up brows with just one sweep. The buildable formula fills in missing gaps, while adhering to skin and hair for full, thick, naturally defined brows.
Available in Universal Taupe and  Universal Brunette
Totally Cute Eye Shadow Collection ($39)
9 brand new shades in go-to neutrals and pops of colour
Step-by-step, how-to Glamour Guide with 3 beauty looks to get you started
Limited edition, Totally Cute sticker collection to customize your palette from illustrator and graphic artist @iscreamcolour.
Sketch Marker Liquid Art Liner ($20)
Inspired by Japanese Calligraphy Pens. Its formula acts as an
Read More
We continue the preview of the Autumn 2016 makeup collections, and now it's time to take a look at what Clarins prepared for us. This collection features new eye shadows quads, new mascara in black and brown and a renewed BB cream. Let's take a look.
4-Colour Eyeshadow Palettes, £34
These eye shadows can be  applied alone or layered for a variety of make- up looks. Each palette offers highly concentrated mineral pigments in a  of matte, satin and pearlescent finishes. Can be used wet or dry.
Shades: 01 Nude 02 Rosewood 03 Brown 04 Oud (Harrods and Selfridges exclusive shade)
BB Skin Detox Fluid SPF 25 £30
"Half make-up, half skin care, BB Skin Detox Fluid SPF 25 instantly
Read More