Since I am such a huge fan of Rimmel Kate Moss original and matte lipsticks, it was just a matter of time till I'd get one from their newest nude collection. If you follow me on Instagram, you could already see all the beauties.
There are five shades in general and I loved N45 the best, as it is a cool toned mauve-ish nude.The lipstick comes in a cool nude tube with a silver details and white Kate signature.
The formula is great, it gives a light coverage which can be layered for a more intense colour. It goes on smoothly and has a beautiful sheen. I don't find it
Read More
It seems that I have written quite a few features about berry & plum lips. Including this and this but I don't think I've ever shared my affordable and luxury picks.
Berry lips are my favourite actually. And, although they are super hot for AW, I can wear them at any time. And so should you, don't limit yourself by anything…  By the way, have you see the gorgeous look from Dolce & Gabbana SS15 show that Pat McGrath created (check out the photos below)?
I think every girl should own a nice berry/plum lipstick. Which one? It only depends on the shade that you prefer and your budget.
So here are two options: very different price point but are utterly divine anyway.
Tom Ford Lip Color in Bruised Plum (review and lip swatches)
Tom Ford beauty started with lipsticks, and they are still the most covetable item from his line. Luxurious packaging, TF logo, beautiful texture and flattering shades. If £37/$50 price point is  something you would consider – it is an amazing "investment". My friends are
Read More
I am sorry, that there has been a lack of updates, I have been very sick and stayed in bed for a week.  Since there was no work or blog for me for several days, I am kind of excited to be back.
It is summer and the weather is hot (in  most places), so I personally don't like wearing tonnes of makeup, not that I ever do that, and for me summer associates with a  bright lipstick.  And since I know, that I am not alone, I would like to share the newest releases.
There is a new release from Laura Mercier  – Rouge Nouveau Weightless Lip Color.
Shy, Cozy, Chic
These are a wax-free lipsticks  which are promised to be long-lasting and nourishing.
There are 15 shades divided unto three groups:
Matte: Muse (brick red), Myth(plum
Read More
I had to get the new Kate Moss matte lipsticks for Rimmel which are new for Autumn.  I really love the original Kate Moss lipsticks so had high hopes for these.
I have got the berry 107 shade (surprise-surprise). And, oh my goodness, it is awesome!
First of all,  the design is great, you can never go wrong with red and black, in my opinion.
They go on  smoothly, the colour applies evenly and opaque with only one coat. Although this is a matte lipstick, it does not look very flat and chalky on the lips and does not dry them out. The staying power is decent, as well.
Here is how it looks like on the skin.
It is a beautiful berry colour which is not very dark and will be perfect for those who want to embrace such shade but
Read More
I am a huge fan of Kate Moss Rimmel lipsticks. I think that for a very affordable price you get a very high quality lipstick. These are seriously some of the best lipsticks I have tried, even compared to the luxury ones. I have several shades and have actually reviewed two of them (see here).
This is why I am very excited about the new matte lipsticks for Autumn. The original lipsticks come in a black package and these come in red.
I love the makeup Kate is wearing on the promo a lot!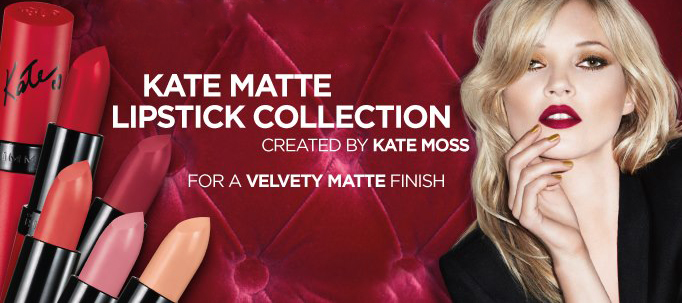 There are five shades:
Read More