I want to show you the eye shadow which I've had for quite a long time now and which was a present from Magi.
It is Catrice Absolute Eye Colour in I am A Coal-Girl. I have never tried Catrice eye shadows before and was very impressed actually, no wonder so many people love these affordable but high quality products.
Design is the first thing (most) people look at when it comes to makeup and, in this case, it looks nice and simple, I like it.
The eye shadow itself is very pigmented, smooth and easy to blend. I am a Coal-Girl is a matte deep chocolate shade which is perfect for a smoky eye or for being used as a liner to define the eyes, among
Read More
I have got 17 Clear Definition Mascara several months ago, so I am not really sure what took me so long to write a review.
I have got this one because it had great reviews and it was also less than £5 (£4.69) and at that time I did not want to spend a lot on a brow gel.
Please excuse the state of the product, turned out I did not take a photo of it before and now, I am afraid, it is mixed with my eye brow pencil.
As the name suggests, you can use it on the lashes. But for me, unfortunately, it's not an option, as my lashes are light and quite short and I love a lot of dark lashes. But it does work if I want an androgynous, boyish look. In that case I just
Read More
I have already told you that most of the time  I get asked to recommend a nice and cheap makeup product. This is why I've bought some affordable products to try out and let you know my opinion.
And since today we are talking about 17 anyway, I though I'd tell you about their Sheer Moisture Foundation SPF 12.
I've got it around Christmas time but also wanted to try it out in summer so this is why it took me so long to write about it.
I have got a shade which is called Light (I think the only other shade is Medium) and I have say that it was   too dark for my skin tone during the winter time so it's definitely not that light…
The coverage is very sheer, this is basically a tinted moisturizer, and light so don't expect that it will cover  blemishes  and red spots completely.  I'd say that it would work for those who have nice skin to begin with but want to even out the
Read More
Remember my post about MeMeMe cosmetics?
I've actually got one set for myself to try and let you know my opinion.
I've got a Bestseller Gift Box in Pink which includes:
Blush Box in Pink
Light Me Up lipgloss in Illuminate
Long lasting nail gloss in Graceful
All products separately would cost me  £20 but they retail for £15.50 in a set which also comes with a beautiful gift box. But http://www.cocktailcosmetics.co.uk/ (they ship Worldwide) actually had the set for £10 so I've decided to try it.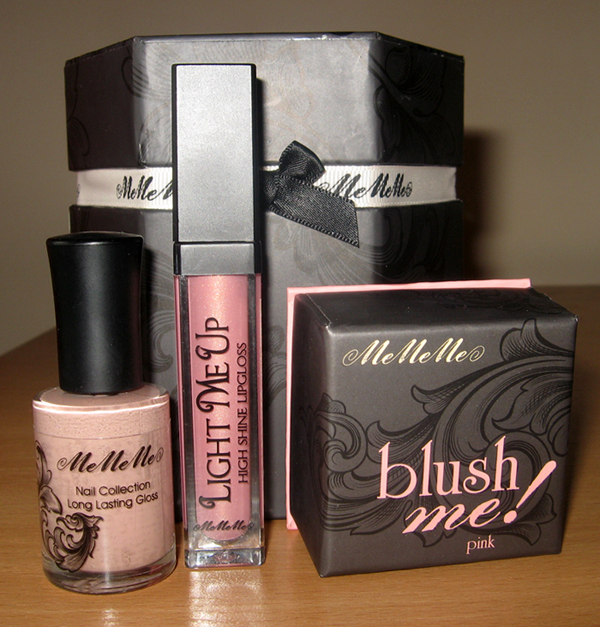 To tell the truth, I think this is a brilliant set for the price! It would make an amazing gift and also would recommend this set to anyone who is just starting their makeup collection. I obviously did not need this set but was curious to try the brand.
Blush Box in Pink
It comes in a cardboard packaging with a mirror and a brush.  It is a beautiful cool-toned candy pink with shimmer. This is a prefect blush for winter in my opinion as it gives just this beautiful 'cheeks after a walk on a frosty day' look.  The shimmer is delicate and looks great in this blush. I really like that the colour is buildable. You can get a very subtle effect but can also 'pack it on'
.
Light Me Up lipgloss in Illuminate
I was actually expecting a different shade based on the promo photo (pale blue based baby pink) but it turned out to be a pinkish nude with tiny silver shimmer instead.
Light Me Up Gloss really
Read More
I remember when I was a teenager I could hardly get any new makeup products so I was always happy to find out about the new products by those affordable brands because back then I could only dream about Chanel.
So if you are still at school or maybe uni and are looking for some new makeup items  - this post is for you! Here are only some of the new items but feel free to share with others what nice deals you know about
Barry M Trio Eyeshadow, £5.95
"Barry M trio eyeshadow. The new pressed trio eyeshadows are super soft and creamy and contain the antioxidant Vitamin E. The easy to blend and long lasting formula delivers intense, highly pigmented colour in a convenient compact with applicator included."
Barry M also has some new lip paints (£4.25) including  Green and Robot Blue.
There 2 new products from the NYC (New York Color) mascara and
Read More