I am really in love with this latest collection from ArtDeco, so sultry and hot!
Very beautiful autumnal shades that every girl needs in her makeup bag. I like everything, but those lips and nails products are  a stand out for me. If you are looking for a great red/vampy shade – I'd totally recommend ArtDeco. Amazing German quality that won't cost a fortune.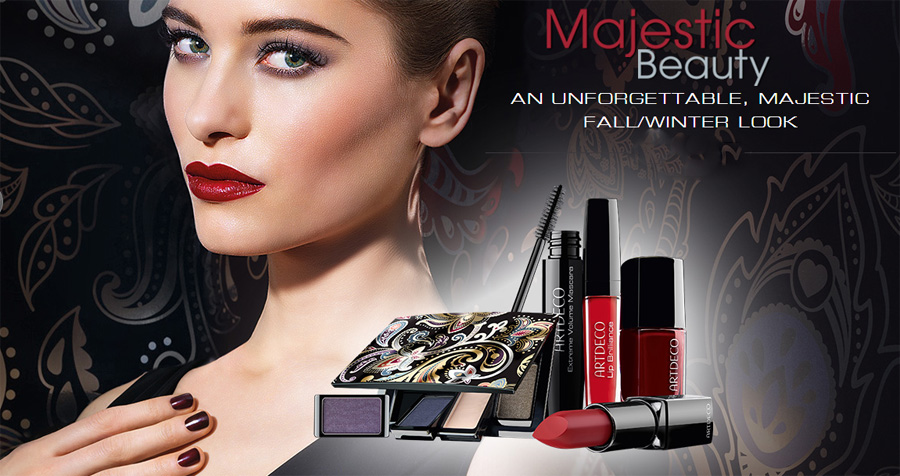 Let's take a look:
Lips
Art Couture Lipstick
204 cream crimson queen
660 velvet graceful rose
Lip Brilliance
04 brilliant crimson queen
57 brilliant purple monarch
Perfect Color Lipstick
29 black cherry queen
39 generous beige
Mineral Lip Styler
48 mineral black cherry queen
Cheeks
Read More
It's been a while since I've written  my  "new beauty purchases" post, in which I show you the beauty products that I buy for my personal use, so here it goes.
Here are only three things on the photo, but I have bought a lot more:
And what about the products on the photo?
I am  huge fan of
Read More
I plan on writing a post about my  favourite beauty products of 2013 in New Year, but thought that I would still write about my December 2013 favourites, since there are several very nice products I'd like to share about.
Hourglass Arch Brow Sculpting Pencil in Soft Brunette  (review)
This has been a favourite every single month ever since I've got it.  It is perfect, I only wish the shade was a bit cooler, but that is fine.
Rouge Bunny Rouge Raven Glaze Lacquer Liner  (review)
It seems like I have been using this eye liner almost every day.  It is super easy to use and leaves a beautiful glossy black line.
ArtDeco Cream Rouge For Cheeks and Lips in 17 Creamy Mauve (review)  and Tarte Amazonian Clay Blush in Blushing Bride (review).
I like this blush combo so much that I even dedicated a post to it!  You can get a natural sheer wash of colour with ArtDeco, and add dimension and intensity with tatre. Plus such layering means long-staying power.
Bobbi Brown High Shimmer Lip Gloss  in Oyster (review)
I've decided to re-discover some old favourites, and this is one of them. I love shimmery cool toned glosses from time to time, and this gloss from Bobbi Brown is uber gougers on the lips, especially paired with
Read More
I want to show you the eye shadow which I've had for quite a long time now and which was a present from Magi.
It is Catrice Absolute Eye Colour in I am A Coal-Girl. I have never tried Catrice eye shadows before and was very impressed actually, no wonder so many people love these affordable but high quality products.
Design is the first thing (most) people look at when it comes to makeup and, in this case, it looks nice and simple, I like it.
The eye shadow itself is very pigmented, smooth and easy to blend. I am a Coal-Girl is a matte deep chocolate shade which is perfect for a smoky eye or for being used as a liner to define the eyes, among
Read More
I have got 17 Clear Definition Mascara several months ago, so I am not really sure what took me so long to write a review.
I have got this one because it had great reviews and it was also less than £5 (£4.69) and at that time I did not want to spend a lot on a brow gel.
Please excuse the state of the product, turned out I did not take a photo of it before and now, I am afraid, it is mixed with my eye brow pencil.
As the name suggests, you can use it on the lashes. But for me, unfortunately, it's not an option, as my lashes are light and quite short and I love a lot of dark lashes. But it does work if I want an androgynous, boyish look. In that case I just
Read More