If you are a fan of beauty value sets – the new On The Rocks  Holiday 2014 makeup collection by Smashbox is worth the attention. The brand brought out beautiful items for eyes, lips and face.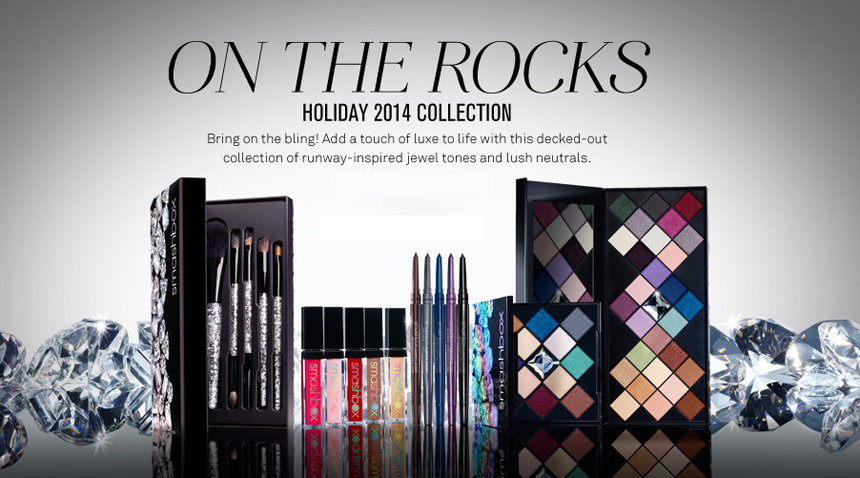 On the Rocks Always Sharp Liner Set, $ $39
Raven, Sumatra, 3D Orchid, Midnight, 3D Night Gem
On the Rocks Be Legendary Lip Gloss Set, $28
Azalea: bright pink fuchsia; Legendary: true red; Pout: pale blue pink; Jewel: soft golden berry and Gilt: champagne golden shimmer.
On the Rocks Brush Set, $62
Read More
I said it already, and I will say it again, Benefit always have the most amazing Christmas gift sets, and I get myself one every year! This time I'd love to get the one with blushers, but all the other options are pretty awesome, as well!
Take a look…
Sweet tintations limited edition lip & cheek set, $26/£19.50
full size benebalm full size lollibalm, benetint medium, lollitint medium (4ml)
Fun-size flirts limited edition set of beauty bestsellers $38/£29.50
the POREfessional deluxe sample 7.5mL, they're real! mascara deluxe sample 3.0 g , BADgal lash, deluxe sample 4.0 g , instant comeback facial serum deluxe sample 5.0 mL ,"that gal" deluxe sample  7.5 mL , dandelion deluxe sample 3.0 g , sun beam deluxe sample 2.5mL , posietint deluxe sample  2.5mL , ooh la lift deluxe sample  2.5 g , stay don't stray deluxe sample in light/medium 2.5mL
 Pretty parfait limited edition makeup set $39/£29.60
full size they're real! mascara, full size stay don't stray in light/medium, full size gimme brow in light/medium, the POREfessional deluxe sample  7.5 mL
Complexion confections Best of Benefit skincare set $48/£39.50
full size triple performing facial emulsion, full size it's potent! eye cream, instant comeback facial serum deluxe sample 5.0 mL, and the POREfessional deluxe sample 7.5 mL
Candy-coated countdown limited edition beauty advent calendar $99/£60
Read More
Here is a preview of the beautiful offerings from Laura Mercier for this Christmas. Some exclusive kits and amazing value sets.
So what can you choose from?
Luxe colour wardrobe dual decker colour for eyes & cheeks 65/$125
8 Eye Colours: Morning Dew– Matte, Coffee Ground – Matte, African Violet – Luster, Ballerina Pink – Sateen, Deep Night – Matte, Dusk – Luster, Sable – Sateen, Crystal Beige – Luster; 1 Face Highlighter -Golden Shimmer; 2 Second Skin Cheek Colours: Barely Pink, Heather Pink; 3 Tightline Cake Eye Liners: Black Ebony,Ground Espresso, Bleu Marine; 1 Mini Longwear Crème Eye Pencil: Espresso; 3 Brushes; Travel Pony Tail Brush (for eye); Double-Ended Crease/Smudge Brush (for eye); Travel Flat Eye Liner Brush;Instructional Insert.
 Luxe travel brush collection £65/$125
Full-Size Cheek Colour Brush, Secret Camouflage/Camouflage Powder Brush, All Over Eye Colour/ Pony Tail Brush, Eye Crease/ Smudge Brush, Flat Eye Liner/Angled Eye Liner Brush
Mini lip glacé collection, £31/$48
Bold Brights: Azalea, Camellia, Bonbon, Grenadine, Poppy
Bare Nudes: Pout, Bare Peach, Bare Blush, Bare Baby, Gilded Rose
Colour-to-go portable palette for eyes, cheeks & lips  £31/$50
Natural Nude: 3 Eye Colours: Buttercream
Read More
Benefit  Cosmetics never fail, when it comes  to Christmas sets. They always have such an excellent gift selection (among the best, in my opinion) for the loved ones or for yourself. I have to admit, I have bought quite a few sets for myself over the years, as it is a great way to get familiar with the brand and save money.
So here is what they released this year! And there are a lot of kits to choose from.
1. It's a Love Fest £39.50/€55
They're Real, Sun Beam medium, the POREfessional, Ultra Plush Lip Gloss mini in CORALista
2 Gimme Some Lovin' £39.50/€55
They're Real, Hoola,  High Beam mini, the POREfessional mini
3. Show Me The Love £39.50/€49
They're Real, Benetint, the POREfessional mini
4. Love Me B. Right! £39.50/€55
 the POREfessional,  It's Potent Eye Cream,  Total Moisture facial Cream mini, Triple
Read More
So, here is a preview of the new Clarins palette and amazing value sets for Christmas.
First of all, they released a Mineral Eye Make-Up Palette with ten natural shades which retails for £35. And it's about time!
There are also a lot of value beauty and makeup sets to choose from. I personally have a tradition of getting at least one Clarins set each year. At least this is what I did for the last three years. It's a great opportunity to try the brand's products if you are not familiar with Clarins. Or to stock up on your favourites, while saving money, which is my case.
I think I will get HydraQuench set this year, as I am a die hard fan of the line and am running out of  the serum and cream already.
I have reviewed tonnes of Clarins products over the years, so you can take a look if you are curious about any.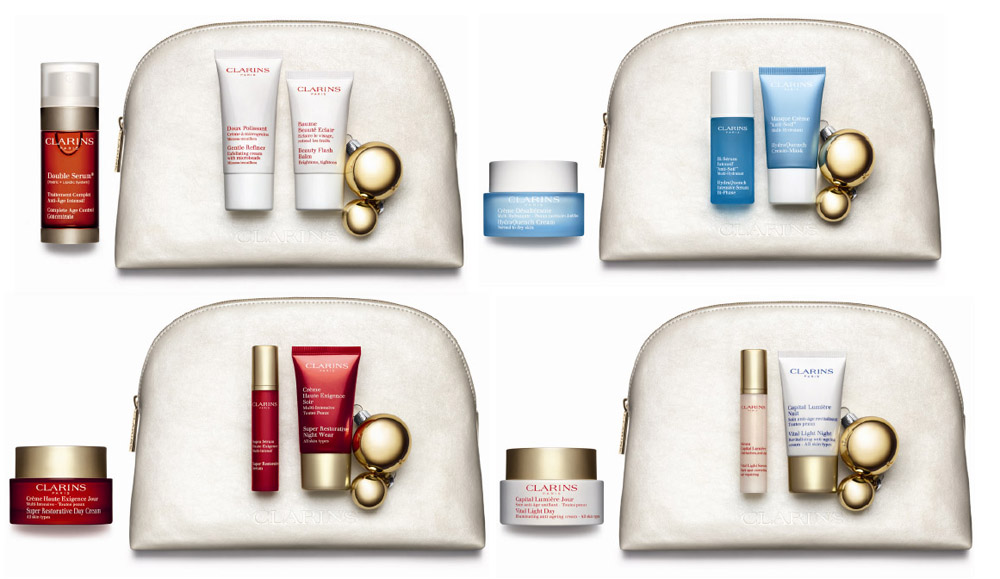 Anti-Ageing Must-Have Collection Youth-Boosters
Retail Price: £55.00 Customer Saving: £23.70
Double Serum 30ml
Gentle Refiner Exfoliating Cream 30ml
Beauty Flash Balm 15ml Retail
 HydraQuench Collection Moisture Must-Haves
Retail Price: £34.00 Customer Saving: £27.10
HydraQuench Cream AST 50ml
HydraQuench Intensive Serum Bi-Phase 15ml
HydraQuench Cream-Mask 15ml
Super Restorative Collection Skin Replenishers
 Retail Price: £66.00 Customer Saving: £46.00
Super Restorative Day Cream AST 50ml
Super Restorative Serum 10ml
Super Restorative Night Wear AST 15ml
Vital Light Collection Skin Illuminators
Retail Price: £60.00 Customer Saving: £38.57
Vital Light Day Cream AST 50ml
Vital Light
Read More