Stila's  Sealed With A Kiss Makeup Collection for Christmas 2015 really caught my attention. Especially with those gorgeous promo campaigns *inspiration alert*.
There are four looks in general and my favourite ones are with red lips and cat eyes which is chic and classy and the one with dark lips and a fresh glowing completion, as that is my kind of look.

And which makeup do you like the best?
As for the makeup sets themselves, they are really-really good!
I personally like (and think of getting for myself)  Eternal Love Liquid Lipstick Set ($20) which includes three mini lipsticks which, in my opinion, are some of the best in the industry (read my review). And you can't really go wrong with mauve, red and berry.  The shades are: Ricco, Beso and Baci.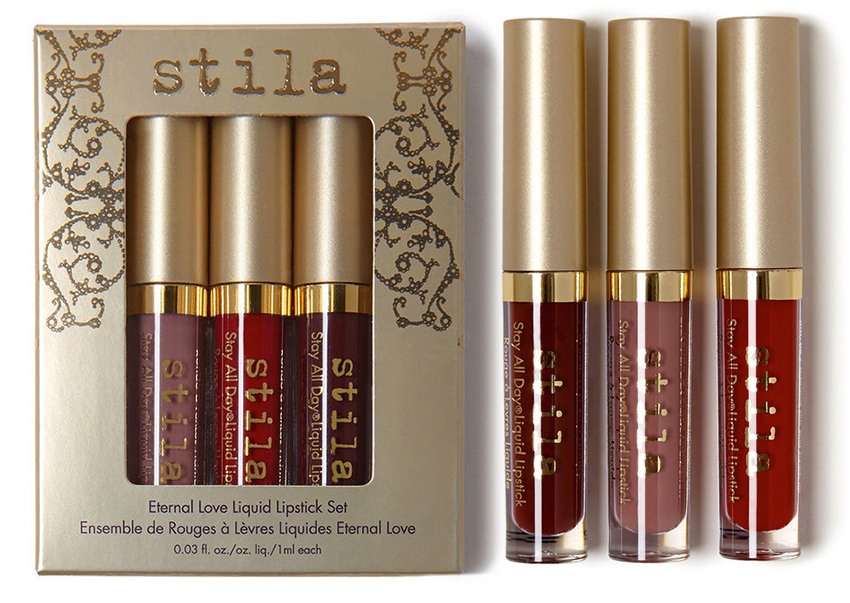 There are two more lip sets. One with more liquid lipstick shades and one with the cult Stila glosses. I have actually bought  a few sets several seasons ago for myself and friends.
Eternally Yours Liquid Lipstick Set ($39): Caramello, Patina, Aria, Como, Chianti and Fiery
Sealed With A Kiss Gift Set ($28): Pomegranate Sparkle, Ruby
Read More
As we continue our Christmas gift guides, today I'd like to feature palettes that caught my attention: for lips, eyes and face.
Looking for a new neutral eye palette? ArtDeco brought out three Most Wanted eye shadows palettes. And I personally would really love to try them. There is something very nostalgic about ArtDeco eye shadows, I used to love them back in the days and I still think they are fantastic, especially for the price. Both shimmering and matte finishes are brilliant.
You can choose from:
Brown: warm bronze shades, sensual copper nuances and soft beige in light and darker shades match every eye color and emphasize everbody's individual style
Nude:

discreet mat and softly shimmering shades in brown, grey and rosé allow for a variety of combinations

Smokey: smokey grey, intense black and strong rosé combined with pearly-shimmery highlight colors are suitable for day make-up as well as for a big night out.
Each contains 12 shades in different formulas. German quality and wallet friendly, what
Read More
If you are a fan of beauty value sets – the new On The Rocks  Holiday 2014 makeup collection by Smashbox is worth the attention. The brand brought out beautiful items for eyes, lips and face.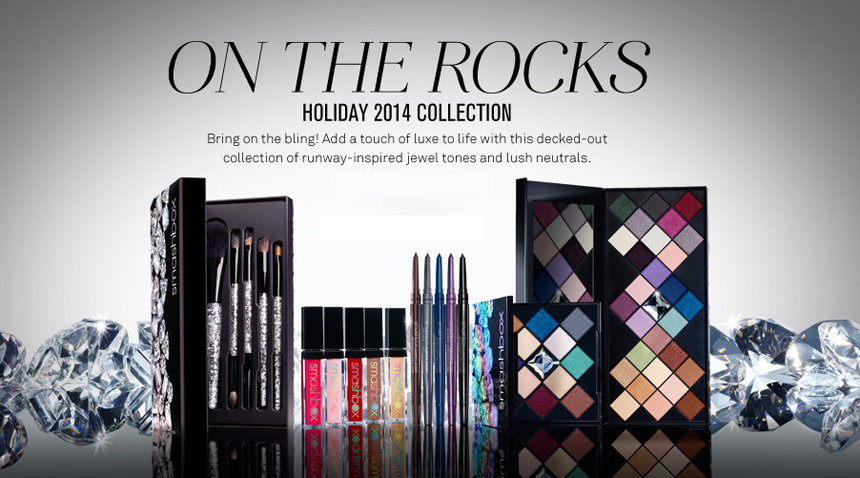 On the Rocks Always Sharp Liner Set, $ $39
Raven, Sumatra, 3D Orchid, Midnight, 3D Night Gem
On the Rocks Be Legendary Lip Gloss Set, $28
Azalea: bright pink fuchsia; Legendary: true red; Pout: pale blue pink; Jewel: soft golden berry and Gilt: champagne golden shimmer.
On the Rocks Brush Set, $62
Read More
I said it already, and I will say it again, Benefit always have the most amazing Christmas gift sets, and I get myself one every year! This time I'd love to get the one with blushers, but all the other options are pretty awesome, as well!
Take a look…
Sweet tintations limited edition lip & cheek set, $26/£19.50
full size benebalm full size lollibalm, benetint medium, lollitint medium (4ml)
Fun-size flirts limited edition set of beauty bestsellers $38/£29.50
the POREfessional deluxe sample 7.5mL, they're real! mascara deluxe sample 3.0 g , BADgal lash, deluxe sample 4.0 g , instant comeback facial serum deluxe sample 5.0 mL ,"that gal" deluxe sample  7.5 mL , dandelion deluxe sample 3.0 g , sun beam deluxe sample 2.5mL , posietint deluxe sample  2.5mL , ooh la lift deluxe sample  2.5 g , stay don't stray deluxe sample in light/medium 2.5mL
 Pretty parfait limited edition makeup set $39/£29.60
full size they're real! mascara, full size stay don't stray in light/medium, full size gimme brow in light/medium, the POREfessional deluxe sample  7.5 mL
Complexion confections Best of Benefit skincare set $48/£39.50
full size triple performing facial emulsion, full size it's potent! eye cream, instant comeback facial serum deluxe sample 5.0 mL, and the POREfessional deluxe sample 7.5 mL
Candy-coated countdown limited edition beauty advent calendar $99/£60
Read More
Here is a preview of the beautiful offerings from Laura Mercier for this Christmas. Some exclusive kits and amazing value sets.
So what can you choose from?
Luxe colour wardrobe dual decker colour for eyes & cheeks 65/$125
8 Eye Colours: Morning Dew– Matte, Coffee Ground – Matte, African Violet – Luster, Ballerina Pink – Sateen, Deep Night – Matte, Dusk – Luster, Sable – Sateen, Crystal Beige – Luster; 1 Face Highlighter -Golden Shimmer; 2 Second Skin Cheek Colours: Barely Pink, Heather Pink; 3 Tightline Cake Eye Liners: Black Ebony,Ground Espresso, Bleu Marine; 1 Mini Longwear Crème Eye Pencil: Espresso; 3 Brushes; Travel Pony Tail Brush (for eye); Double-Ended Crease/Smudge Brush (for eye); Travel Flat Eye Liner Brush;Instructional Insert.
 Luxe travel brush collection £65/$125
Full-Size Cheek Colour Brush, Secret Camouflage/Camouflage Powder Brush, All Over Eye Colour/ Pony Tail Brush, Eye Crease/ Smudge Brush, Flat Eye Liner/Angled Eye Liner Brush
Mini lip glacé collection, £31/$48
Bold Brights: Azalea, Camellia, Bonbon, Grenadine, Poppy
Bare Nudes: Pout, Bare Peach, Bare Blush, Bare Baby, Gilded Rose
Colour-to-go portable palette for eyes, cheeks & lips  £31/$50
Natural Nude: 3 Eye Colours: Buttercream
Read More