Today I want  to show you three of my favourite  creamy highlighters…
Please excuse the finger marks on the products,
I swear that I've tried to make them look decent before taking the photo
The first one – BECCA's Shimmering Skin Perfector in Pearl is my personal favourite and the one that I use on myself all the time, it was recommended to me by Lisa Eldridge years ago, and I love it. It adds a beautiful cool-toned  glow to the face, without being shimmery. You can that luxe glow which you can see in top photo shoots. There are several ways you can use it, all the details here.
The second one is Benefit's High Beam, and I have used half of it already actually. While BECCA is more subtle, this one gives more glow and has more defined pink undertones, but I still love and use it a lot.  I like the fact that
Last week was a very busy one for me and I hardly got any sleep, so in the mornings it was a big challenge to a) get out of my bed b) look half decent. This made me analyse what products I was reaching for in such situation makeup wise.
Of course, everything starts with skincare but I'd love to concentrate on makeup today. But… the honourable mention goes to Omorovicza's Queen Of Hungary and Clarins' Beauty Flash Balm.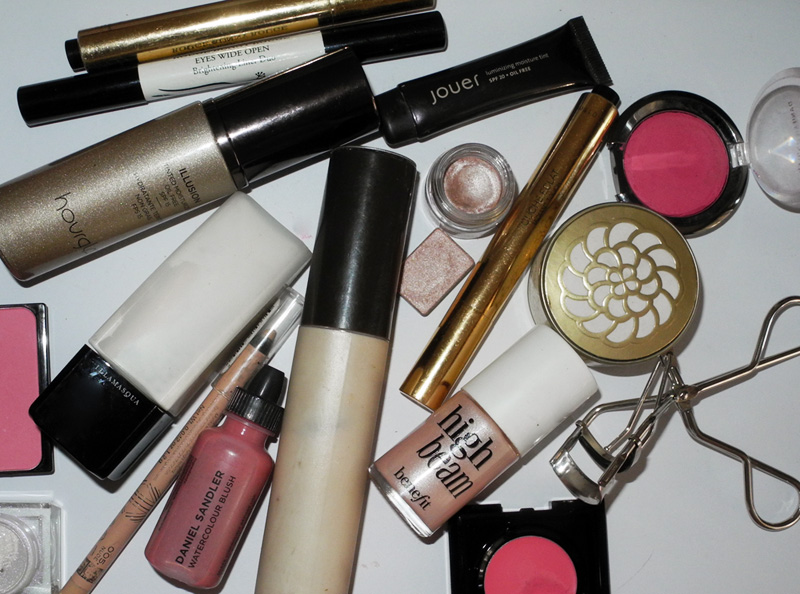 Since you want to look radiant and glowing and not  shimmering, shiny and "sweaty" don't go overboard with the products you use.  One illuminating/highlighting product is enough, and it's up to you to decide on which stage you'd like to use one.
Primers
It can be a primer and my pick would be Illamasqua's Satin Primer, as it gives a beautiful healthy sheen to the [dry] skin. But  if sheen is not enough for you, there are a lot  of primers with delicate shimmer on the market, so you can go for one of those.
Foundations
Illuminating bases (foundations and tinted moisturizers) are a big hit, as you can