If you are a regular reader, you probably know my love for Benefit's sets, so today I want to show you their Feelin' Dandy set (£24.50/$28).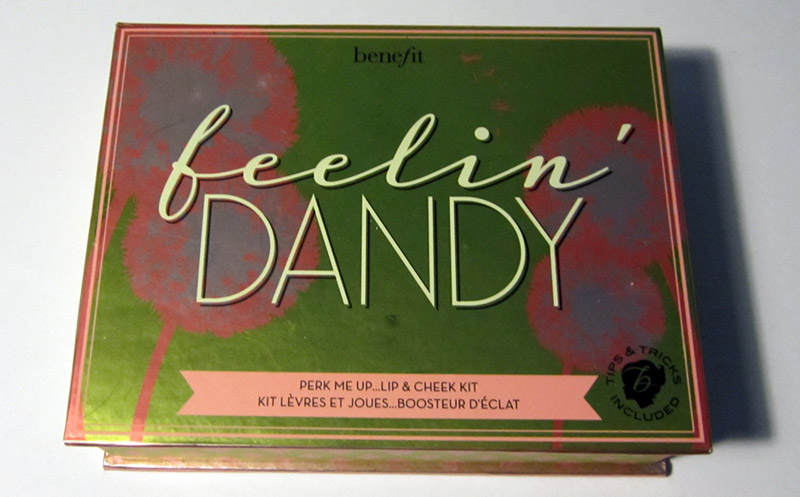 It comes in a cute packaging, as usual, and contains the following products:
0.13 oz Posetint, 0.1 oz Dandelion,0.13 oz High Beam, 0.22 oz Ultra Plush Dandelion and  Mini powder brush. You also get a mirror and a step-by-step  tutorial.
Posetint
I am already a huge fan of ChaCha tint and Benetint and I really do hope that Benefit bring out a berry tint in the future. It is a stain that can be used both on lips and cheeks but I personally love using it on cheeks much better.  It gives a gorgeous pinky tint and stays on really well. Just make sure you blend it quickly, as it does set.
Dandelion
I love this pale pink blusher for winter time, it gives a beautiful flush on my light skin, which looks very natural, as if I just had a walk. I also like how it blends into the skin, although I like the staying power of Posietint better, of course.
High Beam – full review here.
I really
Read More
Benefit's High Beam can be probably called a cult product already, no?
This was my first liquid highlighter and it was a total love! Although I adore my BECCA I am still in love with my Benefit.
High Beam is described as a satiny pink luminescent complexion enhancer and I have to agree with it. It gives a gorgeous luminous glow and helps you to look glowy and radiant.
I like using my High Beam on the cheek bones, under the brows, above the upper lip and sometimes in the centre of my nose. Basically as you would have used any other highlighter.
I also like the cute bottle which some people mistaken for a nail polish and get shocked when I am trying to use it on their face 😉 Here is how the brush looks like
Read More
Today I am wearing a beautiful lip gloss by Benefit which is called "I'm with the Band" and is described as golden pink shimmer. It's a very beautiful warm shade as you can see from the photo.
The gloss is quite moisturizing and stays on for several hours, it doesn't come off completely when you drink or eat (or at least this is how it works for me). It has an amazing fruit scent, smells like peach, mmm.
And what are you wearing on your lips today?
Read More
Today I want to tell you about a famous Benefit product which is called Benetint and which is a rose-tinted lip & cheek stain. I love  cream and liquid products so it's not a surprise that I loved this one. I also like that you can use this one for lips and cheeks, yay for multipurpose!
I have a mini sized Benetint which I got in one of the famous Benefit sets.
So how does it work on your cheeks?
Use several drops on your cheeks and be sure that you blend them very fast until they drie. The good thing is that it doesn't move at all and stays on for a very long time. It also gives you a very natural effect. This is a perfect product for winter because it gives you the natural blush as  if you just came from a lovely walk in a snowy park (Oh, I can't wait for such walks)!
How does it work on the lips?
The effect that Benetint gives
Read More
Do you know that Benefit's Ceaseless  Cream Eye Shadows have won a lot of awards? Some of them that are mentioned on their website:
2008 Self Healthy Beauty Award – "best eye shadow"
2008 Star Beauty Awards – "best eye shadow"
2008 Real Simple: Beauty & the Best – Top 20 beauty buys "best eye shadow"
And you know, I would give this product a lot of other awards because these are the best cream eye shadows ever.
So far I have only 2 shades but I will get them all. Why don't I get them all at once? Because I get them as a small reward for myself. This is just my little secret on how to do some things that I don't want to do. I get myself something nice after I've accomplished my task.
But back to the shadows. This time I am going to tell you about the shade called Stiletto, described as aubergine, which is just perfect for this Fall. My other shade Busy Signal is described as venetian brown and can be found here.
So why do I love it SO much and the swatch
Read More