I plan on writing a post about my  favourite beauty products of 2013 in New Year, but thought that I would still write about my December 2013 favourites, since there are several very nice products I'd like to share about.
Hourglass Arch Brow Sculpting Pencil in Soft Brunette  (review)
This has been a favourite every single month ever since I've got it.  It is perfect, I only wish the shade was a bit cooler, but that is fine.
Rouge Bunny Rouge Raven Glaze Lacquer Liner  (review)
It seems like I have been using this eye liner almost every day.  It is super easy to use and leaves a beautiful glossy black line.
ArtDeco Cream Rouge For Cheeks and Lips in 17 Creamy Mauve (review)  and Tarte Amazonian Clay Blush in Blushing Bride (review).
I like this blush combo so much that I even dedicated a post to it!  You can get a natural sheer wash of colour with ArtDeco, and add dimension and intensity with tatre. Plus such layering means long-staying power.
Bobbi Brown High Shimmer Lip Gloss  in Oyster (review)
I've decided to re-discover some old favourites, and this is one of them. I love shimmery cool toned glosses from time to time, and this gloss from Bobbi Brown is uber gougers on the lips, especially paired with
Read More
It's about time to write a review about Clarins' Joli Rouge Lipstick in 738 Royal Plum which is a part of their Fall 2013 collection and was given to me along with the purple eye pencil.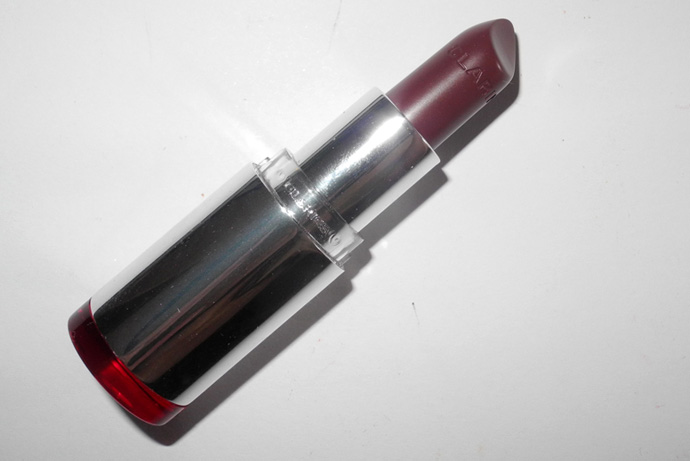 I really love Clarins lip products and this one is not an exception. This lipstick, in the hottest shade of AW, goes on smoothly and feels nice on the lips. The formula is lovely, it is non-drying  at all.
Royal Plum  has a satin finish and a beautiful coverage, it looks great even with one layer, just make sure you apply it evenly. By the
Read More
Here is a preview of yet another Fall 2013 makeup release and this time it's Smashbox. The collection is called Fade To Black which sounds pretty cool, if you ask me.
And there six products to choose from:
Be Legendary – Fade to Black Lipstick in Cognac and Black Cherry
Fade to Black Waterproof Eyeshadow Liner Black Gold and Blackest Black
Fade to Black – Fade Out Photo Op Eyeshadow Palette: Soft
Read More
I had to get the new Kate Moss matte lipsticks for Rimmel which are new for Autumn.  I really love the original Kate Moss lipsticks so had high hopes for these.
I have got the berry 107 shade (surprise-surprise). And, oh my goodness, it is awesome!
First of all,  the design is great, you can never go wrong with red and black, in my opinion.
They go on  smoothly, the colour applies evenly and opaque with only one coat. Although this is a matte lipstick, it does not look very flat and chalky on the lips and does not dry them out. The staying power is decent, as well.
Here is how it looks like on the skin.
It is a beautiful berry colour which is not very dark and will be perfect for those who want to embrace such shade but
Read More
I have been really loving the Gucci makeup from the last several years, it is definitely among my favourite looks.
Classic red lip with beautifully groomed eye brows and minimum eye makeup at SS 2011, dark berry  matte lip with clumpy eye lashes at  AW11.
Super intense glossy smoky eyes, bleached eye brows  and perfect contouring  at  SS12 or bleached eye brows, minimum mascara and glossy berry mouth at AW12.
For SS 2013 Pat created a look with a perfectly glowing skin with beautiful highlighter,  nude lips, soft brown eye shadows and two pairs of false lashes.
I personally can't wait to see AW13 makeup look.
Read More