It's a about time I share top 14 most popular posts from 2014. It is better late than never, right?
1 Kate Moss Rimmel Lipstick Review and Lip Swatches  - link
2 Beauty Inspiration: Blair Waldorf's Wedding Makeup – link
3 Yves Saint Laurent Volupte Sheer Candy Review, Photos and Swatches – link
4 Emily Blunt's makeup – link
5 Rouge Bunny Rouge Eye Shadow Palette Raw Garden in Chronos Review, Swatches – link
6 Daniel Sandler Watercolour Blushes Review and Swatches - link
7 Clarins
Read More
It is the time when I  am telling you about my favourite products of the year. I did not pick a product in each category just for the sake of having one, but rather only those that really stood out for me.
The first part will be about makeup. Here we go…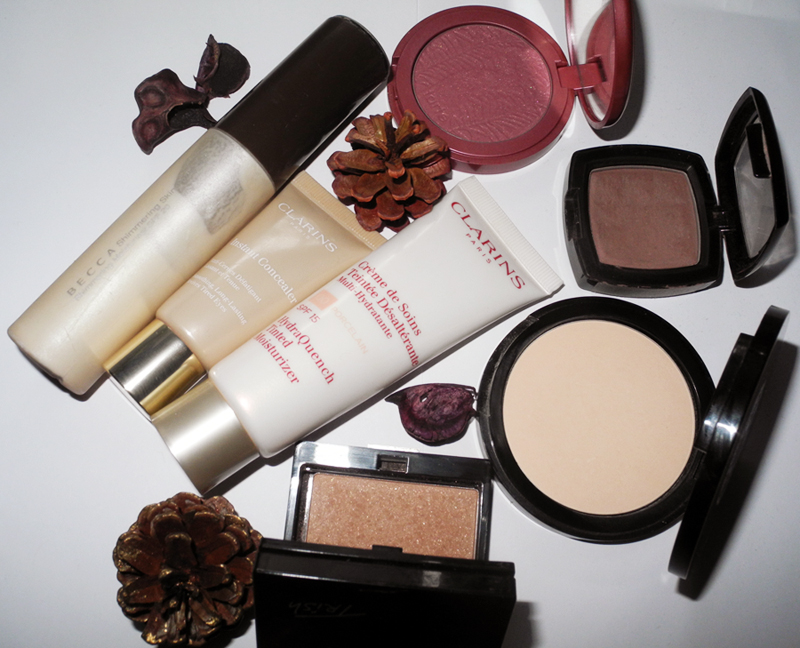 Face
Base:Clarins HydraQuench Tinted Moisturizer (review)
Although there were quite a few "foundations" I loved, this  tinted moisturizer was the base of 2014. It gives a natural and glowing light-t0-medium coverage, and leaves the skin looking beautiful.  HydraQuench is one of my favourite skincare ranges, and this TM is just as good, as everything else, works perfectly for my very dry, dehydrated and sensitive skin. I am very pleased that it never accentuated any dry patches I sometimes have.
Concealer: Clarins Instant Concealer (review)
Definitely the best concealer out there, covers the dark circles and brightens the under eye area, doesn't get in the fine lines, stays on really well.
Powder: Rouge Bunny Rouge  Flawless Face Powder Precious Velvet (review)
I have to say that
Read More
I never liked my hair, there are so many things I don't like about it that I won't even bother mentioning them all. At least I am happy that it is straight and  I am also happy with my natural hair colour;  I have had all the shades  and styles in the past. But I have stopped dying it when I was about 22-23, and I am happy with my [natural] dark cool-toned brunette look.
As I have already mentioned in several previous posts, I am currently trying to figure out what products I still need to add to my routine. I have also used up several that I have been loving, so am looking for a replacement. Or should I just re-purchase the old favourites?
Here are my picks:
Viviscal Maximum Strength Programme for Women - Feel Unique now have 20% off now, so I have already purchased it. And from Amazon.
I am seeing it everywhere now. Apparently it is supposed to be  a miracle-in-a-pill, and a lot of people swear by it. I did try Philip Kingsley "hair vitamins" in the past, by the way. So think about giving these a go. What if the results will be really great? I guess, we will see.
A Good Brush/Brushes
Believe it or
Read More
Can you believe that it's the last month of Autumn? And the holidays are just around the corner? Speaking of holidays, I still need to book everything. How very last minute, I know.
And today let's take a look at the beauty products that I have been loving in November.
Makeup
This month it was very similar base-wise for me, as in October.
I have been using BECCA's Shimmering Skin Perfector almost every day, since the lack of sleep and non-stop lifestyle do impact the way my skin looks. To fake a healthy glowing complexion, this is my personal must have.
On top I have been loving Awesome Aqua Radiance CC Cream or Daniel Sandler's Invisible Radiance Foundation and Concealer. DS's foundation is one of my all time favourites, it definitely is radiant and glowing. Yes, there is a theme here, my dry and dehydrated skin needs some glow and radiance…
It's the second month that I have been neglecting blushers almost completely. And my favourite cheeks product is still
Read More
I love writing Monthly Beauty Favourites posts, they make me analyse what products I used the most, and loved the best. I am also always happy when you find a good product through my recommendations
Makeup
Not gonna lie, October was a rough month for me, a lot of stress and lack of sleep. Most of the time I don't bother with a good base that much, but this month I was constantly "rocking" dark circles, horrible skin-tone and even some breakouts. I just looked very tired in general.
So to imitate the "I-am-doing-great-thanks" skin I was using my favourite Pearl Shimmering Skin Perfector by BECCA all over the face as a base to give me some glow. Since I have very dry skin, it did not look greasy or shiny on me, in fact, I loved the effect.
Then I followed with  Clarins' Tinted Moisturizer, which is one of my favourite products for face, ever. Read the review to find out why it is that special.
If you read this post, you probably know that I have been ignoring the blushers lately.  So, of course I had to include
Read More