Can you believe that tomorrow  is September already? Where did the time go? Yeah, I do realize that I say this almost every month. Actually, August was probably the best month for me this year so far so I am kind of sad that it's over…
So, what beauty products I've been loving this month?
I have to start with shimmering body oils. I am sorry for going on, and on about them. But I am such a die hard fan that I am convinced that every girl needs one in her life. It is a  life game changer! A good oil moisturises the skin and you get that polished and glossy look the models rock in the magazines. I love Omorovicza and Clarins, but there are cheaper options out there, too.
One more products that I won't shut up about is the Aromathepary Assosiates Deep Relax Bath and Shower Oil (review). In fact, some of my friends associate this scent with me at this point. This is the best product for relaxing. If you don't believe in aromatherapy – wait until you try this one. I know that it is not the cheapest one but it will last for ages.
I also have to mention Nivea Extended Moisture, Body Lotion, Dry to Very Dry Skin, as it is a brilliant body moisturizer. Unfortunately, I don't have a bottle any more so couldn't include it in the photo. But I do promise to write a review soon.
Skincare
Clinique Take The Day Off Cleansing Balm (review). I've decided to go back to this simple cleanser in August, as
Read More
My friend Paris B over at My Women Stuff  recently posted a chatty feature about the updates from 2015. Can you believe that half of the year is gone?!
In general, I have been very impressed with this year so far, despite it being a very hard time.  But at this point I can say that I have learned so much and achieved so many things that I've always wanted.  I have a lot of goals and plans for the next six months of 2015, as well. Plus, I've realized how blessed I am to have such amazing friends and family that are always there for me.
But, back to makeup, Paris listed some questions, so I thought why not answering them here:
Your favourite foundation? 
Recently it was all about Clarins HydraQuench Tinted Moisturizer (review) and Peter Thomas Roth CC Cream Broad Spectrum SPF 30 Complexion Corrector (review) the first one is like skincare and foundation two-in-one, and the second one is  like SPF and foundation.  Both are perfect for summer, they feel light, non-heavy or greasy.
What sucky product have you used recently that we should all avoid?
Luckily, I haven't used anything I disliked in quite some time.
Is there a skincare product you love love love?
I'd choose Ella Bache Vitamin Radiance Cream and Balance Me Radiance Rose Face Oil  – they
Read More
Makeup wise, it was pretty much all the same in February, and you can read about all the products here.  There is also something very different from  me this month – I've been loving nude lipsticks (which is  a complete shock for me), and I will write a feature about it soon.
There are only two other makeup products that I want to mention:
Illamasqua's Nail Varnish in Nomad. I wore in for the whole last week of the month, and this gorgeous jade set me in the mood for Spring.  Not too pastel but not too bright, it is just perfect.
Max Factor's  Creme Puff Blush in 25 Alluring Rose. This is a shade created for medium  and dark skin  tones, so on me it looks like a bronzer. It blends out beautifully and gives a gorgeous glow.  Look out for the feature about these new blushes this week.
As for the beauty products – I was very stressed and completely out of time  in February, so shower time was the ultimate luxury and "me" time when I could just think and reflect on what was going on. I have tonnes of shower products in my tiny bathroom, and have been loving all of them, but two
Read More
It's a about time I share top 14 most popular posts from 2014. It is better late than never, right?
1 Kate Moss Rimmel Lipstick Review and Lip Swatches  – link
2 Beauty Inspiration: Blair Waldorf's Wedding Makeup – link
3 Yves Saint Laurent Volupte Sheer Candy Review, Photos and Swatches – link
4 Emily Blunt's makeup – link
5 Rouge Bunny Rouge Eye Shadow Palette Raw Garden in Chronos Review, Swatches – link
6 Daniel Sandler Watercolour Blushes Review and Swatches - link
7 Clarins
Read More
It is the time when I  am telling you about my favourite products of the year. I did not pick a product in each category just for the sake of having one, but rather only those that really stood out for me.
The first part will be about makeup. Here we go…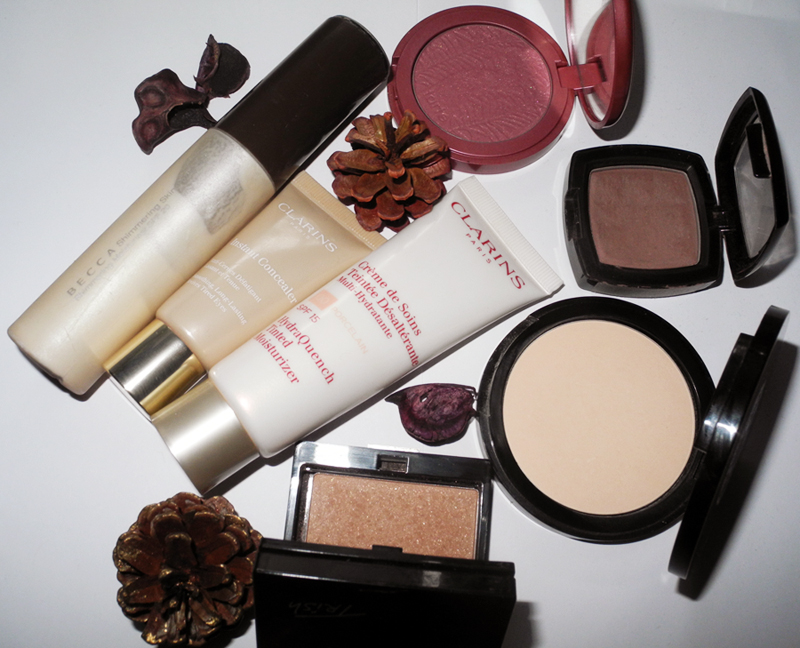 Face
Base:Clarins HydraQuench Tinted Moisturizer (review)
Although there were quite a few "foundations" I loved, this  tinted moisturizer was the base of 2014. It gives a natural and glowing light-t0-medium coverage, and leaves the skin looking beautiful.  HydraQuench is one of my favourite skincare ranges, and this TM is just as good, as everything else, works perfectly for my very dry, dehydrated and sensitive skin. I am very pleased that it never accentuated any dry patches I sometimes have.
Concealer: Clarins Instant Concealer (review)
Definitely the best concealer out there, covers the dark circles and brightens the under eye area, doesn't get in the fine lines, stays on really well.
Powder: Rouge Bunny Rouge  Flawless Face Powder Precious Velvet (review)
I have to say that
Read More