Before I start, I have to say that it was very hard to narrow my list  of favourite makeup products of 2012 but I've tried my best.
Let's take a look at what I've chosen…
Face
Benefit Erase Paste
I don't really use concealer on a daily basis, unless I have a new, really bad spot,  I just use Touche Eclat under my eyes and that's all. But if I had to choose my favourite "concealer" type of product – that would be this one. It is a creamy peach corrector which works great for the  dark under eyes circles. I had a review of it but because of some tech problems, it was deleted, need to re-write it soon.
Omorovicza Complexion Perfector BB SPF 20 
One of my favourite face products you can read the details why here. If you can afford it, I would definitely recommend.
Rouge Bunny Rouge Tinted Moisturiser Sketches on Water
This gives a very natural finish and light coverage and you can't see it on the face, at all! Miracle for dry skin in cold weather, as it doesn't enhance any dry patches.  See all the shade available here.
Daniel Sandler Invisible Radiance Foundation and Concealer
It is a very nice foundation that gives a dewy finish so works great for my dry skin. The shade Porcelain is a great fit for fair skin and works for me in AW, in SS, I use the second lightest shade – Beige. Plus it comes with concealer which is a great deal for the price. Want to know more?
BECCA Shimmering Skin Perfector in Pearl
This product probably doesn't even need an introduction. It's the best highlighter out there, it gives a  very natural and beautiful effect.
Cheeks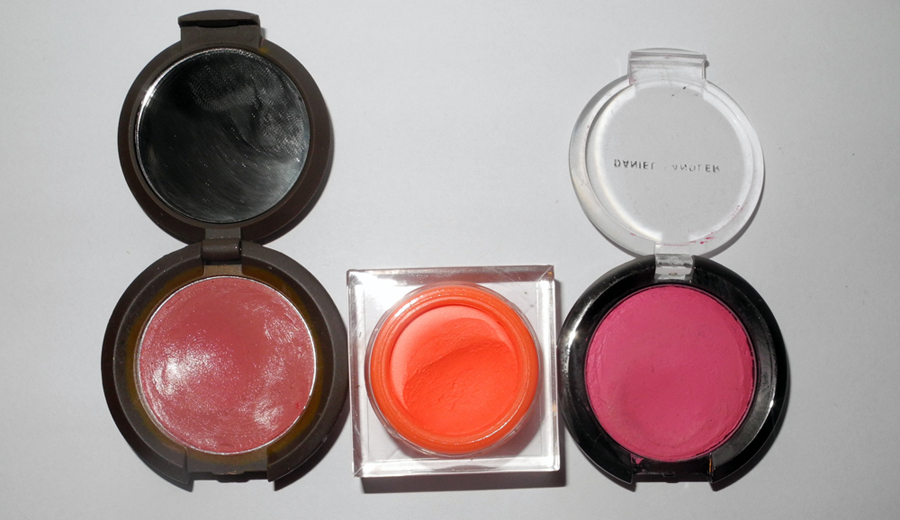 Wow, I was able to choose only three blushers, although I was very tempted to add more of them.
BECCA Cream Blush in Amaryllis 
My favourite blush for AW months, perfect cool toned and natural looking, gives a nice
Read More
I  already featured the famous Daniel Sandler  Watercolours here but I think it's time to write a full review and swatch all the shades that I have.
Some people commented that they've never heard of this brand and of Daniel himself.  Daniel Sandler is a British celebrity Make-Up artist and a co-fonder of the Daniel Sandler  Cosmetics. To find out more  check out the official website. I also recommend  you watching  some videos with Daniel  as he is very talented and charming, a pleasure to watch.
The shades that I have and the DS brushes – Waterbrush and Blusher brush, love them  both
But what about the blushes?
These are probably the most famous Daniel's products, they even brought him his first beauty award from the Grazia magazine.
First of all I have to say that I've wanted to try them for a long time so I was really happy to get three shades to try out. And here are some of my thoughts and, what is  really exciting, tips from Daniel himself that he  shared with us!
Here are my thoughts:
This is how the blushes look like until you shake them
I perfectly understand why these are so popular, as they are a pleasure to use, the package is cute and you can see the colour itself. The formula is really nice.
There is a great variety of shades for everyone, they all are really beautiful.
The pigmentation is insane! You only need a tiny amount of  the product so the bottle will last you forever.
But my favourite thing about the Watercolours is actually how long-lasting they are.  I would even say that these may be the most long-lasting blushes I've ever used. These are definitely there by the end of the day.
Although they stay on so well, it's not hard to remove them, you won't have to scrub your face to get them off.
The price is really reasonable for the quality (£14.50 which is less than $25).
The shades that I have are:
Read More