I've chosen three new blush launches that look absolutely incredible, and should be amazing.
NARS Dual-Intensity Blush ($45 from Sephora)
I believe these will be a huge hit, especially considering how popular the original NARS blushers are.   Dual-intensity blushes can be used both dry and wet, also can be worn alone or layered together.
Available in: Fervor – shimmering soft pink/ sparkling deep coppery rose, Panic – shimmering shocking fuchsia/ shimmering orange-pink, Jubilation – sparkling yellow gold highlighter/ shimmering soft nude-peach, Adoration – sparkling baby pink/ shimmering hot pink,  Craving – sparkling seashell pink highlighter/ shimmering beachy bronze,  Frenzy – sparkling soft pink-gold highlighter/ shimmering bright tangerine orange
Smashbox L.A. Lights Blendable Lip & Cheek Color ($29 from Nordstrom)
Read More
Finally I am writing about my 2013 favouries. You can read about my 2012 makeup favourites here.
But there are quite a few products that I want to mention, so I've decided to divide it into several posts, not to make it too long.
So the first part is about  makeup products for the face. And I did not want to include a product in each category, but wanted to mention the products that stood out to me.
The last thing that I have to mention  –  I have dry sensitive skin, and the age group is 25-30.
Clarins BB Skin Perfecting Cream SPF 25 (review)
This was the BB cream of the year for me. The base that I wore almost all the summer, it was a great match for my tanned skin. It feels light on the skin and gives a medium coverage, plus smells really nice.
Hourglass Illusion Tinted Moisturizer (review)
At first I wasn't a huge fan of this product, but now I use it whenever  my skin needs some glow and luminosity, and there is no need for the highlighter.  It gives a very good coverage for a TM, I personally  don't even need a concealer.
BECCA Luminous Skin Colour Ultra-Sheer Foundation SPF 25+ (review)
This is a discovery of the year. This foundation gives a very light coverage and has an almost fluid texture, so suitable for the days when your skin looks nice but you want to even out the complexion.
Rouge Bunny Rouge Tinted Moisturiser Sketches on Water (review)
If I could keep only one "base" – this would be it. It's my
Read More
Rouge Bunny Rouge is one of my favourite brands and blusher is  among my favourite makeup products. So I thought why not doing a feature about the brand's blushers, especially considering that I have all three types they offer: powder, cream and liquid.
 Original Skin Blush For Love of Roses in Florita
This is probably my favourite powder blusher, both in terms of colour and formula. It instantly freshens up the face, blends nicely and looks natural. I also adore the flower pattern! For a detailed review click here.
Blush Wand Cheeks in Bloom in Rubens
This one has a very light texture, takes seconds to
Read More
Before I start, I have to say that it was very hard to narrow my list  of favourite makeup products of 2012 but I've tried my best.
Let's take a look at what I've chosen…
Face
Benefit Erase Paste
I don't really use concealer on a daily basis, unless I have a new, really bad spot,  I just use Touche Eclat under my eyes and that's all. But if I had to choose my favourite "concealer" type of product – that would be this one. It is a creamy peach corrector which works great for the  dark under eyes circles. I had a review of it but because of some tech problems, it was deleted, need to re-write it soon.
Omorovicza Complexion Perfector BB SPF 20 
One of my favourite face products you can read the details why here. If you can afford it, I would definitely recommend.
Rouge Bunny Rouge Tinted Moisturiser Sketches on Water
This gives a very natural finish and light coverage and you can't see it on the face, at all! Miracle for dry skin in cold weather, as it doesn't enhance any dry patches.  See all the shade available here.
Daniel Sandler Invisible Radiance Foundation and Concealer
It is a very nice foundation that gives a dewy finish so works great for my dry skin. The shade Porcelain is a great fit for fair skin and works for me in AW, in SS, I use the second lightest shade – Beige. Plus it comes with concealer which is a great deal for the price. Want to know more?
BECCA Shimmering Skin Perfector in Pearl
This product probably doesn't even need an introduction. It's the best highlighter out there, it gives a  very natural and beautiful effect.
Cheeks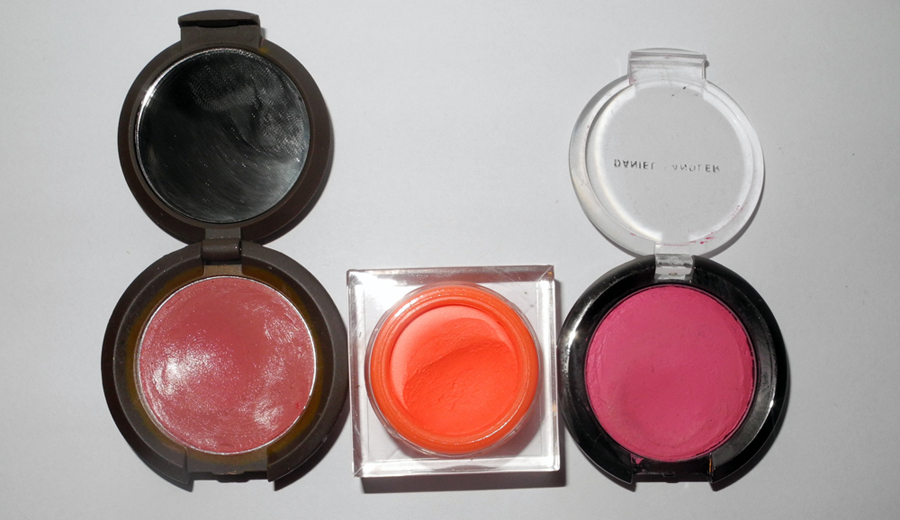 Wow, I was able to choose only three blushers, although I was very tempted to add more of them.
BECCA Cream Blush in Amaryllis 
My favourite blush for AW months, perfect cool toned and natural looking, gives a nice
Read More
Here is round-up of the gorgeous Benefit Cosmetics' tints.  I am a huge fan and I really enjoy using them on myself and others.
All three provide a long-lasting staying power and natural looking effect, which I love, of course. I don't really use these on the lips but do love them as blushes, a lot.
Posietint and ChaCha Tint have a gel-like formula and finish and Benetint has a watery finish. The trick with all three is to work quickly until it is set, as you won't be able to blend it otherwise.
My personal favourite
Read More