It was quite a long time since I did my Current Top 5 Affordable Makeup Products, back in March to be precise. So, I think, it's time for an updated version.
L'Oréal Paris Color Riche Extraordinaire in 100 Mezzo Pink (review and lip swatches)
I am sure that it's not a surprise that I've included this  lip product, it is now my handbag staple, gorgeous baby pink everyday colour, beautiful moisturizing and long-lasting formula. Nice applicator and delicious scent. I highly recommend.
ArtDeco Soft Lip Liner Waterproof (Red 08 and Pink 80) £8.40 from Beauty Bay.
Ok, I know this is cheating because I have two shades but I love them both equally. Dark red 08 and dusky rose 80, they glide-on like a dream, despite the matte long -lasting formula. Can be used on their own all over the lips, or to cheat a fuller lip, with  lipstick or gloss on top.
 Inglot Eye Shadows AMC Shine 37 (review and swatches)
Read More
Today I want to show you a very special, and, dare I say, magical product from Rouge Bunny Rouge. Their first eye shadow palette -  Raw Garden in Chronos. I know that the brand is really proud of their new creation, and they should be.
It is truly amazing! Let's take a look.
You get five limited edition and exclusive shades with a bird pattern on top. They come in a sleek black palette with grey and red floral motives and birds.
Here is a close-up of the shades. I have included a high quality  photo, so you can click on it to see the details:
Read More
I am having a major pink & mauve eye shadows moment right now. If you are a new reader, here is what kind of shades  I used to wear all the time.
I have been wearing Rouge Bunny Rouge's Solstice Halcyon  at least several times per week during the last two months. And recently I've added some other eye shadows to my rotation. Which ones?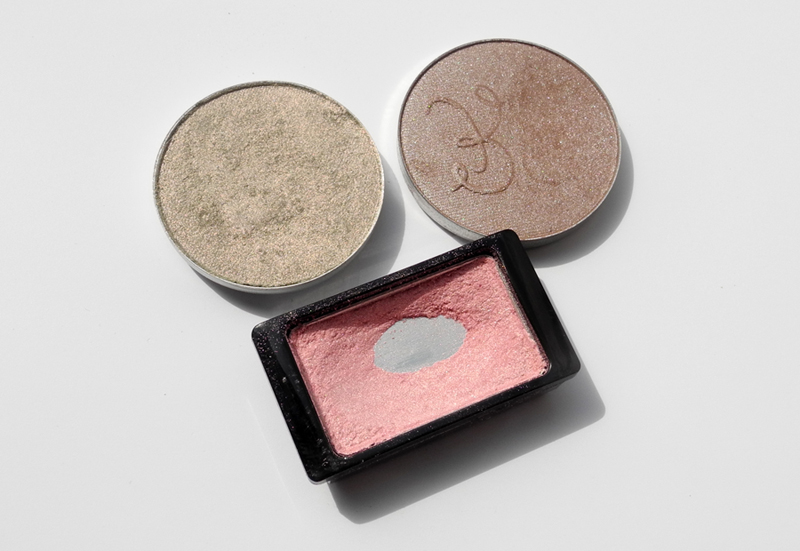 Rouge Bunny Rouge's Solstice Halcyon: "semi-matte mauve beige". It is such a perfect shade, I have already mentioned it so many times that you probably already know my love for it at this point :).
ArtDeco eye shadow 93: described as "pearly antique pink". You can see that it is well-loved.  It adds just a hint of warm rose colour to the lid. It is not too metallic, just a
Read More
Today I want to tell you about the eye shadow which was definitely the "eye shadow of the month". I've used it almost every single week day, paired with dark brown eye liner and lots of mascara. This was my signature look in March…
And it is Solstice Halcyon by Rouge Bunny Rouge.  One of my favourite eye shadows from the brand, and from my entire collection.
Take a look at this beauty!
The brand describes it as a "semi-matte mauve beige".  I'd say that it is a very complex shade and
Read More
Before I start, I have to say that it was very hard to narrow my list  of favourite makeup products of 2012 but I've tried my best.
Let's take a look at what I've chosen…
Face
Benefit Erase Paste
I don't really use concealer on a daily basis, unless I have a new, really bad spot,  I just use Touche Eclat under my eyes and that's all. But if I had to choose my favourite "concealer" type of product – that would be this one. It is a creamy peach corrector which works great for the  dark under eyes circles. I had a review of it but because of some tech problems, it was deleted, need to re-write it soon.
Omorovicza Complexion Perfector BB SPF 20 
One of my favourite face products you can read the details why here. If you can afford it, I would definitely recommend.
Rouge Bunny Rouge Tinted Moisturiser Sketches on Water
This gives a very natural finish and light coverage and you can't see it on the face, at all! Miracle for dry skin in cold weather, as it doesn't enhance any dry patches.  See all the shade available here.
Daniel Sandler Invisible Radiance Foundation and Concealer
It is a very nice foundation that gives a dewy finish so works great for my dry skin. The shade Porcelain is a great fit for fair skin and works for me in AW, in SS, I use the second lightest shade – Beige. Plus it comes with concealer which is a great deal for the price. Want to know more?
BECCA Shimmering Skin Perfector in Pearl
This product probably doesn't even need an introduction. It's the best highlighter out there, it gives a  very natural and beautiful effect.
Cheeks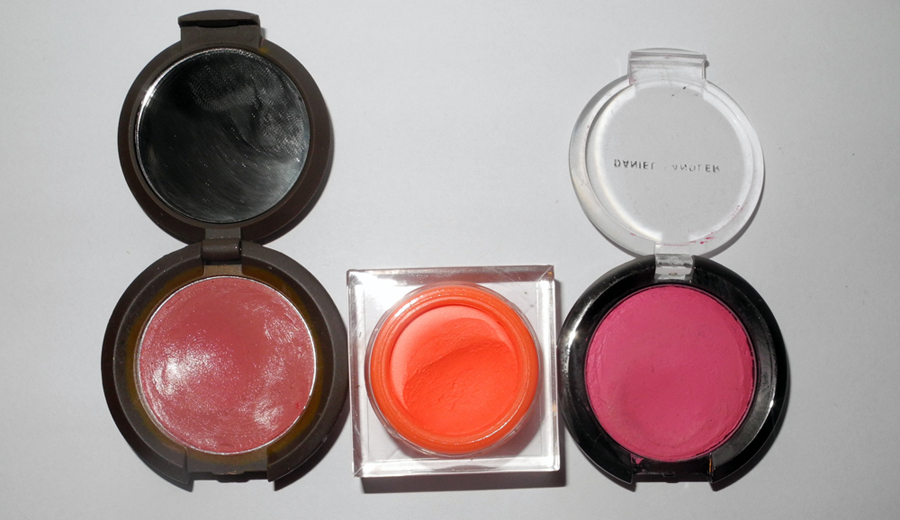 Wow, I was able to choose only three blushers, although I was very tempted to add more of them.
BECCA Cream Blush in Amaryllis 
My favourite blush for AW months, perfect cool toned and natural looking, gives a nice
Read More