New week and month is a perfect time to share the new beauty purchases, isn't it?
I have actually posted all of them over at my Instagram but if you are not following me there, here is a round-up.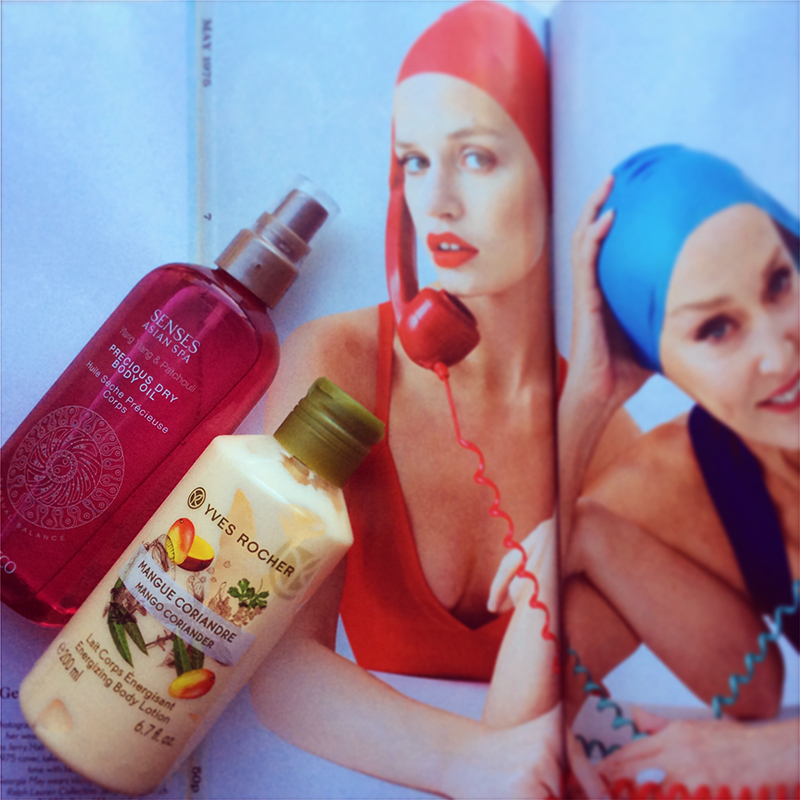 First of all, I have finished 3 body products so it was time go get some new ones, and this time I've decided to pick up yet another body oil – ArtDecoYlang Ylang and Patchouli Precious Dry Body Oil which was already included in my July beauty favourites.
I have also noticed that Yves Rocher updated their body line by changing the scent a bit, and since I love their body lotions and creams (especially this one) I have decided to get try the Mango Coriander, and it smells great.
I needed a new facial sunscreen, and got La Roche Posay Anthelios XL Ultra Light Fluid SPF 50. On the photo is actually my friend's tube but I loved it so much that I've got myself one, as well. It feels incredibly light and non greasy on the face, and
Read More
It's about time I write about my beauty favourites of 2012, right?
I am sorry that it took me absolutely ages to get around. I really loved reading such type of posts and watching such type of videos.
So, hopefully, you will like my list, too.
I will start with perfume and hair care, as these are the shortest categories (for me).
Perfume
Molecule 01 by Escentric Molecules
There was a lot of hype around this product this year and I have to admit that I am a fan, too.  You can read all the details about this fragrance here.
Jo Malone Blackberry and Bay Cologne
I have realised that I really love blackberry note in my perfumes.  Blackberry and Bay from Jo Malone was the scent I wore during my holiday in August and during all September so whenever I were it now, it makes me think of very nice moments in my life. As it was a Limited Edition, I only use it on the special occasions.
Illamasqua Freak Eau De Parfum
For me this is a super sexy scent,  but it's not over the top, plus it lasts really well on me. No wonder that  people from Illamasqua are so proud of it. I have several samples but definitely have to get a full size.
Aromatherapy Associates Relax Candle
This has to be my favourite candle of 2012, as it does help to relax in the evening and is a high quality product. Read more about it here.
Hair
Read More
I was curious to try Moroccanoil for some time so was happy to get it as a sample with my HQHair.com order several months ago.
The small version which is  25 ml retails for £12.85 which means that 10 ml retails for £5.14. Although I've got only 10ml I've been using it for a long time already and still have more than a half left. It is because you literally need just a drop, unless your hair is really long of course.
I rub the product between my palms and apply in to washed and still wet hair, 90% of the time I let my hair dry naturally.
I haven't tried the original version but I am really loving this light one as it doesn't leave my hair greasy at all. It is just very soft and shiny and that's all with one drop!
I also love how it
Read More
I've promised  a review about the newest line from L'Oreal Professionel – Force Vector. If you want to find out more about the line and 5 products read this post because I just don't want to repeat everything here.
About the Force Vector Serie
"New Force Vector counters this damage with Glycocell, the latest in haircare technology from L'Oréal Professionnel. Glycocell combines Incell technology and Royal Jelly Extract to deliver targeted strength and reinforcement to fragile, weak hair. Incell strengthens the natural cohesion of the hair and increases its resistance to external stressors, for long-lasting conditioning results. Royal Jelly Extract is a nutrient-rich substance produced by bees that provides concentrated essential amino acids and vitamins to the hair. Together these technologies are designed to reinforce hair that has been compromised due to external aggressions, leaving it stronger and more resistant to breakage. "
I've got three products our of 5 because I don't need Force Vector Reinforcing Anti-Breakage Conditioner and Force Vector Reinforcing Anti-Breakage Thermo-Active Treatment.
This means what I got:
Force Refill Intense Reinforcing In-Salon Treatment
Force Vector Reinforcing Anti-Breakage Shampoo
Force Vector Reinforcing Anti-Breakage Masque
And now I will tell you my impressions about each product that I've been using since November.
Force Vector Reinforcing Anti-Breakage Shampoo(250 ml),£9.50 or $21.00
I finished this shampoo last week and already got a drugstore one and I miss the L'Oreal Shampoo a lot so I will be getting the new one soon. But this time from the other serie (I am thinking avout Volume Expand).
First of all I have to tell you that I have a thin and oily hair. My hair really looked so much better, thicker and healthier when I was using this shampoo.  The bonus is that I absolutely love how it smells and you need a small amount of shampoo to wash your hair.
There is only one negative thing. My hair gets oily very soon after this shampoo but I can't say that I mind that because I wash my hair every 2 days. My hairdresses told me that it is because the shampoo contains some oild that "cover"  the hair.
Also I wanted to see the result that this shampoo gives the fine hair so I asked my friend to try it and to tell the result. After using this shampoo for a while my friend told me the same! Her hair looked amazing but she had to wash it more often.
So I guess it's better to use it when you have dry hair.Also I would recommend you to get this shampoo from an on-line shop because you will have to pay more in the salon just like I did.
Force Vector Reinforcing Anti-Breakage Masque (200 ml),£13 or$30.00
For some reason I am
Read More