Last month I've shared my top 5 picks from Illamasqua and this month I want to share the products from Rouge Bunny Rouge that I personally love the most. As you can imagine, it was very hard but here is what I've chosen.
Tinted Moisturiser Sketches on Water This one was easy, it is probably my favourite base ever! And there are so many reasons for that: the texture is very light and it looks like a second skin. It gives a light coverage and doesn't enhance any dry parches on my face even during the winter. You can read more details about it here. Original Skin Blush For Love of Roses in Florita Yes, I have included a powder blush and not cream or liquid, it's probably a shocker for regular readers. This is probably my favourite powder blusher out of all that I have and I reach for it a lot. The colour is perfection, the texture and finish are beautiful, the blush blends nicely into the skin and stays on pretty well. See my full review. Kiss Elixir If I had to pick my
Read More
I have confessed my love for Clarins Instant Light Natural Lip Perfectors (£17) numerous times already. So one more time one hurt, right?
Recently the brand added three new shades to the range and  I was actually sent all three to show you.
So the new shades are: 04 Petal Shimmer, 05 Candy Shimmer and 06 Rosewood Shimmer.
As you  already know, I love everything about Instant Light Natural Lip Perfectors. They have a beautiful balmy,  non-sticky formula which nourishes and moisturizes the lips and makes them smoother and softer. These "glosses" have  light caramel-y/vanilla-ry  scent and taste nicely, not that I am supposed to know 😉
Below you can see the close up of the applicators.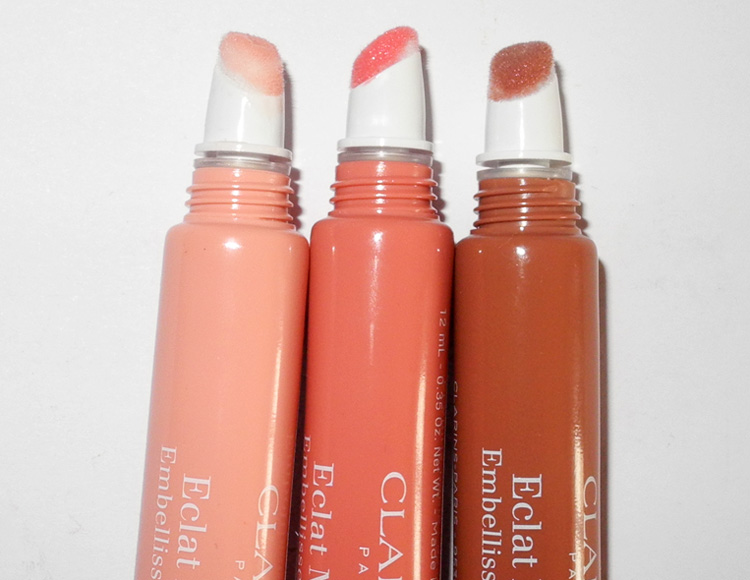 As for the
Read More
Are you a fan of Clarins Instant Light Natural Lip Perfectors? And who is not?
Rejoice! The cult, yes, I am not afraid to use that word, lip product family (02 Apricot Shimmer, 01 Rose Shimmer, 03 Nude Shimmer) will be  bigger!
By that I mean that in May the brand releases three new shades: 04 Petal Shimmer, 05 Candy Shimmer and 06 Rosewood Shimmer. Each is £17.
Maybe they will bring out reddish and berry-ish shades in the future, too? Fingers crossed for the AW season!
There is also a brand new product
Read More
Clarins Colour Quench Lip Balms are some of my favourites and I have almost finished the two shades that I have.
I've actually got two summer 2012 shades from the brand to show you. These are  Jaipur and Delhi.
I would describe Jaipur as a bright pinkish coral and Jaipur as a brownish nude, both shades have gold shimmer which looks beautiful in the sunshine.
These products are very well pigmented as for the balms. Plus, being the balms, they are moisturizing and feel amazing on the lips, I can't think of a gloss that feels the same way. Colour Quench Lip Balms have a pretty thick texture and some may find them a bit sticky but I, as you may remember,
Read More
You can see my favourite lip products of 2010 here and I still really love them but I've decided to show you some new products that I've been loving this year.
Illamasqua Lipstick in Atomic
This has been my favourite lipstick of 2011 in terms of colour. It is bright fuchsia with a blue sheen.  It is very pigmented and looks amazing on the lips. It was always a pleasure wearing it. You can see lip swatch here.
Clarins Colour Quench Lip Balm and Instant Light Natural Lip Perfector
I had a big 'Clarins moment' this year and I've bought quite a few products from the brand.  Both their Colour Quench Lip Balm and Instant Light Natural Lip Perfector are brilliant products and I really love using them. Now I plan to try all Clarin's lip products actually. Read detailed review and see swatches here.
Anna Sui Sui Lip Gloss
This is the only Anna Sui product that I have tried but I love it so much that may just call this gloss in 001 my favourite gloss of 2011! It's feels really moisturizing and smooth on the lips and it smells of roses! Plus gives a very beautiful mirror-like effect.  I definitely  need more Anna Sui in my life! Find more here.
No7 Vital Brights Lipstick in Blooming Pink
I know that it's
Read More