If you follow me on Twitter, you know that I am currently away for the second week. Unfortunately, I am busy from dusk till dawn but I do appreciate the productive working time.
Here is a sneak preview of what I've packed makeup and beauty wise with me. I was very strict with myself, and limited it all to one (no7 Boots)  travel makeup bag.
Here is what makeup I had with me. All products from my current top 5  luxury makeup favourites post, a lot of Rouge Bunny Rouge products, as I plan to write a feature for the brand soon,  three blushes (I ended up using only tarte) and three lip shades, inducing my Tom Ford lipstick.
As for skincare, this is
Read More
I love my luxury beauty products!  I perfectly understand,  that is not a necessity but an indulgent, and also I  get that not everyone wants to spend that much on a makeup product. In fact, I often get asked about the affordable products that I would recommend.
So I've decided to feature five products that I've been really loving lately. I could, of course, add more, but these are the best for me, now.
Max Factor Excess Volume Extreme Impact Mascara (review)
I use  this mascara daily now! It is ultra black and glossy and gives great volumizing effect, exactly what I love. For me it's "go big, or go home" when it comes to mascara.
NYX Taupe Blush (review and swatches)
Another product that I use almost daily. It blends nicely into the skin and gives a natural sculpting effect, nothing muddy or orange.
Maybelline Color Tattoo 24HR in
Read More
It's time for the monthly favourites!  And I think, next time I will be doing 2013 favourites, so I better start planning it soon. Also, I can't wait for the holidays, as I have a lot of plans.
Chanel Le Volume de Chanel Mascara in 10 Noir (review)
I still think that it is  one of the best mascaras in the World!  It makes even my not-so-impressive lashes look fantastic, adds tonnes of volume and is ultra black. I have a mini size but I am so getting a regular one soon!
 BECCA Luminous Skin Colour Ultra-Sheer Foundation
I better write a review about this wonderful product soon. As the name suggests, it gives a very sheer coverage and is undetectable on the skin. With a little bit of concealer where you need it – you can get a perfect complexion which looks very natural.
Clarins Instant Concealer (review)
As I've already said, it instantly brightens up the way you look, feels light and is pretty long-lasting.
Ellis Faas Hot Lips L406 Rose Violet (review)
My latest love in terms of lip products.  I have been wearing it non-stop, as it applies smoothly, has a
Read More
It's time for September favourites! And some of the products you see over, and over again, but I just can't help it, as I love them very much.
 Makeup
 Face
You know how much I love my blushes. But if I could keep only one – that'd probably be BECCA's Cream Blush in Amaryllis. That says it all, and the photo shows how much I love it.
When I need a very long lasting blush which I can also use on the lips (and  it's a must have for bridal makeup) - BECCA got it covered, too. Their  Beach Tints are spot on! I have been loving in Grapefruit shade a lot.
I am not a powder person at all, but I have been experimenting with Rouge Bunny Rouge's Flawless face Powder Precious Velvet in Piano Forte  a lot lately and love the results, it's a weightless product which gives a beautiful and natural polished finish.
Eyes
This month I have
Read More
Before I start, I have to say that it was very hard to narrow my list  of favourite makeup products of 2012 but I've tried my best.
Let's take a look at what I've chosen…
Face
Benefit Erase Paste
I don't really use concealer on a daily basis, unless I have a new, really bad spot,  I just use Touche Eclat under my eyes and that's all. But if I had to choose my favourite "concealer" type of product – that would be this one. It is a creamy peach corrector which works great for the  dark under eyes circles. I had a review of it but because of some tech problems, it was deleted, need to re-write it soon.
Omorovicza Complexion Perfector BB SPF 20 
One of my favourite face products you can read the details why here. If you can afford it, I would definitely recommend.
Rouge Bunny Rouge Tinted Moisturiser Sketches on Water
This gives a very natural finish and light coverage and you can't see it on the face, at all! Miracle for dry skin in cold weather, as it doesn't enhance any dry patches.  See all the shade available here.
Daniel Sandler Invisible Radiance Foundation and Concealer
It is a very nice foundation that gives a dewy finish so works great for my dry skin. The shade Porcelain is a great fit for fair skin and works for me in AW, in SS, I use the second lightest shade – Beige. Plus it comes with concealer which is a great deal for the price. Want to know more?
BECCA Shimmering Skin Perfector in Pearl
This product probably doesn't even need an introduction. It's the best highlighter out there, it gives a  very natural and beautiful effect.
Cheeks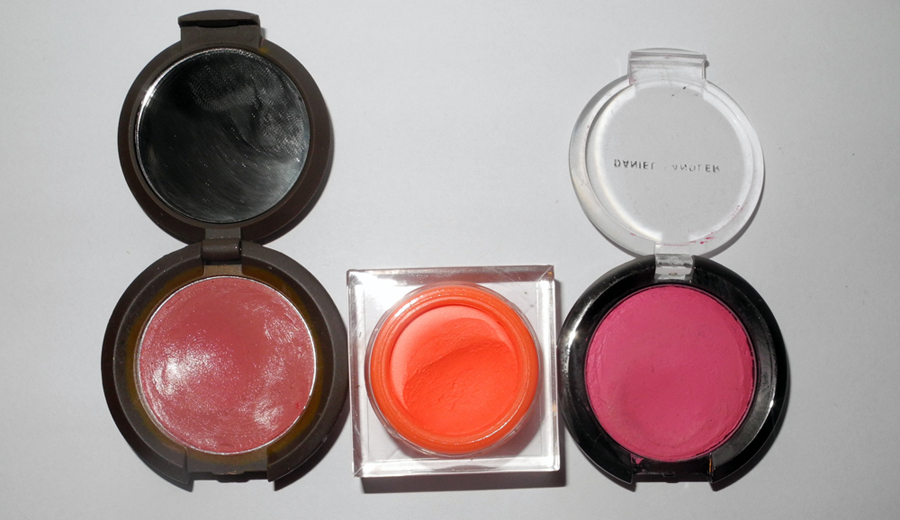 Wow, I was able to choose only three blushers, although I was very tempted to add more of them.
BECCA Cream Blush in Amaryllis 
My favourite blush for AW months, perfect cool toned and natural looking, gives a nice
Read More