Chanel's Le Volume de Chanel Mascara is one of the best ones  I have ever tried.
It does pretty much everything  I personally want from a mascara. And what is that?
It is uber black, you get  full-on lush blackest black lashes. It is called Le Volume for a reason – it does give a fantastic volume and impressive length. I don't like a subtle effect from my mascara, I may, as well not wear it at all in that case. And this one is
Read More
I wanted to write a review about Ellis Faas' Mascara for a long time already, so here is is finally.
It comes in a signature "bullet" design which all my designer friends rated very highly.  I love the brand's products a lot and always expect exceptional quality. And this mascara does deliver, in my opinion.
Here is, by the way, the image to support the mascara created by Ellis.  Those are clearly false eye lashes and, unlike a lot of other brands, EF doesn't claim that you will get a ridiculously long and thick lashes, that is just a creative and fun image.
But back to the mascara. I would say that it is a lengthening mascara and actually, I have just checked, it is described as a lengthening one. Not that is doesn't give any volume but it is great at giving length and separation.  And it is probably my favourite thing!
This mascara is not clumpy at all, even if I apply several coats, the lashes are defined but they don't stick to each other, so I son;t need to comb through.
The other thing that I love is that Mascara is pretty long-lasting, it doesn't smudge or
Read More
While a lot of people say that if you want to save some money on makeup products – you should just get a cheaper mascara. Doesn't work for me, unfortunately.
With my pretty short, thin and light lashes I need a miracle worker, and I haven't yet found a low-priced mascara that would satisfy my needs for 100%!
Today I want to tell you about mascara that I have been using for the last several weeks and it's Illamasqua's Masquara in Raven.
First of all, I want to give some extra points to the brand for the coolest name ever, "Masquara" is  a great choice. I also like the price – £15, which is cheaper than most mascaras that do deliver. And, yes, Mascquara does!
As for the product itself, there are certain things that I love and certain things that I don't like that much.
It gives a very intense black colour which doesn't fade during the day.  The volumizing effect is pretty mind blowing, very impressive, the lengthening effect is also stunning.   I don't like natural looking lashes, I want drama, that is still day appropriate, and this is exactly what I get.
Just make sure that
Read More
I'm not gonna lie, I am super jealous when I see girls with long, thick lashes…Unfortunately, it is not the case with mine. It could be worse, so I should not complain really.
But there are certain things I can do about it. I have never tried lash extensions for some reason and wearing false lashes every day is not an option, for me at least.
So here are the products that I use to get a make my lashes look decent:
First of all, I curl my lashes with shu uemura lash curlers, they open up the eyes and the curl lasts all day long. It is a great investment.
Then I use a lash primer, currently it's Urban Decay's Eyelash Primer Potion, it adds some length and volume without making the lashes look clumpy.
Next step is mascara – black Diorshow New Look or
Read More
It's not a secret that my favourite mascara of all times is Hypnose by Lancome but I like trying new mascaras from time to time.
While a lot of people say that it's a waste of money to buy a high-end mascara  I have to disagree because  I personally see a HUGE difference in a high-end and drugstore mascara. Yes, I do love Max Factor mascaras and some others are not so bad but they can't replace the high-end mascaras for me. But I am talking about my own lashes. On some other people I can't really tell the difference.
And I am obviously not trying to say that all the high-end mascaras are brilliant but most of those that I've tried are really good and in my opinion are worth the money. Maybe if you have long and thick lashes you can get a £5 mascara and be happy with it but I am not so lucky, so I can't.
So today I want to tell you about one of those good high-end mascaras. And it is Film Noir mascara by Hourglass Cosmetics.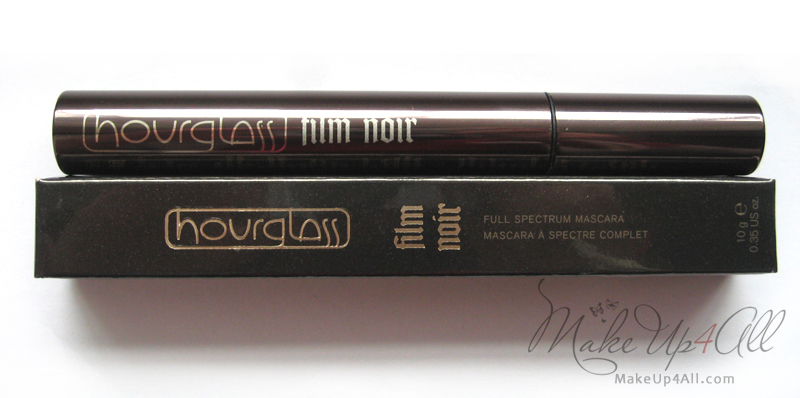 I have to start with saying that I love the design so much. It is simple and elegant, just what you would expect from a mascara which retails for  £20/$28.
And what is about the mascara itself?
Read More