I am personally a huge fan of beauty and art collaborations, such as this one by François Nars and a contemporary artist Konstantin Kakanias, inspired by a glamorous  French Riviera they came up with 10 makeup products.
Dual-Intensity eye shadows and blushes and a brand new product for the brand – Lip Cover. Each comes in a special edition packaging.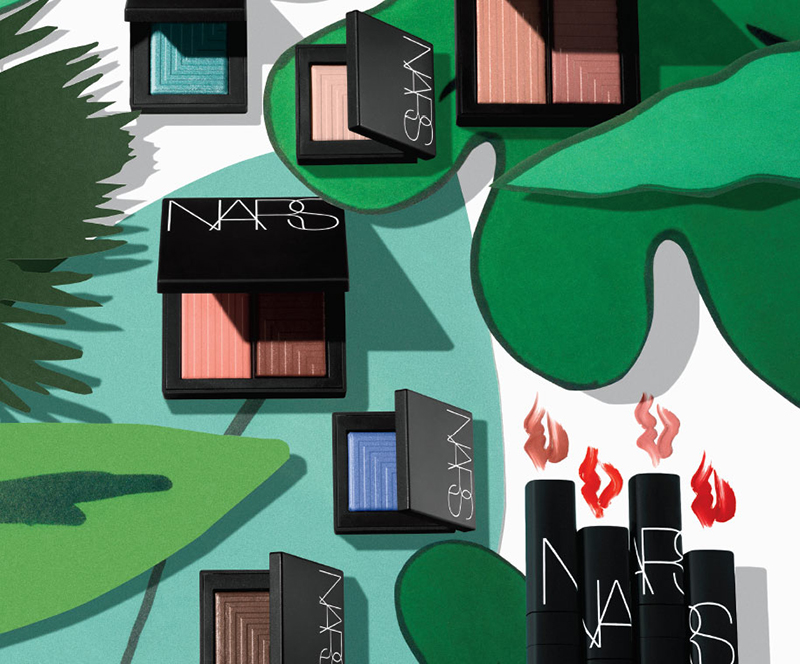 Lip Cover, $28/£21
"High pigment liquid lipstick. High fashion effect. Lip Cover delivers saturated slicks of coastal color steeped in exclusivity and ease. Rich and lustrous. Luminous finish."
Do Not Disturn, Vivid orange red
Overheated, Deep dusty rose
Get Dirty, Desert rose
Members Only,  Crimson
Dual Intensity Eye Shadows, $29/£21
Read More
I remember when Ilamasqua just launched in November 2008 (Makeup4all actually launched 3 months later, so I covered all their collections) – it was something different and unique, something edgy, alternative, and opposite the mainstream, so to speak. Their collections like Dystopia and Theatre Of Nameless were so unlike anything else with the gorgeous looks from Alex Box and unreal shades of the products.
To be honest, I wasn't a big of the latest releases such as Glamore and similar ones, as for me it wasn't the Illamasqua I loved. This is why it is very nice to see how they are back to their roots with this new To Be Alive Collection.
Striking visuals with fierce makeup and stunning model. The products in the collections are well-edited and unique:
Spirit Palette, £34
Powder Eye Shadows in 

Cascade (ultraviolet light), Inspire (rich true blue) and Refine (intense midnight blue)

 Shimmer Cream Eye Shadow in Awaken (delicate ice blue).
Glamore Lipstick, £18.50
Read More
It's been a while since I've posted the "Beauty Inspiration" post last time, so it's time for an update 😉
I really love these beautiful images from Bloomingdales that I've discovered this month. How cool and inspiring are thay, right?
My favourites have to be the one with red lips and the one with the eye liner, I am definitely going to attempt to re-crete it [that liner] myself.
And which one do you like the best?
Read More
For those of you who don't know – YSL are launching the new version of their quints, and you can take a look here.
But today I want to tell you about one of their duos – YSL Ombres Duolumieres Jaune Ardent/Bleu Torride, and this lill' palette is just perfect for summer, as you get a blue, and a yellow!
Let's take a look…
The colours are very beautiful, and are true to what you see in the packaging. You can get a sheer wash of colour, or build up the intensity by layering, using over primer or with a damp brush or sponge.  The sponges that come on the palette are actually great for packing on shadows.
I personally love using the blue on top of any blue eye shadow with a lot of mascara, it looks great on brown eyes. Or with a damp thin brush an eye liner. Yellow could be used for a
Read More
This summer Tyen was inspired by the legendary  bird of paradise that supposedly flies in the sky, without never coming to earth.
The promo images are a real eye candy and the shades of this collection are a true summer feast, bright  vibrant and juicy: pinks, corals, tans and all variations of green and blue.
The model on the promo is Daria Strokous and I think she pulls of blue pretty well!
The products are:
Jelly Lip Pen £19
476 Ilhabela
516 Copacabana
636 Carioca
656 Gaïa
Diorskin Nude Tan Paradise Duo £40
001 Pink Glow
002 Coral Glow
 5 Couleurs Eyeshadow, £40
374 Blue Lagoon
434 Peacock
Dior Addict Lipstick, £24
431 On The Beach
471 Flamingo
751 Exotique
771
Read More