I've mentioned Bobbi Brown's Natural Brow Shaper & Hair Touch Up in Slate  here, and promised a review, so here it is.
I have been wearing this product in my eye brows for the last three weeks, and totally loving it. Why?
It fills in the gaps, tints the eye brows, gives them more texture, and holds them in place.
Slate is a great cool toned ashy grey, it is probably the best colour match for my eye brows I have ever tried.
The eye brows look natural (I don't get that wax effect, some products can give), just fuller and more groomed. In fact, I've got some compliments [for my eye brows] recently, which
Read More
I have two products from Bobbi Brown's Illuminating Nudes Spring collection to show you. Sheer Lip Gloss in Almost Peach and  Sparkle Eye Shadow in Golden Peach.
 Sparkle Eye Shadow in Golden Peach
I really like Bobbi's eye shadows in sparkle formula, and I use my Black Chocolate one pretty often. I think this is just the best eye shadow type to use for a night out, it looks absolutely gorgeous in the  artificial light, the sparkles are truly beautiful.  In the day time, it may not be appropriate for an office work if you layer it all over the lid but would be great for adding just a bit of dimension in the center of the lid. Also, it looks a lot more subtle in the day light.
And the formula is smooth and not gritty at all, I think they've nailed it.  If there is a shade that you like – I would
Read More
I have two glosses from Bobbi Brown's Caviar & Oyster makeup collection.
Brightening Lip Gloss (£17/€24) in Moonlight Pearl and  High Shimmer Lip Gloss (£17/€24) in Oyster.
Brightening Lip Gloss  is described as sheer and highly reflective gloss. Although it may look a bit brownish in the tube, it looks nice on the  lips and does give the brightening effect, in my opinion. It feels moisturising on the lips and smells of caramel to me. Such shade would look nice pretty much on everyone, especially paired with dark eye makeup.
High Shimmer Lip Gloss    is described as a gloss with light-catching glitter. And this is a favourite of mine. I have so many glosses but this one made it to my personal makeup bag. It reminds me of  Guerlain's KissKiss 800 and Chanel's Mica Glossimer which are
Read More
I was recently given a Rich Lip Color  (£18/€25) by Bobbi Brown.
The colour I have is called Uber Suede which it is described as a golden beige and I would say that it is a warm brown. I definitely would not pick such colour for myself as I do not wear brown as I don't find it that flattering on my skin tone ( it will, obviously, look different on dark skin tones).
I actually remember that my Mum had such lip colour in the early 90's and it was a bit hit back then…
But it is  great to have such shade, as you never know what you may need, especially if you do makeup on other people  from time to time  or are a full time MUA.
When it comes to lipstick's formula – I like it a lot. It is
Read More
I was very excited to try this beauty from Bobbi Brown – Sparkle Eye Shadow (LE) £20/€30 in Black Chocolate which is a part of  Uber Basics Pretty Powerful collection.
This is a dark brown eye shadow with sparkle and, if you are a regular reader, you will know that I love my dark browns.
Here is how it looks like in the pan.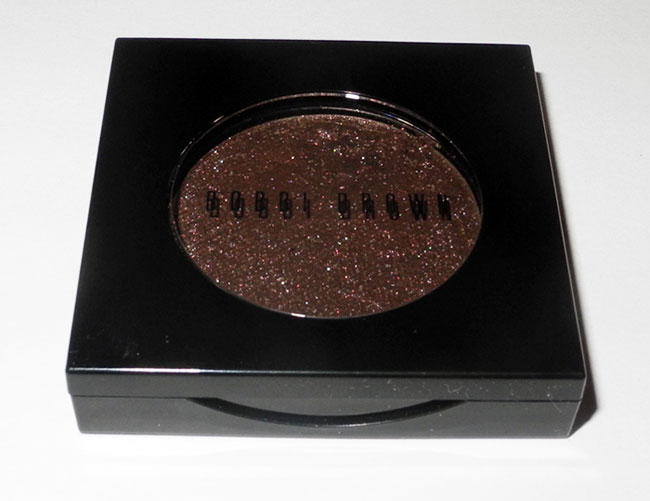 I was worried that it may  be  a bit too much for the day time but the best thing about this eye shadow, is the fact that it looks different in different light. In the day the sparkles looks wearable, you don't end up looking like a disco ball. But  in the evening, when you need some oomph, the glittery bits look fantastic in the electric light, they  do sparkle!
Although these are glittery eye shadows, the texture is very smooth and
Read More