It's about time for my June favourites, right? But I guess it is better late than never, so here we go.
First of all I want to show you two products that I couldn't find when I was taking a  group photo. Since I am completely re-doing my place, it's a total mess and it can be hard to find things…
Face
Amazemitt
I was away half of June and this lill' mitt was a great product to have with me. Although it is suggested that you use it without any cleanser to take the makeup off (and it does work that way), this time I've used it with a cleanser to make sure that everything was properly removed from my face.
Bronzer
I don't wear bronzers, unless I have some tan on. And since now I do, mostly thanks to self tanners, I've been wearing this YSL's Terre Saharienne bronzer a lot in June. It warms up the complexion and has the right amount of shimmer, which is not over the top, but spot on.
Eyes
Eye Shadows
I have been absolutely in love with Daniel Sandler's Eye Shadow Quad in Scandal at Midnight, I've used it both on myself and on the beautiful model on the shoot I worked on recently.  And, as I've already mentioned Desire is perfect for
I have posted this photo on Facebook some time ago but I thought I'd also mention these products here.
I would call Xen-Tan Deep Bronze Luxe Once A Week Self Tan (review and swatch) and Omorovicza Gold Shimmer Oil (review and swatch) my summer essentials.
Both products are not cheap and I have got them both last summer (from look fantastic) and I consider it to be an amazing investment!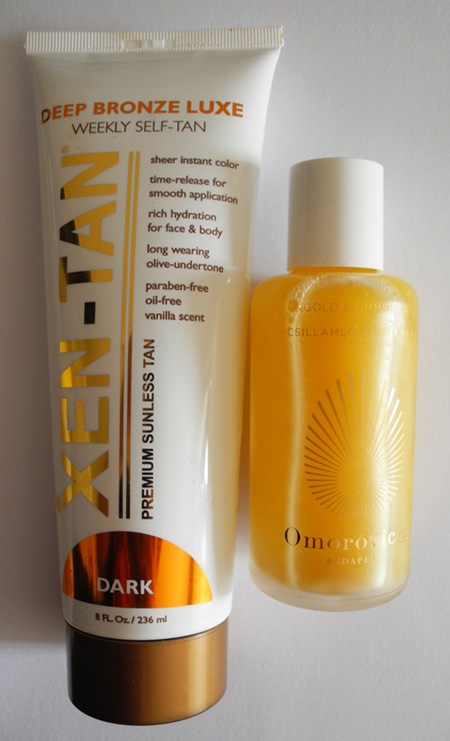 I have dark eyes and hair so a lot of people think that I tan easily and that my skin tone is medium at least. But it's not, my skin is rather pale but not in an 'Dita von Teese' kind of way, and it takes me ages to get some colour.
This is why in summer I like using the Xen Tan  Deep Bronze Luxe once per week on my body to give myself some healthy looking glow. The brand actually has a darker shade which I plan to get next (I have a lighter shade, too. Review).
As for the oil, it smells divine and gives the most gorgeous shimmer in the sunlight. I am addicted!