Ever since I've bought my Omorovicza Gold Shimmer Oil, I can't imagine a summer without it! This is like the best invention of the beauty industry. Shimmering body oils moisturize the skin and leave it glowing,  and simply beautiful. I always think of those images we see in mags with gorgeous models and "glossy" skin. Moreover, some of them are multi-purpose and can be used on face and hair, as well.
Also, even if you splurge on an oil, like I  did, it will last you for ages.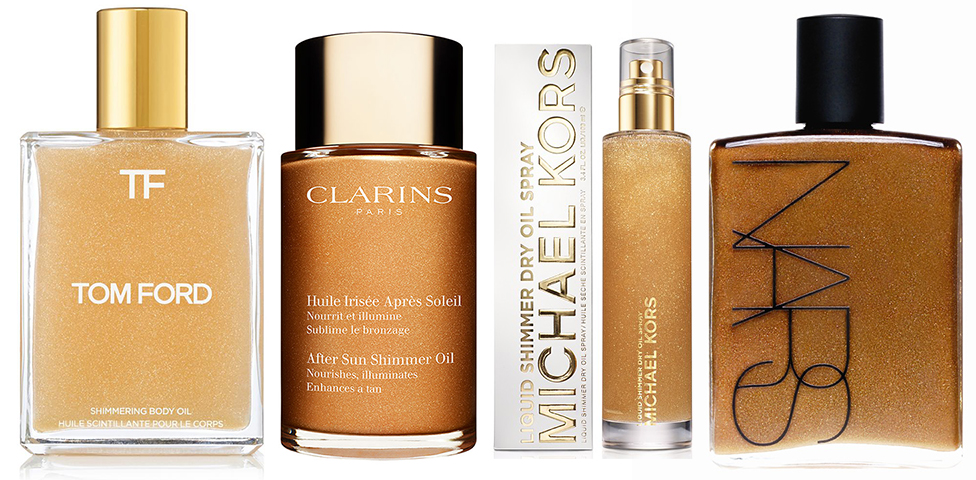 I totally recommend  picking one up this season, especially when there are so many options. Here are four that were released for SS15:
 Tom Ford Shimmering Body Oil, $95 from  Bergdorf Goodman, Bloomingdales, Harrods and Selfridges.
Clarins After Sun Shimmer Oil (£32/$32) from  Nordstorm,  or Selfridges. I actually have this one, so
Read More
It's the beginning of the new week, so here is what bath and shower products I've been using last week. You can see the previous posts here and here.
Shower Gels and Scrub
I have been showing a lot of love to my Lush shower gels this month. I have a lot of different ones from different brands, as I like to rotate them but these two were used a lot. Happy Hippy is a fresh grapefruit with a not very overpowering scent, so could be used not only in the mornings. Glögg is a spicy and warm fragrance which always cheers me up!
As for the scrub – Clarins Smoothing Body Scrub was my choice recently, as it is a gentle exfoliator which makes the skin smooth and allows creams and oils to absorb better.
Oils
My skin is extremely dry and flaky at the moment so I am using a lot of different oils on it. I love taking a long and relaxing bath with some oils, for example  with this Lavera Organic Wild Rose Bath Oil. It is
Read More
I have a very dry skin, and, unless I want it to be flaky and dried out, I have to upgrade my body care routine in Winter. And oils are the best product for that.
Here are some of  the body oils that I have been loving lately.
Cowshed Lazy Cow Soothing Bath & Body Oil (£20), see my full review here.
This is a brilliant two-in-one product as you can use it as a bath oil and body oil. In winter I use it on the damp skin before the body butter.
Linden Leaves Memories Body Oil  (€ 31.93), read my detailed review here.
LL is a brand from New Zealand that offers four body oils with fruits or flowers inside the bottle which looks gorgeous and would make a fantastic gift. I have
Read More
The last several weeks were insane for me…  But I have so many things that I want to write about: both  news and reviews but can hardly find time to do it.
So I've decided to share some of the new products that I am going to write about soon.  I have been using most of them for a while now and pretty much everything is amazing.
Some of the new makeup: theBALM Shady Lady eye shadows, Trish McEvoy  bronzer, eye shadows from the Fall collection and the new fan brush. Clarins lip glosses which I already reviewed and MAC Vex eye shadow.
Kerastase Chroma Riche Luminous Softening Essence (it's brilliant) , Aromatherapy Associates Perfect Partners  Bath  and Shower Oils (love!), Stenders Rose bath bubble ball and Rose bath milk (wanted to try this brand for a while and it did not disappoint), L'Occitane
Read More