If you are a regular reader, you probably know that I am not a big fan of scrubs with very small particles and love my body scrubs to be really exfoliating but gentle.
Philosophy Pure Grace Hot Salt Scrub is the kind of scrub that I like.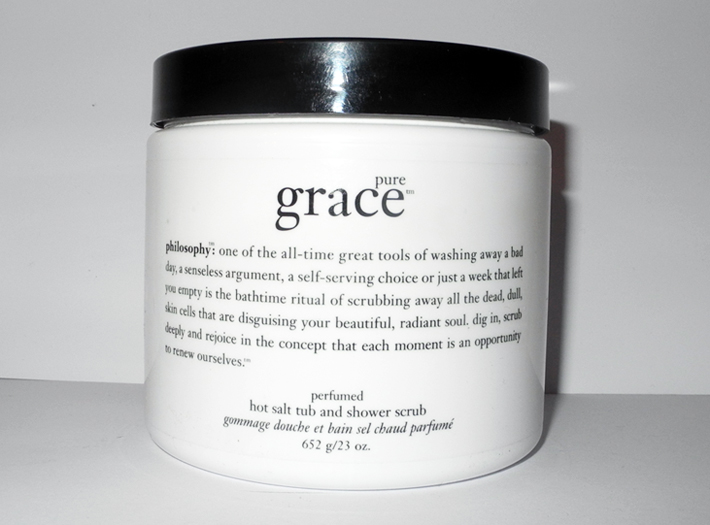 The coolest thing about this scrub is that it warms up when you rub it in your (dry) skin for one-two minutes, as the  brand suggests.
It leaves the skin silky and smooth – exactly what  we want from a scrub. I would say that it does help battle the dryness on knees and elbows, too.  I also find that my creams absorb  better  after this scrub.
The scent is not overwhelming and is not intense, so
I love a good body scrub and I  do love Clarins. Clarins make two body scrubs: Toning Body Polisher and Smoothing Body Scrub , and I actually have both.
They both are very different but both are brilliant. So which one is the best for you?
Toning Body Polisher, £30/$40 for 200 ml
This is my personal favoutite and there are a lot of reasons for that. First of all, I love the texture, it's  a mix of  sugar, salt crystals and essential body oils.  I love how super smooth and silky my skin feels afterwards. I personally use it on the dry skin and the effect is fantastic. Plus you don't need that much, which I was surprised about, as usually with a similar texture, you end up using lots of product.
One more thing that I absolutely have to mention is the scent! I love heavily scented body products so this one is a perfect one for me! It combines essential oils of Rosemary, Rosewood and Mint. And it is strong! But I personally find that it lifts my spirit and improves my mood. I can feel the aroma of the scrub even  in the other rooms and it stays in the bathroom for some time.
But if you want something more delicate and with