There are no words, how beautiful the new Burberry Summer Showers makeup collection looks like.  This is something different  for the brand, instead of the often boring usual nudes they are offering juicy, vivid, candy-like, shades for this season. Plus there are two new products – cream blush in a stick formula and BB Cream, yes, really. I told you, Burberry rocks!
How incredibly fresh and young does the model look? This is such a perfect makeup for SS. Although I would personally apply more mascara on myself.
There are nine products in general (and several shades of BB Cream) and they are are divided into three categories: Pink Azalea, Orange Poppy and
Read More
This season Burberry are offering a festive edition of their luxury makeup and fragrance line adorned in gold.
In fact, the collection is called Golden Light, and although I personally prefer silver,   I find this shade of gold to be very chic and beautiful.
Makeup:
Lip Mist Festive Gold 216, £ 22.50
Nail Polish Light Gild 107,  £15
Fresh Glow Nude Radiance  01,  £34
Lip Glow Trench Kiss 24,  £18.50
Burberry Body
Read More
It feels a bit strange writing about a summer makeup collection, as we have already all the Fall collections out and about to start seeing the details about the Christmas launches.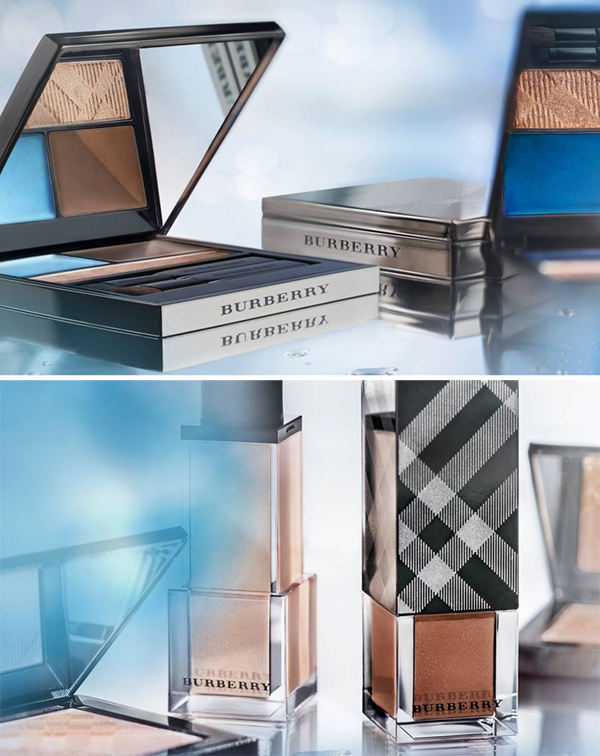 But this beautifully edited collection by Burberry may be a real treat for those who are still about to go on their holiday in August or September (like myself).
So let's take a look at the products:
Splash Eye Palette, £34
Limited Edition eye palettes with two cream eye shadows and one highlighter.
1 Midday Sun
2 Hot  Tropic
Fresh Glow Fluid Base, £34
Read More
First of all, I  have something important to tell you!
makeup4all.com e-mail was not working for the last week  and I did not get any e-mails at  all. I have only noticed it today as I am currently away (for work) and did not have time/opportunity to check my blog e-mails earlier.
Unfortunately, all the data was lost, so if you did send me an important e-mail, I'd appreciate if you could re-send it!
And here is a quick look of the makeup (and some beauty, as most are not pictured) products I took away with me.  I am pretty sure that regular readers can spot some of my all time favourites.
As for the heroes of this trip…
Read More
Here it is, as promised, the review of Burberry's Complete Eye Palette.
As you may know, there are  six colour combinations to choose from and each retails for £40/$59.
Here is how the palette looks like, I  love the signature Burberry print.
It  comes in a velvet pouch with three mini tools: sponge, blending brush and liner brush. I haven't really used them but they may be very handy for when you are travelling or touching up your makeup.
My palette is called Pink Taupe and, in my opinion, these are the most original and unique colours out of all. I actually don't think I have a dupe for some of the shades.
And you get:
Warm peachy shade,  satin finish
 khaki shade,  satin finish
Cool toned dusty pink, matte
Read More