Burberry just released a killer new beauty collection Velvet & Lace. And that look with a strong lip and  a natural skin… I think it is perfection, and Wendy Rowe (Artistic Consultant Burberry, MUA who created it) just rocks! If you are  not a fan of pastels, this is the way to go for Spring. Plus, there are so many brand new exciting products.
Like the stars of the collection – SPRING/SUMMER 2016 RUNWAY PALETTES in White 01,  02 Nude Gold
"A lightweight illuminating face powder set with an intricate lace-pattern design, inspired by the delicate fabrics from the womenswear show. Pearly, translucent powder  that lifts and brightens the complexion with a lace pattern."
EYE COLOUR CONTOUR, $37
100 Natural
104 Almond
106 Pale Cooper (not shown)
108 Midnight Brown
112 Rosewood
116 Dusy Mauve
124 Stone Grey
"Versatile, mistake-proof pen designed to sculpt and smoke the eyes for effortless results. The precision dome tip follows the natural curve of the eye to add dimension and depth, while the creamy formula blends into the lash line for an intense smokey effect. Crease-free and waterproof for an all-day flawless finish. "
More eye shadows:
Read More
Burberry Christmas is looking very festive with that gold special edition design and the signature holiday shades of red and gold.
You can choose from Military Red
Burberry Kisses in Military Red No. 109
Burberry Kisses Gloss in Military Red No. 109
Nail Polish in Military Red No. 300
Or Festive Gold 
Read More
Here is a  preview of what is new from Burberry, some things are already out, and some will be available only for Spring.
Although it seems that we have seen it all when it comes to contouring, the brand just released their version of the shading products. And I personally really love the look of them.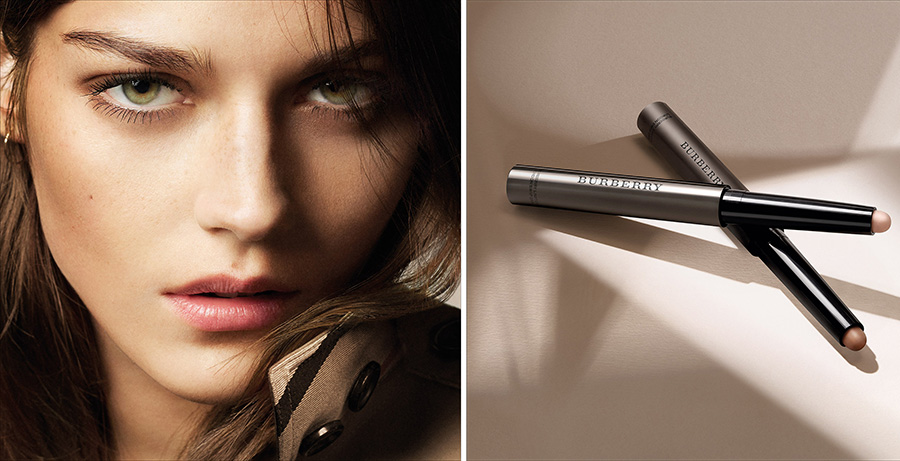 Effortless Contouring Pens Face & Eyes in Medium No. 01 and  Dark No. 02. are designed to  effortlessly sculpt the face, the results look very natural and the technique is fool-proof (watch a video below). Already available from Sephora for $37 and soon to be available from Harrods.
Here is a video with Wendy Rowe showing how she create the look for the SS16 show, and how to use the contouring pens. And it is always
Read More
When I saw Burberry's Lip & Cheek Bloom some time ago, I got really excited, as there is nothing like a good cream blush and lip product two-in-one. Finally they are here!
The texture is described as "airy and bouncy" and the formula – as "sheer and buildable". While the finish is supposed to be matte and fresh-looking.
Don't they just look gorgeous? After week of being sick (seriously, I don't remember when I felt this bad for the last time), this looks like an instant pick-me-up!  And I am sure they'd make anyone look better!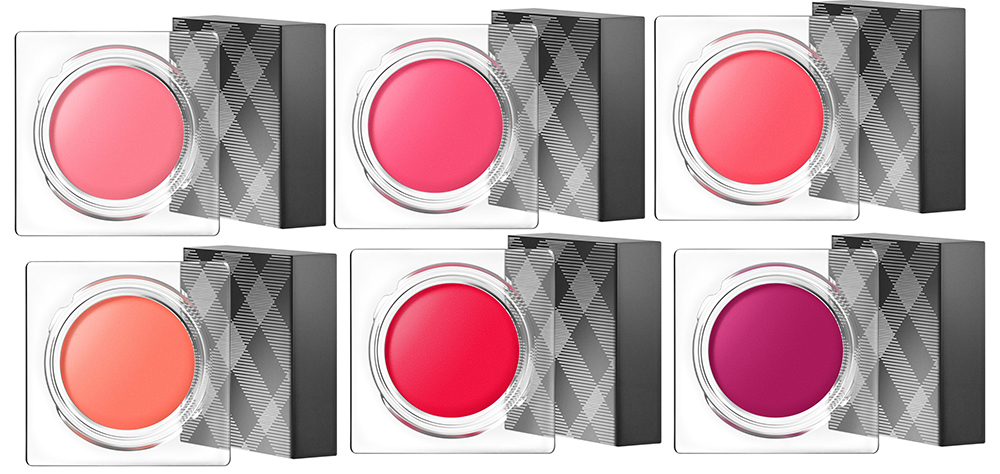 There are six shades to choose from:
Read More
The look from Burberry's SS15 was a fresh complexion, modern-looking  softly defined eye with no mascara, and a bold red lip.
As for the collection – the star of the new releases is definitely  the Runway Blush Palette , £45
Other new products are:
Eye Colour Wet and Dry Eye Shadow, £22.50/$29
200 Tea Rose
201 Rose Pink
307 Stone Blue
309 Aqua Green
Nail Polish, £15/ $22
Read More