I am loving the official description of the new Libre  Chanel Makeup collection:
"Sheer meets intense. Matte and glossy collide. The artificial clashes with the real in a bold new makeup collection inspired by the material urban world. Striking contrasts of colours, textures, intensities and light capture a contemporary edge and thrilling moment in time."
This collection with all the pink and silver details will definitely stand out among all the gold and red glittery offerings which are usually released for Christmas. There is also a new foundation! So far you can only buy the products from Chanel's website but later on from Nordstorm, Bergdorf Goodman, Neiman Marcus, Selfridges, Harrods.
Let's take a look at the products:
Eyes
Architectonic Eye Palette, $80
Inspired by urban architecture, the shades are mirror-like silver, concrete grey and gunmetal blue shadows in matte to shimmery textures.
Calligraphic de Chanel, $35 in 65 Hyperblack
Long-lasting, waterproof gel liner with a vinyl finish.
Crayon Sourcils ($29) in 30 Brun Naturel
Lips
Rouge Allure ($37) in  247 Ultraberry and
Read More
I really love the look of the Chanel's makeup collection for Autumn 2016, and it made me smile that several readers told me how they've thought of me when they saw it. I do love me some red, that's for sure.
Here are actually several videos about the collection where Lucia Pica talks us through her inspiration.
I think Kristen Stewart fits this collection perfectly.
Lips
Rouge Allure ($37) in 168 Rouge Ingenue and 169 Rouge Tentation
Rouge Allure Velvet in 56 Rouge Charnel, 57 Rouge Feu, 58 Rouge and Vie 59 Rouge Audace
Le Crayon Levres ($31) in  97 Desir and 98 Seduction
Eyes
Les 4 Ombres ($61) in 268 Candeur et Experience
Illusion d'Ombre  ($36) in 128 Rouge Brule and
Read More
Chanel Dans La Lumiere de L'ete Makeup Collection for Summer 2016 is all about sandy browns, coppers for the eyes and face, and pinks with oranges for the lips and nails. Let's take a look.
Les Beiges Healthy Glow Multi-Colour, $65
Duo 01 and Duo 02 are lightweight powders with two shades that create that instant glow and perk up the complexion. There is also a Pinceau (Blush) Brush which retails for $55.
The LE Les 4 Ombres ($65) has that desert inspired pattern. You get three bronze and earthy toned shades and one khaki.
Here is actually a promo image of the collection to give you an idea of how you could use the products.
Other items are:
Read More
I have to say that I am really loving Kristen Stewart in the new Chanel campaign, those eye brows and eye makeup are spot on!
The products from the collection are:
Stylo Eye Shadows ($34) in 157 Beige Dore,  177 Rose Petale, 187 Brun Chatain, 197 Vert Grise and 207 Bleu Nuit.
Les 4 Ombres ($61) in 264 Tisse Particulier, 266 Tisse Essentiel and 272 Tisse Dimensions.
La Palette Sourcils de Chanel ($50) in 40 Naturel
Read More
Is it me or Chanel collections are getting hotter and hotter? Their Autumnal release was one of the best among other seasonal collections. But their Christmas 2015 makeup collection  Rouge Noir Absolument is just out-of-this-world-gorgeous!
Look at those dark berry shades! It doesn't get better than this.
The thing is that I am already wearing a dark lipstick (Clarins Royal Plum) and dark nail polish, otherwise, I'd feel the urge to do so…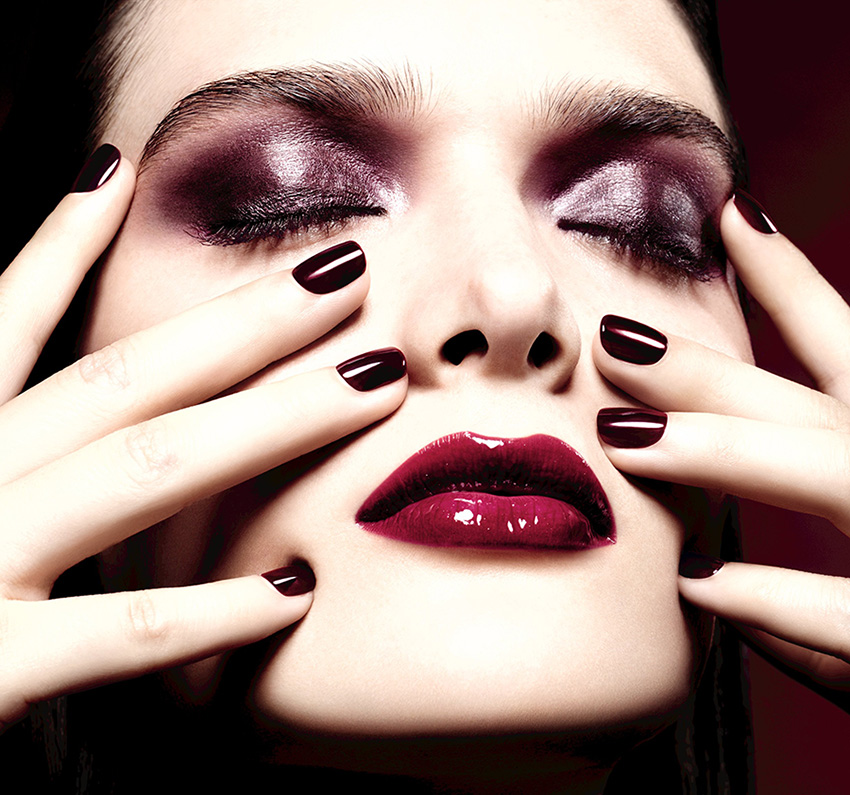 My personal favourite products from the collection have to be: Rouge Allure in Rouge Noir (black red),  Le Vernis in Rouge Allure (black red) and Illusion D'Ombre in Rouge Noir (shimmering black red). Can I have all three products, please? And maybe the Rouge Noir eye pencil and a blush, too?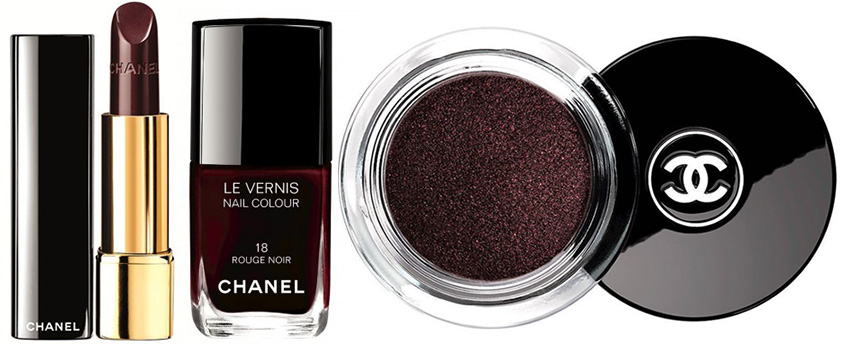 What else is in this collection?
Read More