The newest  Spring 2015 makeup collection Reverie Parisienne from Chanel looks absolutely beautiful – probably my favourite release from the brand in a while.
First of  all, the promo image is absolutely stunning, inspired by springtime gardens of Paris- you get blooming flowers and those killer lips and nails? I need that colour in my life!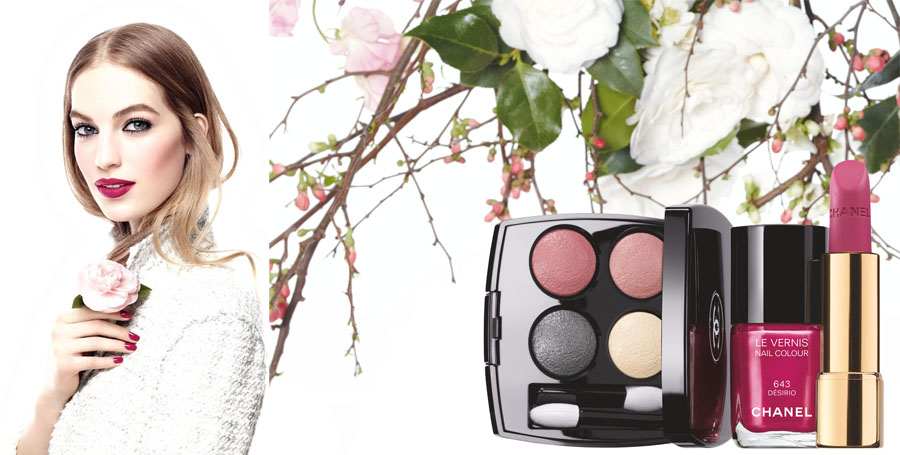 Face
Jardin de Chanel Blush Camelia Rose, $55
The star product of the collection, a gorgeous blush with floral motives.
Joues Contraste, $45
Eyes
Les 4 Ombres, $61
236 Tisse Fantaisie
238 Tisse Paris
Stylo Yeux Waterproof,  $32
Lips
Read More
Here is a preview of Chanel's holiday 2014 makeup collection  - Plumes Precieuses.
The star products are definitely the highlighting powder – Camelia de Plumes in Platimun (£47) and  Les 5 Ombres de Chanel (£42) Oiseaux de Nuit: luminous white, soft grey lavender, intense grey, intense black, antique gold.
Other products are: Joues Contraste  (£31/$45) in Caresse, shimmering peach,  Illusion d'Ombre ( £25/$36) in Envol, shimming peach, Stylo Yeux Waterproof (£19/$32) Or Blanc, white gold. Mascara Inimitable Intense Essential Noir (£25).
Read More
I wasn't a fan of Chanel quads (European version),  so was excited when they launched  new  Chanel Les 4 Ombres Multi-Effect Quadre Eyeshadows.
They have four different textures: matte, satiny, iridescent or metallic.
And there are eight palettes (£40 each) to choose from:
202 Tisse Camelia, 204 Tisse Vendome, 208  Tisse  Gabrielle, 214 Tisse
Read More
In the 14th of February Chanel are bringing out some new lip products, plus they have arranged their already existing (lip) products by the colour family:  natural, pink-red and violet-plum. The model of this campaign is the gorgeous Sigrid Agren.
 Chéri 61 – Limited Edition
 Irrésistible 62 – Limited Edition
ROUGE COCO 61 CHÉRI, ROUGE COCO SHINE 69 FLIRT, ROUGE COCO SHINE 89 SATISFACTION,ROUGE ALLURE 144 CONQUISE, ROUGE ALLURE VELVET 43 LA FAVORITE, LÈVRES SCINTILLANTES 181 BLISS, ROUGE DOUBLE INTENSITé 53 CORAL PEACH, le CRAYON LÈVRES 34 NATURAL and 89 BEIGE SATIN.
 ROUGE COCO SHINE, £24
 Mutine 90 – Limited Edition
Satisfaction 89
Emotion 92
Bohème 91
 ROUGE ALLURE, £25
Read More
Here is the look that was created by Peter Philips for Chanel's AW13/14 Ready-To-Wear show, all the details and the preview of the upcoming products, including the cream blushes!
Peter doing the makeup on Sigrid, and I personally really love those pink lipstick and blusher…
How the look was achieved with:
Skin prepared with HYDRA BEAUTY SERUM
 The Complexion
VITALUMIÈRE AQUA Ultra Light Skin Perfecting Makeup
POUDRE UNIVERSELLE LIBRE Natural Loose Finish Powder
ÉCLAT LUMIÈRE Highlighter Face Pen
CORRECTEUR PERFECTION Long Lasting Concealer
 The Eyes
LES 4 OMBRES Quadra Eyeshadow in Prélude
LE VOLUME DE CHANEL Volume Mascara in
Read More