I love reading the inspiration behind the makeup collections. And, apparently to create this collection, Bobbi Brown was inspired by  a black motorcycle jacket and a piece of delicate pink satin.
This collection includes a palette, five lip glosses, beautiful nail polish and a dual-ended mascara.
Caviar & Oyster Palette, £59/ €65 (LE)
This palettes offers eight eye shadows with different texture and a sheer highlighter.
Shades: White Eye Shadow, Sandy Pearl Metallic Eye Shadow, Pink Opal Shimmer Wash Eye Shadow, Grey Sky Eye Shadow, Plum Steel Metallic Eye Shadow, Rich Caviar Eye Shadow, Heather Grey Eye Shadow, Pearl Oyster Sparkle Eye Shadow, Ballet Sparkle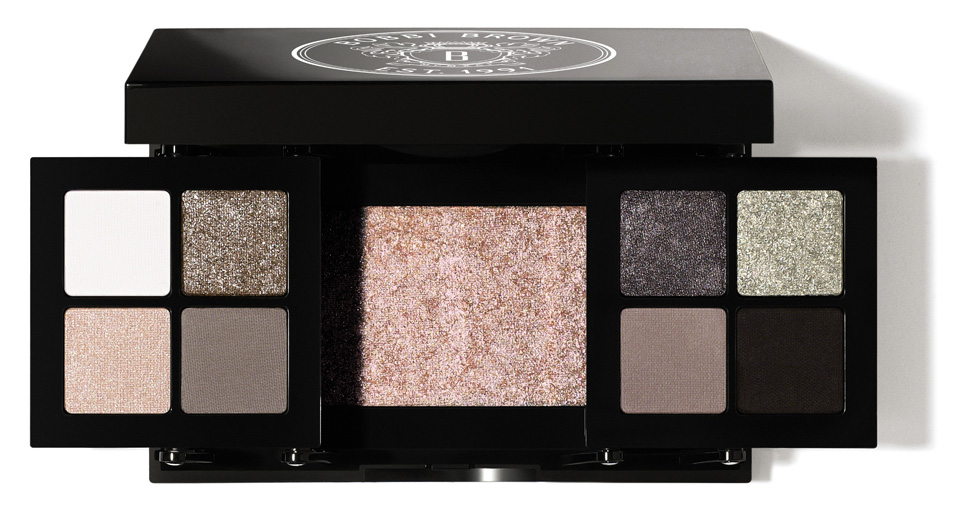 There are five new lip glosses:
Lip Gloss £17/€24 (LE) in Pink Oyster  and Black Pearl
Gloss with a hint of pearly shimmer.
Brightening Lip Gloss £17/€24 (LE) in Moonlight Pearl and White
Sheer, highly reflective
Read More
This season Smashbox offers five value sets: eye shadows, lip glosses, brushes, eye pencils and a set which has pretty much everything  you need.
Studio Pop Ultimate Palette ($59)

6 cheek colors: Sunkissed Matte Bronzer, Petunia Blush, Passion Blush, Warm Apricot Blush, Lens Soft Lights, Prism Soft Lights
9 cream eye liners: Ivy, Caviar, Fortune, Picasso, Midnight Brown, Taupe, Deep Purple, Gilt, Smoke
6 lip glosses: Gumdrop, Bella, Lily, Tea Rose, Pomegranate, Freeze
45 Photo Op Eye Shadows: Champagne, Naked, Birch, Platinum, Cream, Peacock, Crisp, Suede, Fig, Ambient, Sumatra, Doe, Obsidian, Rapture, Sienna, Sand, Frost, Nectar, Breeze, Snow, Fawn, Frambois, Cinnamon, Toast, Lavender, Cement, Spruce, Aubergine, Roast, Orchid, Harbor, Pastel, Opal, Fizz, Bliss, Oyster, Anchor, Drizzle, Take Two, Camel, Carnation, Ultramarine, Velvet, Blacktop, Pacific
Studio Pop Eye Set (£19.50/$24)
Full Exposure Mascara in Jet Black, Eyeliner shades in Graphite, Bronze Citrine, Antique Gold and Imperial
Studio Pop  Lip Gloss Set (£21/$26)
Lip Enhancing Glosses in Illume, Razzle and
Read More
New ArtDeco makeup collection, Glam Deluxe, looks very holidays appropriate with all the metallics, shimmer and glitter.
I actually really love the colour of the eye shadows that are used on the promo photo, this is exactly my kind of shade.
Here is how the new seasonal design of the beauty boxes looks like. There is a duo box and a pretty multi-coloured blusher.
Beauty Box Duo Glam
Glam Star Blusher
The star product of the collection, besides the blusher, has to be the range of the new metallic eye shadows. I do hope they are long-lasting.
Glam Couture Eye Shadows
10 glam white luxury
14 glam silver crescent
18 glam precious rose
23 glam silken rose
28 glam blissful taupe
33 glam bronzed fabric
There are also six  Glam Stars Eye Designer Refills:
208 glam white moon
216 glam iconic gold
228 glam rose mimosa
236 glam gorgeous
Read More
I have the official details about the Hourglass Holiday 2012 makeup collection.
First of all, there is an Icon Holiday Collection. There is a brand new product – Panoramic Long Wear Lip Liner ($28/£21), new shade of  Extreme Sheen High Shine Lip Gloss ($28/£21) and two products which have already been available: Femme Rouge Velvet Crème Lipstick ($30/£22) and Opaque Rouge Liquid Lipstick ($28/£23). All in the best seller shade, Icon.
There are also
Read More
Dior's Christmas 2012 makeup collection Grand Bal is Tyen's interpretation of Dior grand balls that were so popular in the past. This collection is all about gold and red.
And, although the star product of the  collection is the Grand Bal palette, I personally really love the Diorific nail polishes and lipsticks, so chic and classy.
This collection includes:
Palette Grand Bal £60, two pearly eye shadows and two glosses.
Diorific Vernis (£20): 901 Diva, 751 Marilyn, 207 Diorling, and 011 Lady.
Diorific Lipstick (£25) in 020 Victoire, 024 Liz, 037 Diorling, 038 Diva, 039 Lady and 040 Marilyn.
5 Couleurs
Read More