Meet the star of Clarins Spring 2016 release, the Natural Glow 5-Colour Shadow Palette (£33). This is a quint which comes in the most beautiful compact, it is a beautiful reflective copper.
Inside you get the following shades:
a pale pink glitter (my personal favourite), it gives that beautiful multi-dimensional effect; just make sure you are being careful with your application, as it can get all over the face, as all glitter shades.
the next one is a matte ivory shade which will be a my-skin-by-better for light skin-tones and a highlighter for darker skin tones.
metallic copper, with peachy pink under tones, the most unique one from the metallic trio.
metallic bronze, will look flattering on  pretty much everyone.
dark purple, a great shade to use as a liner or for the outer corner.
All five,
Read More
Since we were talking about lipsticks yesterday, I thought that'd be a good idea to share about the lipstick which is a part of Clarins' Autumn collection.
I was sent Rouge Eclat in the shade 22 Red Paprika (there is also one called 21 Tawny Rose).
Clarins lip products are fantastic, and  Rouge Eclat is not an exception.  It feels amazing on the lips, almost like a lip balm but with an intense colour. According to the brand, it protects against dehydration, and boosts collagen. And in reality Rouge Eclat one of those lipsticks that feel comfortable on and  stay on nicely, without any drying.
My friend who is not a lipstick wearer who tried this lipstick was impressed that the formula makes it really easy to apply the product as it glides on and doesn't make a mess.
One more thing that
Read More
If you a regular reader, you know my obsession with shimmering body oils. I personally think that it's a must have for summer.
Today I want to share about a really lovely one – Clarins After Sun Shimmer Oil.
Although, this is a nourishing oil, it feels light on the skin, absorbs quickly and doesn't leave the greasy residue.  It adds that beautiful glow thanks to the micro-pearls and evens out the skin-tone slightly.
Unfortunately,  I did not have a chance to use it after the sun (hopefully, yet) but it works great for my pale greenish/blueish legs anyway. It also adds extra healthy glow after the fake tan.
The oil has a
Read More
After a huge success of the face tanning concentrate – Clarins released a body version, Radiance Plus Golden Glow Booster, which is taking the beauty world by storm.
And why is it so popular?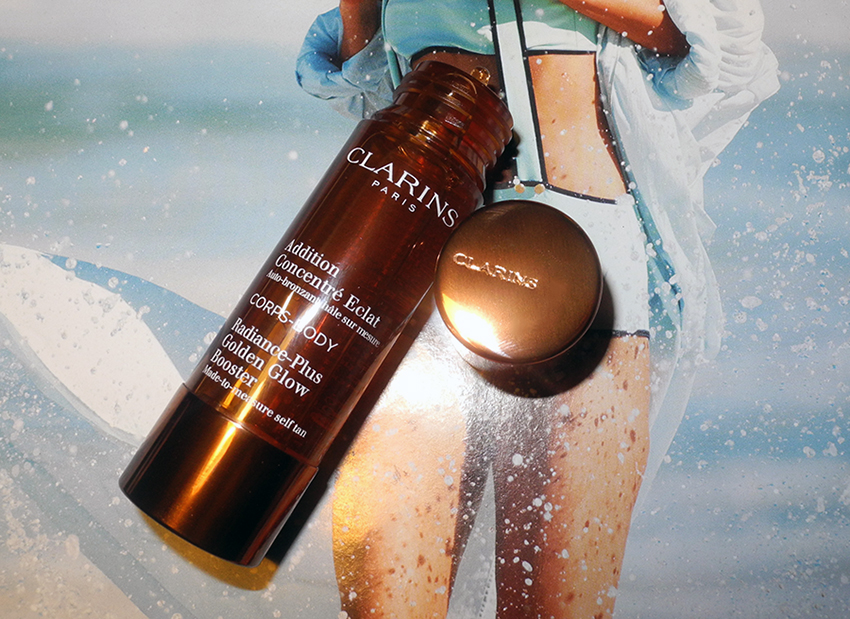 It comes in a nice sleek brown bottle and a has a very useful  dispenser which allows you to get out the tiniest amount of the booster without any product waste.
So how does it work?  You just mix several drops of this with
Read More
If you are a regular reader – you probably know how much I love Clarins Instant Light Radiance Boosting Complexion Base, I have mentioned it so many times, and here is a detailed review.
The brand brought out two new shades as a part of their summer collection – 04 Apricot and 05 Golden Bronze, and I was sent one of them for a review. So let's take a look.
Golden Bronze basically warms up the complexion and gives you a subtle healthy golden glow.
And you can pull it off, even if you have light skin, just mix a drop with your foundation, or apply where you'd apply bronzer.
If you are tanned – use it all over the face, and just
Read More