It's been quite some time since I did the "empties" post last time. Since this  weekend I was cleaning my bathroom, and found several empty bottles, I though I'd share with you. I usually throw those away immediately, but here are some that I've kept for the post
So, here we go…
A lot of Clarins, nothing new here. Clarins Extra-Comfort Toning Lotion for Dry and Sensitive Skin and Clarins Water Comfort One-Step Cleanser with Peach Essential Water are simply brilliant. Both products!  One of the best toner, and  a great morning cleanser when you don't have time or don't want to spend a lot of time massaging in your cleansing balm. I will definitely re-purchase both in the future.
The Double Serum  doesn't even need an introduction, it was probably the most talked about, multi-award winning,  serum in the last two years.  And rightly so, it is very good.
The best on-line shop to buy Clarins from is Escentuals.
Body Care
Lately I've been obsessed with
Read More
While my latest "Beauty Purchases" post was about  affordable makeup and hair care products, this time it's all about the skincare, and things are more on the luxury side.
I went with my boyfriend because he wanted some products, too. So here is what we've got: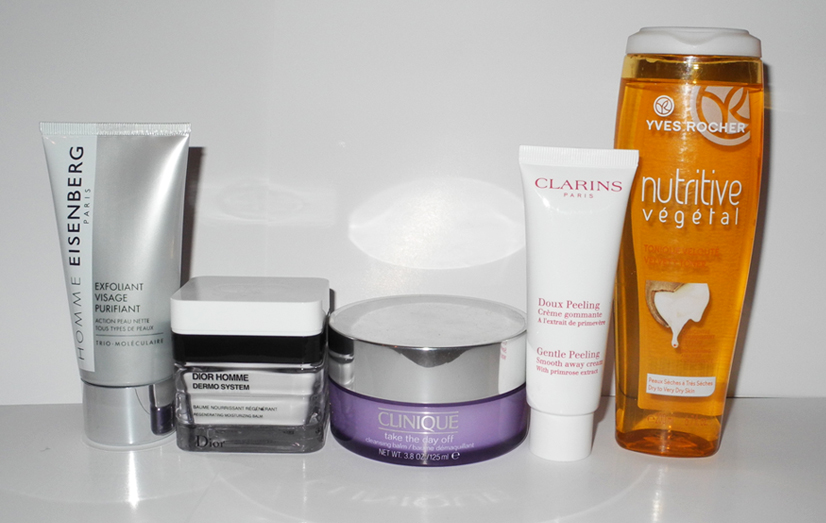 By the way, it is funny how he told me that he could just use Nivea, but now, because of me apparently, he loves all those expensive products.  Welcome to the club.
1. Eisenberg Homme Exfoliant Visage Purifiant
It makes me think of Breaking Bad, just add H
  I have never tried anything from this brand and was never really drawn to it, mostly because it has similar prices, as Dior or Chanel, for example. But the boyfriend wanted to try this face scrub. I hope he likes it…
2. DIOR HOMME DERMO SYSTEM Regenerating Moisturizing Balm
This range should be amazing, plus this cream was highly recommended by my favourite sales assistant. All the things she recommends are always amazing, so we just went for it.
3.Clinique
Read More
It's been forever since I've  posted the "Photos of The Week" feature, the thing is that I was away for two weeks (for work) out of four in May so I did not have that much time  for random blog updates, unfortunately.
But here we go…
1. Peonies
When I saw these gorgeous pink peonies, I just couldn't help myself and had to get them. They look so gorgeous and smell amazing. I wish I could get fresh flowers every week both for my home and work.
2. Face Care
I have some little marks and scars left after several blemishes I had months ago and now I am trying my best to get rid of them. I have big hopes for these two Clarins products, among other things, and can't wait to see the results.
3. New Eye Shadows
Daniel Sandler kindly sent me his new eye shadow quads which I have been wearing  a lot this week. I will definitely write a review later, after I have a proper "play time" with them.
4. Cats
This is a bonus picture for all the
Read More
First of all, I  have something important to tell you!
makeup4all.com e-mail was not working for the last week  and I did not get any e-mails at  all. I have only noticed it today as I am currently away (for work) and did not have time/opportunity to check my blog e-mails earlier.
Unfortunately, all the data was lost, so if you did send me an important e-mail, I'd appreciate if you could re-send it!
And here is a quick look of the makeup (and some beauty, as most are not pictured) products I took away with me.  I am pretty sure that regular readers can spot some of my all time favourites.
As for the heroes of this trip…
Read More
Believe it or not, but it actually took me hours and hours to complete this list, as I had to think carefully about what products I really want or what products I actually need.
This is not really a wish list, but more of a shopping list of the products that I plan to buy in the near future. Of course, I could add more, but I've decided to be very strict with myself so every item got on the list after a lot of consideration and is very covetable…
So here  is the list!
Makeup
1. Hourglass Arch Brow Sculpting Pencil in Soft Brunette, £26
I have almost finished my Benefit eye pencil and I am definitely getting an Hourglass one next.
2. Matte Eye Shadows Palette
I can't decide if I should get the Too Faced Matte Eye Shadow Collection (£24.57 from Beauty Bay) or theBalm Meet Matte ($42 from the brand's website, but they are in the process of creating a European shop, as well).   I actually really love the eye shadow quality from both brands: Too Faced Natural Eye Palette Review and Swatches, theBalm Nude Tude Eye Shadows Palette Review and Swatches and the Balm Shady Lady Palette Vol.2 Review and Swatches so that's a hard one.  I only wish Too Faced palette weren't so bulky. Maybe I should get both?!
3. Cream Blusher
That is probably the last thing that I need, considering how many I have but I've decided that I can get one, as a treat for myself. After a lot of consideration, I've chosen Stila's Stila Convertible Colour (I actually can't believe that I still haven't tried it!) I think I'll get Rose or Lillium (£15.12 from Beauty Bay)
Skincare
Now this is the category of the products that I need. There are a lot of skincare products that I want  and the list is endless but these
Read More