We all love personalised approach when it comes to everything including beauty, don't we? This is why it is awesome to see brands having that approach. I am personally a fan of Concoction hair care brand, and now it is awesome to see Clarins and their Boosters.
What are these?
Clarins Boosters are basically high-concentrated formulas which are created for a certain concern. You simply add several drops to the cream of your choice. There are three options to choose from:
Energy:
Tones are re-energises the skin
Minimises signs of fatigue
Revives radiance
Repair
Reduces feelings of discomfort
Optimises skin strength
Minimises the appearance of redness
Detox
Read More
Regular readers probably noticed that now I publish only one feature per day, instead of two, as I always did. The thing is that I am very busy until the beginning of July. I have several major deadlines, and, unfortunately, can't post as much as I'd love to. There may be some days without any features at all, so please bare with me.
I did not want to disappear without explaining…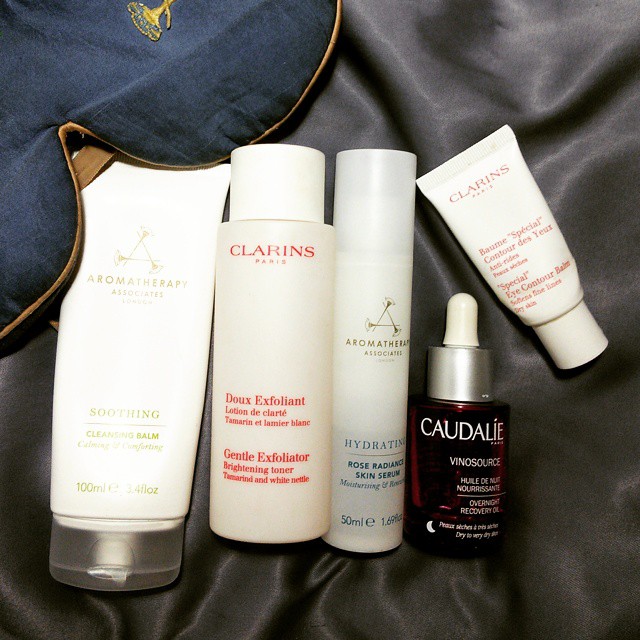 As I was getting ready for bed today, I though I'd take a quick pic of the products I used:
Read More
It's been quite some time since I did the "empties" post last time. Since this  weekend I was cleaning my bathroom, and found several empty bottles, I though I'd share with you. I usually throw those away immediately, but here are some that I've kept for the post 🙂
So, here we go…
A lot of Clarins, nothing new here. Clarins Extra-Comfort Toning Lotion for Dry and Sensitive Skin and Clarins Water Comfort One-Step Cleanser with Peach Essential Water are simply brilliant. Both products!  One of the best toner, and  a great morning cleanser when you don't have time or don't want to spend a lot of time massaging in your cleansing balm. I will definitely re-purchase both in the future.
The Double Serum  doesn't even need an introduction, it was probably the most talked about, multi-award winning,  serum in the last two years.  And rightly so, it is very good.
The best on-line shop to buy Clarins from is Escentuals.
Body Care
Lately I've been obsessed with
Read More
While my latest "Beauty Purchases" post was about  affordable makeup and hair care products, this time it's all about the skincare, and things are more on the luxury side.
I went with my boyfriend because he wanted some products, too. So here is what we've got: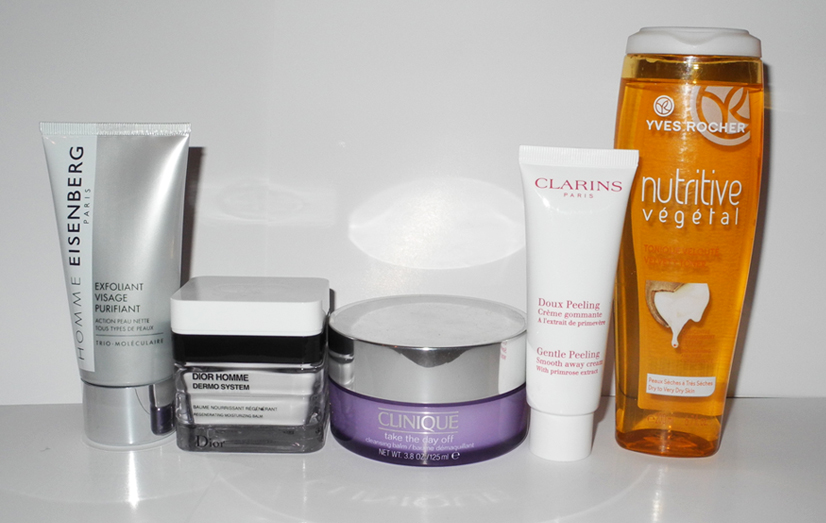 By the way, it is funny how he told me that he could just use Nivea, but now, because of me apparently, he loves all those expensive products.  Welcome to the club.
1. Eisenberg Homme Exfoliant Visage Purifiant
It makes me think of Breaking Bad, just add H 😉  I have never tried anything from this brand and was never really drawn to it, mostly because it has similar prices, as Dior or Chanel, for example. But the boyfriend wanted to try this face scrub. I hope he likes it…
2. DIOR HOMME DERMO SYSTEM Regenerating Moisturizing Balm
This range should be amazing, plus this cream was highly recommended by my favourite sales assistant. All the things she recommends are always amazing, so we just went for it.
3.Clinique
Read More
It's been forever since I've  posted the "Photos of The Week" feature, the thing is that I was away for two weeks (for work) out of four in May so I did not have that much time  for random blog updates, unfortunately.
But here we go…
1. Peonies
When I saw these gorgeous pink peonies, I just couldn't help myself and had to get them. They look so gorgeous and smell amazing. I wish I could get fresh flowers every week both for my home and work.
2. Face Care
I have some little marks and scars left after several blemishes I had months ago and now I am trying my best to get rid of them. I have big hopes for these two Clarins products, among other things, and can't wait to see the results.
3. New Eye Shadows
Daniel Sandler kindly sent me his new eye shadow quads which I have been wearing  a lot this week. I will definitely write a review later, after I have a proper "play time" with them.
4. Cats
This is a bonus picture for all the
Read More