Most people usually wear dark nail polishes for Autumn/Winter but Dior suggest we brighten up our days with their new nail polish collection.
These three vibrant nail polishes were released to celebrate the launch of Dior's  2013 Cruise collection.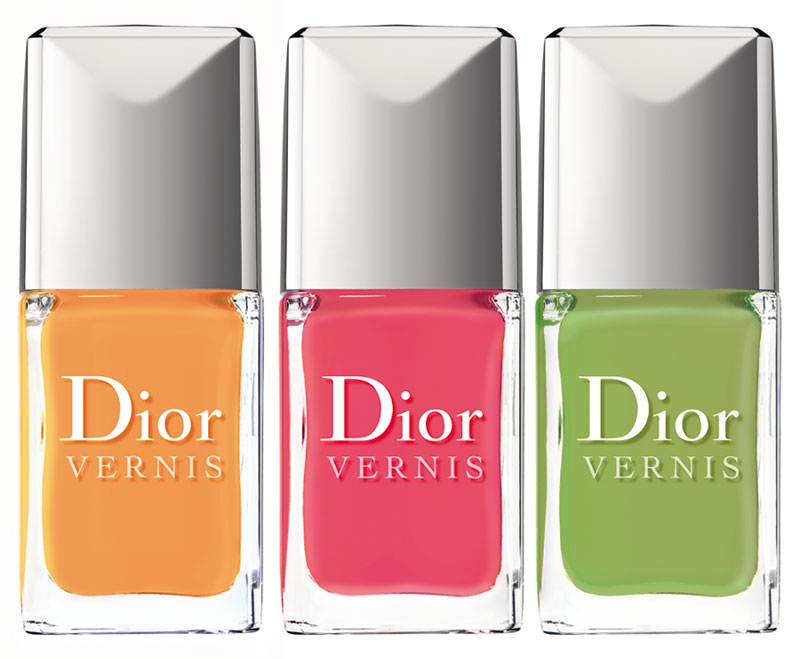 Mango (438): A deliciously fruity and radiant yellow.
Pastèque (658): A rich and sensual pink with an aquatic sheen.
Lime (602): A sparkling acid green for colour block nails.
Each is £18. Which one do you like the best?
There is also a new nail polish collection from Le Metier De Beaute. The inspiration is "Ming [Dynasty] meets Modern".
Here is the brand's
Just after the collections of grey and red nail polishes Dior releases the collection of purple nail polishes called  Les Vernis Violets Hypnotiques.
Of course the visuals and the story behind the launch is beautiful, as usual!
Christian Dior described purple as a demanding and sophisticated shade: the "king of colours."
'From the iconic lilac worn by the couturier's muse Mitzah Bricard to the deepest aubergine shade adorning the legendary bottle of the Poison fragrance, purple comes in endless shapes and forms in the Dior world. Floral, it is a fashion echo of the mysterious beauty of the iris and clematis.'
So here is the celection of purple shades that Dior offers with this collection:
Its intense, shimmering version: Shadow (Dior Vernis No. 783)
The sensual,
Now this is something gorgeous! The 3 new Dior nail polishes from the Gris City collection which  reinvents M. Dior's beloved grey for the three capitals of fashion and luxury: Paris, London and New York.
As they are shown in the photo:
Bond Street, likened to a grey London fog infusion.
NY 57th representing raw, asphalt metal, a wakening shade.
Gris Montaigne being sleek and elegant.
Each is 10ml and £17, available at Selfridges.
Aren't they gorgeous? I'd love to have them all! And which one do you like the best?