I used to write about my monthly favourites back in 2009, I think, but somehow stopped doing that. So I thought why not giving it another go in 2013?
So here is the list of my January 2013 Favourites and this time I've chosen only makeup, not to make a huge list. But next time I will probably add some of my beauty favourites, too. What do you think?
So here we go…
Lips
If I could choose only one favourite product of January – that would be Clarins Gloss Prodige in 09 Water Lily which is now my favourite lip gloss!  It is  hydrating, smoothing and looks  beautiful on the lips. And it smells delicious, too.
Face
Another product from Clarins would be their Beauty Flash Balm which is a must have for me in winter months, it makes my face look polished and brings back the glow. I also like how the foundation applies afterwards.
Speaking of foundation –  my top pick would be Rouge Bunny Rouge Tinted Moisturizer Sketches on Water. If you have dry skin, I would totally recommend, it blends into the skin and
Read More
Finally the eagerly awaited new mascara and eye shadows from Dior are  available!
I am personally a huge fan of DiorShow mascaras and have written about three of them actually:  Unlimited, Extase and New Look.
So I am, obviously, excited about the new member of the DiorShow family which is a Diorshow Iconic Overcurl Mascara (£23).
It's incurved brush, modelled after professional eyelash curlers,  delivers extreme curl and a stretch-effect formula for spectacularly shaped lashes.
It comes in three shades: Over Black, Over Blue and Over Brown.
There are also a lot of new shades of Diorshow Mono Wet & Dry Backstage Eyeshadows (£22.50/$29) . These are divided into three groups:
Timeless essentials, the Nude shades create discreet, flawless eyes for perfect "no make-up" make-up.
Fun, refreshing and trendy Pop variations play with
Read More
As a big fan of DiorShow mascaras I am very excited about the new one that is  launching on the 31st January. It is called Diorshow New Look Mascara!
I believe that pretty much everyone knows about Dior's New Look so it's great to have a New Look in mascaras now, as well.
Did you know that the first Diorshow mascara was launched in 2002? This means that this year it's the 10th anniversary of this incredible product!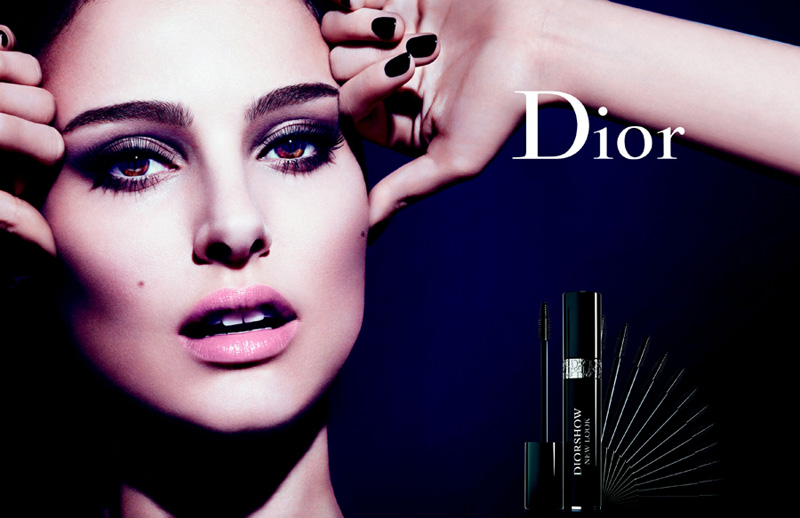 According to press release this should be an amazing mascara, I would totally love to try it!
It has a nano-brush which is a balance between supple rubber and resistant plastic, the brush allows for easy application and ultimate precision.
As I haven't seen this mascara yet, I'll have to share what is written: 'Its unusual formation is structured in two parts: the lower part of the brush is made up of four reservoirs and rows of separating spikes, which load lashes from the root while allowing for maximum extension. The upper part of the brush has a 'lash catcher' micro-head, slipping into the slightest gap to catch every lash – even the shortest – with the precision of a couturier's hand.'
It gets even better! This mascara contains Lash Multiplier serum formula. As the result, the lashes should become stronger and thicker after some time!
It's available in 090 Black , 684 Brown, and 265 Blue. Each is £23
Besides the new mascara, there are also four new Dior 5 Couleurs Eyeshadow
Read More
I know that a lot of Make-Up Artists and beauty lovers recommend to save on a mascara but it just doesn't work for me that way.
In my free time I do makeovers from time to time  and cheaper mascaras do work on a lot of people. They look nice on me, too, but not like a good high-end mascara.
Although there are a lot of great mascaras, my favourite mascara has to be Lancome Hypnose as it makes even my short and thin lashes :cries: look almost like fake.
But for some reason I always love trying new mascara and… I have found the one that I love as much as my Hypnose. And that is a lot to say!
And I am talking about Dior DiorShow Extase mascara! I have already tried DiorShow Iconic which I actually really liked but Extase is even better.
This is how the brush looks like
Read More
Holidays are almost here and I am sure that you all want to look fabulous. So this week I will tell you about some of my favourite products. I'd say Holy Grail products. Today I will tell you about my favourite mascara of all times! DiorShow Unlimited Mascara.
DiorShow Unlimited Mascara, £20.00
What it is:
Dior's cult-fave mascara formulated with an ultra-stretch texture that provides unsurpassed, backstage results.
What it is formulated to do:
Lengthens and curves as it adds suppleness and staying power. The double-side brush provides professional application.
My opinion:
All DiorShow Mascaras are great but Unlimited is my absolute favourite. This mascara lengthens and curves the lashes. Unfortunatelly I am not lucky enough to have my own long lashes so this mascara helps a lot. It makes my lashes look amazing!
I love absolutely everything about it! Everything is perfect: the
Read More