Meet the star of Clarins Spring 2016 release, the Natural Glow 5-Colour Shadow Palette (£33). This is a quint which comes in the most beautiful compact, it is a beautiful reflective copper.
Inside you get the following shades:
a pale pink glitter (my personal favourite), it gives that beautiful multi-dimensional effect; just make sure you are being careful with your application, as it can get all over the face, as all glitter shades.
the next one is a matte ivory shade which will be a my-skin-by-better for light skin-tones and a highlighter for darker skin tones.
metallic copper, with peachy pink under tones, the most unique one from the metallic trio.
metallic bronze, will look flattering on  pretty much everyone.
dark purple, a great shade to use as a liner or for the outer corner.
All five,
Read More
I have three Daniel Sandler Sheer Satin Eyeshadows to show you.Two were launched as a part of summer collection and one of them is a part of the Autumn collection.
The shades that I have are: Encounter, Caribbean  and Burnt Sand.
Encounter is a sheer purple with a blue micro shimmer. This shade would look pretty on green eyes.
Caribbean is my personal favourite and it is a sheer aqua blue with very delicate shimmer. I just love the wash of this shade all over the lid with some black eye liner and a lot of mascara.
Burnt Sand is a metallic gold, the most opaque out of three. It is a very festive shade and would look nice paired with
Read More
I was very excited to try this beauty from Bobbi Brown – Sparkle Eye Shadow (LE) £20/€30 in Black Chocolate which is a part of  Uber Basics Pretty Powerful collection.
This is a dark brown eye shadow with sparkle and, if you are a regular reader, you will know that I love my dark browns.
Here is how it looks like in the pan.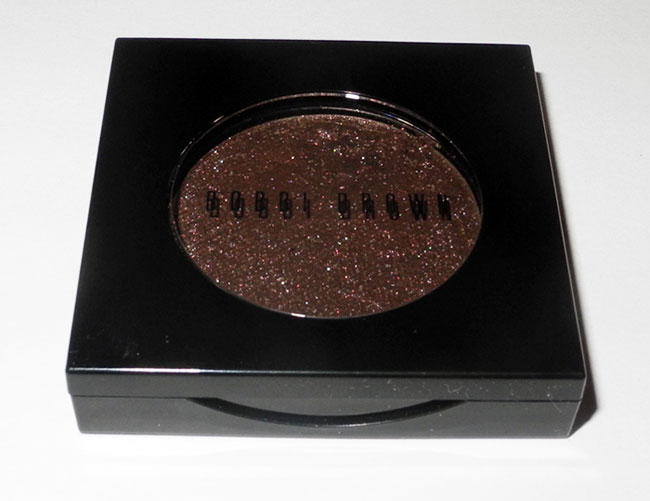 I was worried that it may  be  a bit too much for the day time but the best thing about this eye shadow, is the fact that it looks different in different light. In the day the sparkles looks wearable, you don't end up looking like a disco ball. But  in the evening, when you need some oomph, the glittery bits look fantastic in the electric light, they  do sparkle!
Although these are glittery eye shadows, the texture is very smooth and
Read More
 the Balm Shady Lady Palette Vol. 2 (£38/ $39.50) is one of my favourites!
It comes in a Zebra palette with a nice mirror and nine eye shadows, some of them can be also used as the liners.
You get:
Caught in the Act Courtney , Feisty Felicia,  Insane Jane, Bossy Bobbi, Makeout Mary, Just this Once Jamie , Mischievous Marissa, Tempting Tara, and Devilish Danielle.
Close up of the shades with a flash
And in natural light
Here are the swatches of all the shades and my opinion:
Read More
I already told you that I love the Lancome gift sets and I often try to get some for myself. Here is the set which a friend of mine bought for me last year in the US. You may think what's the point of writing about it if it's not available – it's because you can see the swatches of 9 Lancome eye shadows and then buy them separately if you like the colours and you can also find out about the quality of the shadows.
I am sorry that this palette is a bit dirty
The shades which I got in my set are:
Snap – very beautiful mauve  shade, one of my favourites
Waif – matte ivory, close to my skin tone
Daylight – matte white
Colur du Jour – the prettiest colour ever, this is one of my favourite eye shadows from my whole collection. I'd describe it as pinkish purple with delicate gold shimmer
Pose – metallic bronze
Filigree – shimmering ivory
Statuesque – matte black
Guest List – deep warm chocolate
Designer – beautiful shimmering khaki
I am not really good at describing colours but I've tried my best.
What about the quality of the eye shadows?
I find them all
Read More