I have three Daniel Sandler Sheer Satin Eyeshadows to show you.Two were launched as a part of summer collection and one of them is a part of the Autumn collection.
The shades that I have are: Encounter, Caribbean  and Burnt Sand.
Encounter is a sheer purple with a blue micro shimmer. This shade would look pretty on green eyes.
Caribbean is my personal favourite and it is a sheer aqua blue with very delicate shimmer. I just love the wash of this shade all over the lid with some black eye liner and a lot of mascara.
Burnt Sand is a metallic gold, the most opaque out of three. It is a very festive shade and would look nice paired with
Read More
I was very excited to try this beauty from Bobbi Brown – Sparkle Eye Shadow (LE) £20/€30 in Black Chocolate which is a part of  Uber Basics Pretty Powerful collection.
This is a dark brown eye shadow with sparkle and, if you are a regular reader, you will know that I love my dark browns.
Here is how it looks like in the pan.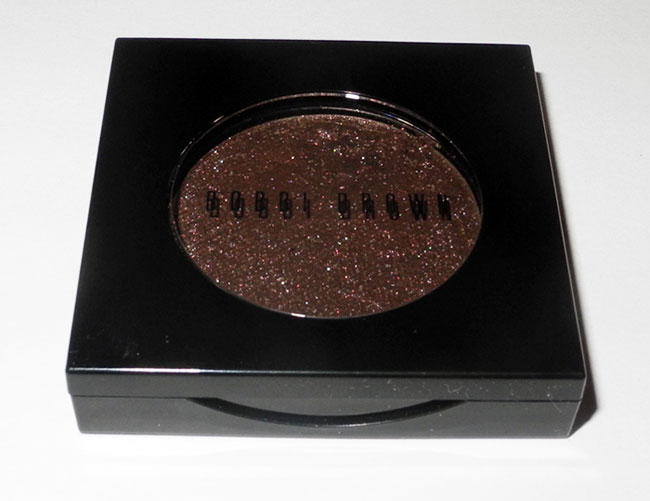 I was worried that it may  be  a bit too much for the day time but the best thing about this eye shadow, is the fact that it looks different in different light. In the day the sparkles looks wearable, you don't end up looking like a disco ball. But  in the evening, when you need some oomph, the glittery bits look fantastic in the electric light, they  do sparkle!
Although these are glittery eye shadows, the texture is very smooth and
Read More
I already told you that I love the Lancome gift sets and I often try to get some for myself. Here is the set which a friend of mine bought for me last year in the US. You may think what's the point of writing about it if it's not available – it's because you can see the swatches of 9 Lancome eye shadows and then buy them separately if you like the colours and you can also find out about the quality of the shadows.
I am sorry that this palette is a bit dirty
The shades which I got in my set are:
Snap – very beautiful mauve  shade, one of my favourites
Waif – matte ivory, close to my skin tone
Daylight – matte white
Colur du Jour – the prettiest colour ever, this is one of my favourite eye shadows from my whole collection. I'd describe it as pinkish purple with delicate gold shimmer
Pose – metallic bronze
Filigree – shimmering ivory
Statuesque – matte black
Guest List – deep warm chocolate
Designer – beautiful shimmering khaki
I am not really good at describing colours but I've tried my best.
What about the quality of the eye shadows?
I find them all
Read More
At last I am writing a review about my NYC palette which I got 3 weeks ago from Debenhams for £30 and which you can now get at Sephora.  I already have BOS II and Alice palette.The only one that is missing is the original BOS palette.

This is how it looks like and, unfortunately, it got even bigger than the last palettes.
Here is the list of shadows and the description of the palette.
This is how it looks like inside
The  eye shadows (16 x 0.03 oz):
Perversion (matte black)
Uzi (metallic white with chunky silver glitter)
Loaded (sparkly emerald green)
Kush (green metallic with silver glitter)
Midnight Cowboy Rides Again (golden beige with
Read More
Today I would love to tell you about one of my favourite palettes which I've been using a lot. And it is Too Faced Natural Eye Palette which is a collection of neutral eye shadows.
Too Faced also has a Smoky and Naked Eyes palettes but I like this  one the best and this is how it looks like.
You get 9 neutral eye shadows with different textures, eyeshadow brush and 3 eye charts which give you the idea of how you can use the shadows. Although there are many more ways to do it.
So here are the eye charts and I've tried them all and have to say that the final looks are beautiful and, what is important, you can never go wrong with neutral shades.
And this is the close-up of the shadows.
Read More