Today I opted for a very simple and minimal makeup, both in terms of colours and the quantity of products.  Today it's all about work and I am not going out anywhere afterwards, so  I was not in the mood for any experiments, and , quite frankly, did not have time.
Face
I've used Rouge Bunny Rouge Home Time Defying Foundation Skin Sanctuary which I promise to review soon. I totally forgot that I had the samples of it, the post is already in the process. I then added some Benefit's Dandelion  to brighten up the complexion  and BECCA's Beach Tint in Raspberry as a pop of colour on the cheeks and on top of the lip balm.
 Eyes
I have used Benefit's powder eye shadows in Leggy and Dandy Brandy which are very soft and smooth, and blend beautifully. Lighter shade all over the lead and darker shade for definition. I have also lined the eyes with a black (and not brown, shocker!)  Clarins Crayon Khol, smudged it
Read More
I have been shopping my stash lately, re-discovering a lot of amazing products that I have and have been experimenting  with my makeup quite a lot, too.
I usually go for berry or cool toned shades but lately I have been going for coral/orange quite a lot actually.
Here are the products  that I have used today…
Face
I have started with a foundation that is a bit darker and warmer than my skin tone but still looks natural and gives a beautiful glowing finish - Daniel Sandler's Invisible Radiance Foundation and Concealer in Beige.
Then added a golden highlighter, Jouer Highlighter in Champagne andwarmed up the complexion  with a beautiful Trish McEvoy's  Golden Bronzer.
The main thing about this look was the vibrant coral blush, Benefit ChaCha Tint which instantly brightened up everything.  And since I kept the rest of makeup pretty much neutral – it was a  great pop of colour.
Eyes
I have used my trusted
Read More
I've stayed most of the Saturday at home as I had guests so wanted to keep it very simple. Here are the products I wore.
Face
Rouge Bunny Rouge's Tinted Moisturiser Sketches on Water is my latest obsession. It is perfect for winter, it doesn't enhance any dryness and looks great even on the weather beaten, dehydrated skin! Gives a very natural coverage and people won't be able to tell that it's not just your skin.  The coverage is enough for me but you may want to use concealer locally. I use shade Adansonia but you can see my swatches of all shades here.
The brand's Blush Wand in Rubens is a relatively new product for me but so far I am loving it.
Eyes
I've used
Read More
I have three products from the amazing Lisa Eldridge's N07 makeup collection for Spring 2012 to show you.
No7 Vital Enlightening Highlighter (10g £13), No7 Vital Brights Cream Blush (2g, £10) in Blooming Pink, bright hot pink and No7 Vital Brights Lipstick (3.5g, £10) in Blooming Pink, hot pink.
First of all I have to say that I really like the flower prints on the packaging and I really wish they'd put at least one on the lipstick tube, too.
I was really excited about the bright pink blush and lipstick when I first saw them. And, let me tell you, both are even better than I've hoped they'd be!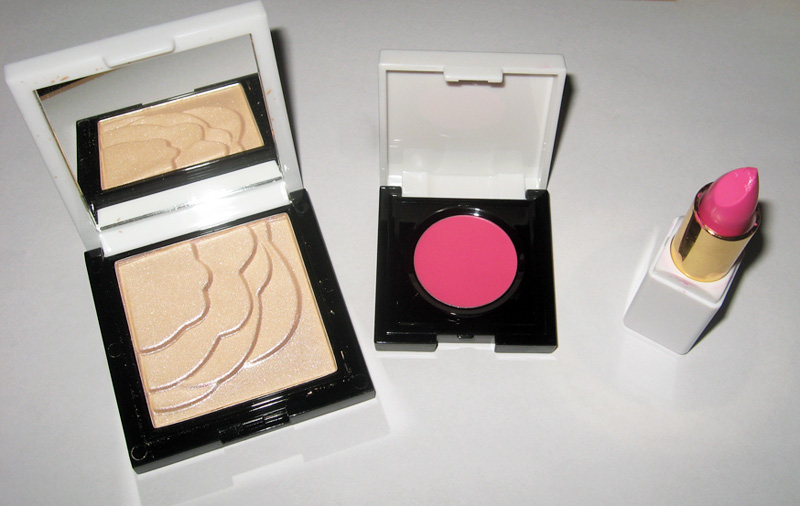 I will start with the lipstick as it is my favourite item. It it a perfect bright, hot and vibrant blue based pink which gives a nice glossy texture. The shade is buildable, you can blot it out for a sheer effect or layer it up for a stunning full on colour.
I really like the lipstick's formula, it is like a
Read More
When I was asked if I'd like to try Lumiere Cosmetics I was happy to agree since I haven't tried that many mineral brands plus I thought that it would be an interesting topic for some readers.
I was sent three eye products, one blush, one bronzing blush and two face powders/foundations.
The great thing is that I could actually choose the colours myself which was pretty amazing. So here is what I've got.

As for the eye products, I've chosen two Glitz and one Eye Shimmer.
All descriptions of the shades are from the website.

Glitz* in Chocolate Covered Cherries, Medium deep berry brown with LOADS of cherry colored sparkles! And Raspberry Truffle, Medium Deep brown with LOADS of raspberry sparkles!
Eye Shimmer* in Black Cherry, Very rich deepened black cherry, with a low sheen that will intensify when foiled. Exciting alternative for contouring and smokey eye effects. Also very pleasing as a liner.
I am
Read More