Here is a preview of some new nail polish launches:
Essie  Stylenomics nail polish collection
Don`t Sweater It, a warm, cozy and creamy mauve
Head Mistress, a bold, in charge and direct red
Miss Fancy Pants, refined, chic, greige
Recessionista,a smart, intelligent and savvy brick red
Skirting The Issue, an exquisite, fashionable burgundy wine
Stylenomics, a wealthy, rich and opulent dark green
I think I need Skirting the Issue,  Recessionista and Stylenomics!
Cocoa Crazed  by Le Metier De Beaute:
Read More
I have to admit that I am absolutely in love with this new Autumn nail polish collection from butter LONDON, the colours look fantastic and so unique!
The shades are:
Trustafarian, Dodgy Barnett,  Lovely Jubbly,  Shag and Gobsmacked. The price is £12/$14
I am also happy to see that after the successful launch of the Lippy collection, bL is bringing out more shades for  AW and , honestly, all five shades are to die for.
And they are:
Tea with the Queen: On the pink side of tan, very neutral, but never boring. Understated and exceptional for work, or obviously, tea with the Queen.
 Toff: A darker, dustier, brownish variation on a rose pink. Stop to smell them. The roses, not the toffs.
Come to Bed Red: The sexiest red in
Read More
Here is a preview of three nail polishes collections from Zoya which they offer this autumn. They are called Designer, Diva and Gloss.  Each collection  is "haute" off the New York Fashion Week  Fall 2012 runway.
Designer Collection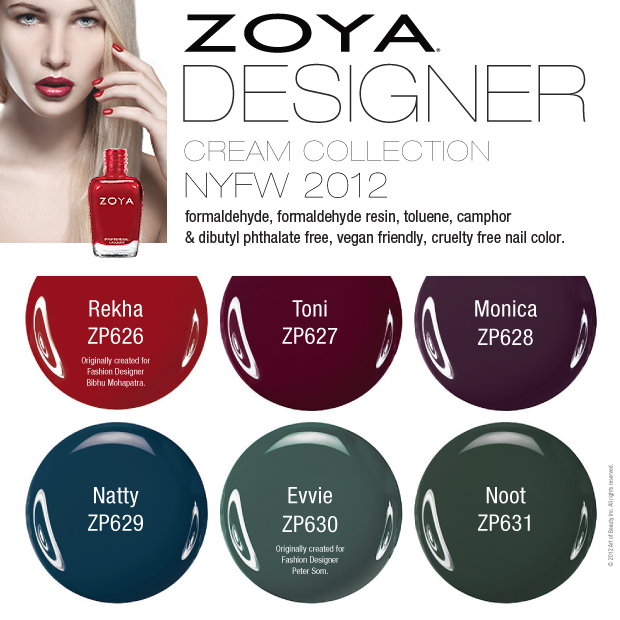 Rekha (ZP626) – Blood red cream (Bibhu Mohapatra custom shade)
 Toni (ZP627) – Dark maroon red cream
Monica (ZP628) – Dark mulberry purple cream
Natty (ZP629) – Smoked navy blue cream
Evvie (ZP630) – Evergreen green cream (Peter Som custom shade)
Noot (ZP631) – Charcoal green gray cream
 Diva Collection
Read More
Here is a preview of China Glaze On Safari nail polish collection for Autumn 2012.  There are two glittery nail polishes, two mustardy, several purplish, one brown, grey, teal,  blue and red.
I'm Not Lion
I Herd That
Kalahari Kiss
Desert Sun
Call Of The Wild
Jungle Queen
Prey Tell
Purr-fect
Read More
I am always loving all the OPI collections inspired the the countries and am always excited to see what country will inspire the next collection. The country for A/W is Germany and no one does the names as OPI, right?!
There are twelve shades as usual and they are:
Don't Pretzel My Buttons, a haute honey-beige that can always make you smile.
 My Very First Knockwurst …and what a magical rosy-nude rendezvous it was!
 Berlin There, Done That, a travelling taupe that's seen it all. (Yep, that too)
 Don't Talk Back to Me, there's nothing mellow about this sassy lime-yellow.
 Nein! Nein! Nein! Ok Fine!, a bodacious black-olive? We say "Ja! Ja! Ja!"
 Unfor-Greta-bly Blue, everyone's favourite Fräulein loves
Read More