I have been using  Lierac Diopticreme Wrinkle Repair Cream Eye Contour for 20+ days so, I think, can finally tell you my opinion about it.
I really wanted to get a Lierac eye cream, as I have heard a lot of great things about it.
There are actually five products in the Diopti range: Dioptigel, puffiness reducing gel,  Diopticerne and Diopticerne Teinte,  dark circle correcting cream, Diopticreme,  wrinkle repair cream, Diopticalm, soothing balm and mask and Dioptidemaq, makeup removing gel.
I've picked up the anti-wrinkle one, as I believe in "prevention" and  that good skincare means a lot and does work! I am judging by looking on the older ladies who took a good care of their skin.  By the way, I would recommend this feature about anti-ageing by Caroline Hirons.
Moreover, unfortunately, my skin underneath the eyes is showing the first signs of ageing, even though I am in the 25-30 age group.
The regular face cream just doesn't cut it for me and I can totally see the difference when I use the cream formulated for the delicate under eye area. Totally worth the investment, if you ask me.
By no means
Read More
It's time for February favourites. Can't believe that I am doing this on time!
In my January favourites  (still loving those products a lot) I've talked about makeup only, so I've promised to include some other beauty products this time, so I am keeping my promise.
Nails
LVX Sanguine Nail Lacquer
I am very impressed with this nail polish, it is amazing. I have written about it last week and actually forgot to mention that I was also very impressed with how quickly it dries,  even without a top coat.
Revlon Nail Polish in Revlon Red
I did not like Revlon nail polishes at first,  mostly because of the long and thin brushes. But practice makes perfect and now my application techniques improved a lot. Plus I really love this shade of red, wore it twice in February.
Makeup
YSL Eye Shadow Duo in 35 Caramel Tan/Burnt Brown
I thought that it was a LE, so I did not talk that much about this little gem, otherwise I would. I love it to pieces and use it a lot.  This is in my top 5 eye shadows that I own, for sure. Perfect reddish brown, matte and
Read More
I have already tried two Clarins toners, their famous Toning Lotion with Camomile for Dry and Normal and Daily Energizer Wake-Up Booster and today I want to tell you about their  Extra-Comfort Toning Lotion for Dry and Sensitive Skin which I've picked up several weeks ago.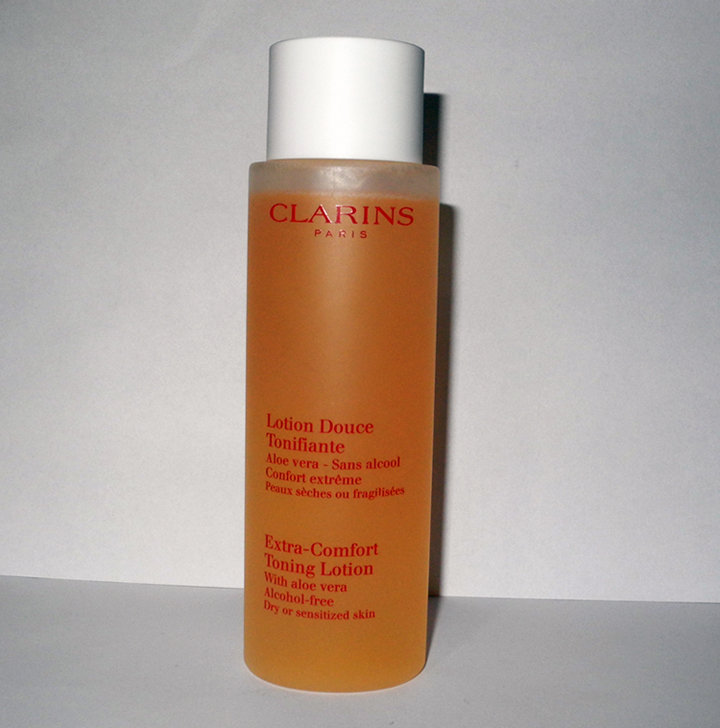 And, oh my goodness, this is the best toner I have ever used! It is not even a toner but  a toning lotion, as the brand describes it.
It is very gentle, soothing and refreshing at the same time. I use it after  my Extra-Comfort Cleansing Cream (review later) and love how my skin feels afterwards.  This tonic lotion is also calming and
Read More
I wanted to get Clarins' Gorgeous Getaways Face and Body Essentials  (£44.10) for some time now. The brand brought it out last year and they brought it out this year, as well.  So I did buy it finally and it was my first beauty purchase of 2013!
This is a great way to try the brand and save a lot of money. Or if you are already a fan of Clarins, and I am, a great way to stock up on your favourites.
I have already tried four  products out of six and have actually reviewed three out of four, so  you can see the links below.
Read More
When celebrity Make-Up Artists rave about a product = this is something really worth the attention. I have read/heard numerous times how great Clarins Beauty Flash Balm, so I had to get it!
I actually can't believe that I never wrote about it before…
You can use it as a mask or as a face primer if you apply it just before the foundation. I've tried both variants, it's nice as a face mask but as a primer – it's simply brilliant.
It makes the face really smooth, soft and glowing, brightens and tightens it (the skin), so that the foundation glides easily and looks flawless! Beauty Flash balm is a must have for any special occasions.
I have used it on myself and some other people with different skin type and from different age groups and we all absolutely loved it! Now that I've tried it, I can't imagine
Read More