Here is a preview of some really cool new blushers which were launched for SS17, and I have  chosen quite a good selection: middle-priced cushion blushes, luxury Gucci blush with a ladybug, and two kinds of palettes.
I am personally very interested in ArtDeco Cushion Blusher, €19.95 from Douglas, and will definitely be checking out the bronzy shade in person. These are promised to have a silky smooth texture and a soft shimmering effect. Without parabens, perfume and talc. The shades are: 2 – paradise parrot, 4 – tropican tucan  (not shown) and 6 – bamboo bronze.
Benefit Cosmetics Cheek Parade, $58 from Sephora
The brand is famous for their  cheek palettes, and this time the combo is: 0.17 oz/ 5 g GALifornia (sunny golden pink blush), 0.28 oz/ 8 g Hoola matte bronzer (matte natural bronzer),  0.28 oz/ 8 g Hoola lite matte bronzer (matte natural light bronzer),  0.17 oz/ 5 g Rockateur (rose gold blush),  0.25 oz/ 7 g Dandelion (brightening baby pink blush) and Mini Powder Brush.
Gucci Sheer Blushing Powder Ladybug Compact, LE ($53) from Saks
The most exciting new beauty launch of 2014? Definitely Gucci Beauty! Great news – it is already available from Saks and Neiman Marcus.
I was excited and a bit sceptical at the same time, the packaging looked tacky on the first leaked promos. Well, it looks a lot better on the official promos. Yes, it is all about logos, but that is  what we know Gucci for, after all.
And the video with Charlotte Casiraghi looks absolutely beautiful. I need want her nail polish and whatever she is wearing on the lips.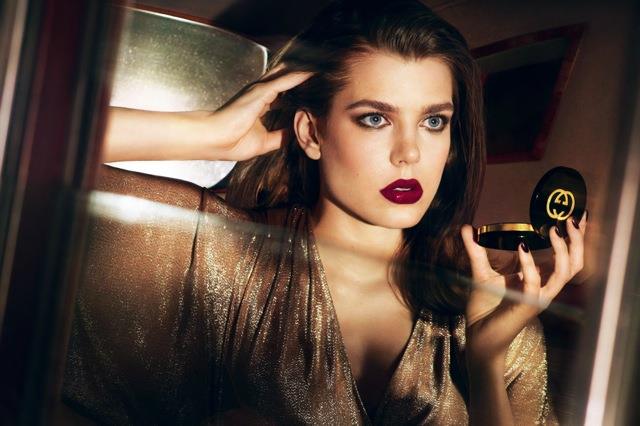 https://www.youtube.com/watch?v=y-HCU1wogpY
So, what about the products? There are 200 pieces to choose from:
Lips
Gucci Lip Audacious Color-Intense Lipstick, $39,  available in 25 shades; Orchid Overdose  shown below
Gucci Luxurious Moisture-Rich Lipstick,  $39,  available in 25 shades; Wild Amarena shown below
Gucci Sleek Contouring Lip Pencil, $32, available in 8 shades; Raw Garnet shown below
Gucci Vibrant Demi-Glaze Lip Lacquer, $32 available in 19 shades. Carnelian shown below.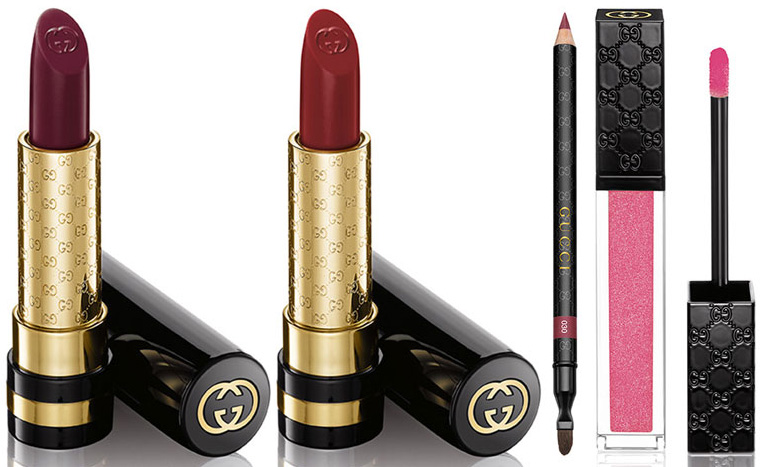 If I could have only one product from the line – definitely a lipstick (in both formulas, ha!).
 Face
 Gucci Face Silk Priming Serum, $62. The design of this serum = how I'd love all luxury products to look.
Gucci Lustrous Glow Foundation, Broad Spectrum SPF, $65  available in