My favourite beauty product over the holidays was definitely Illamasqua's Ore pigment, a glittery bronze which is so-so gorgeous, I highly recommend. But, besides the shimmering eye shadow, I've re-discovered some of my festive-appropriate eye liners. And my top two were:
Rouge Bunny Rouge Quartz Eyeliner Devotion Ink in Tanzanite Essence (review and swatches)

Illamasqua Precision Ink in Wisdom (review and swatches)
They are just  extremely beautiful. Both are easy to control, have a gorgeous sparkling effect and nice pigmentation.  Wisdom is described as
Read More
I am a big fan of black nail polishes and I do have several different variants but I wanted even more. That's when Illamasqua's Scron, a black with a matte finish caught my attention. So did purchase it recently.
Maybe it makes more sense to get a matte top coat instead of matte nail polish but I think matte top coat gives a more flat finish while the "original" matte  nail polish looks much better.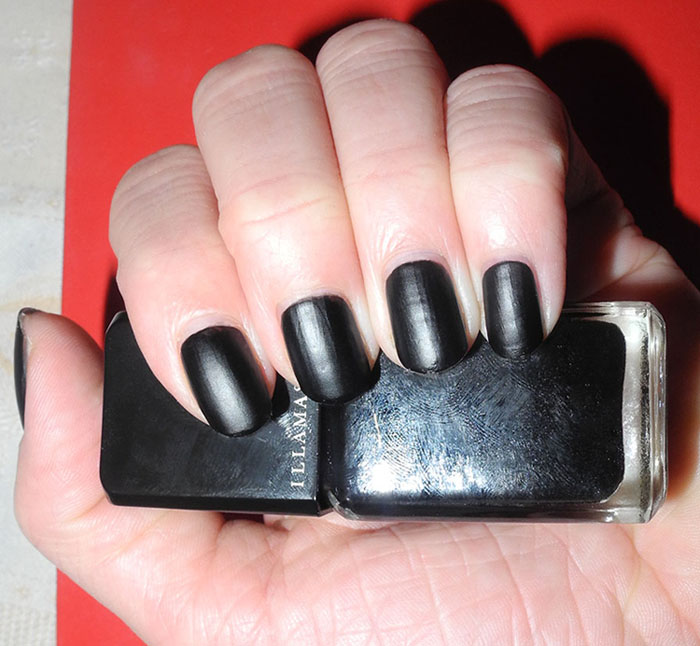 Please excuse all the fingerprints…
It looks opaque with two coats, as you can see from the photo above.
The brand actually offers some shades with rubber finish if you want something different. But I love my nail polish to be glossy so I will stick to a black version. The price is £13.50.
Read More
I received several items from the Illamasqua's SS13 makeup collection I'M Perfection and today want to show you one of the blushers.
It is  a Powder Blusher Duo (£26) in Katie (Candy Pink) and Ambition (Neutral).
Although I love cream blushers more, and I do adore the brand's Rude, I like Illamasqua's powder blushers, as well. I have actually featured one, in Allure, already.
Here is how the duo looks like, I love the sleek package and the big and handy mirror inside.
Illamasqua powder blushers are very pigmented, so you will need a tiny amount of the  product. They are also smooth and not chalky, which means that it's easy to blend the product into the skin.
As for these particular shades – Katie is a light  baby pink, it should look awesome on fair skin tones and may look ashy on medium/darker skins. As for Ambition, it is a
Read More
Before launching  their SS13 makeup collection I'm Perfection, Illamasqua had a fantastic sale with a great selection of products that retailed  for £10 and £5!
Of course, I had to pick some items. As you would imagine, most of the products I wanted were out of stock when I was ordering, so I ended up with two products only.  But it's better than nothing at all…
I am a huge fan of the brand's Pure Pigments and wanted to get all the shades that were in  the sale but I was able to get my hands on Zeitgeist only.
You can see my review of Berber, auburn (probably my favourite product Illamasqua ever released) and Ore, gold.
And here is Zeitgeist  – a true black with silver micro glitter. Looks fantastic on
Read More
While a lot of people say that if you want to save some money on makeup products – you should just get a cheaper mascara. Doesn't work for me, unfortunately.
With my pretty short, thin and light lashes I need a miracle worker, and I haven't yet found a low-priced mascara that would satisfy my needs for 100%!
Today I want to tell you about mascara that I have been using for the last several weeks and it's Illamasqua's Masquara in Raven.
First of all, I want to give some extra points to the brand for the coolest name ever, "Masquara" is  a great choice. I also like the price – £15, which is cheaper than most mascaras that do deliver. And, yes, Mascquara does!
As for the product itself, there are certain things that I love and certain things that I don't like that much.
It gives a very intense black colour which doesn't fade during the day.  The volumizing effect is pretty mind blowing, very impressive, the lengthening effect is also stunning.   I don't like natural looking lashes, I want drama, that is still day appropriate, and this is exactly what I get.
Just make sure that
Read More