I was asked about my Illamasqua lipsticks several times on Twitter so  I thought, why not featuring them all together?
I have four shades and have already written about each in details, so this is more of a round-up.
Before I start, I have to say that I really like the brand's lipsticks, they give an amazing colour pay-off and stay on really well.  Since they have a matte finish, make sure that you take a good care of your lips so that the lipstick doesn't enhance any dry patches and goes on smoothly.
Over
This coral with pink undertones, looks
Read More
I am a big fan of black nail polishes and I do have several different variants but I wanted even more. That's when Illamasqua's Scron, a black with a matte finish caught my attention. So did purchase it recently.
Maybe it makes more sense to get a matte top coat instead of matte nail polish but I think matte top coat gives a more flat finish while the "original" matte  nail polish looks much better.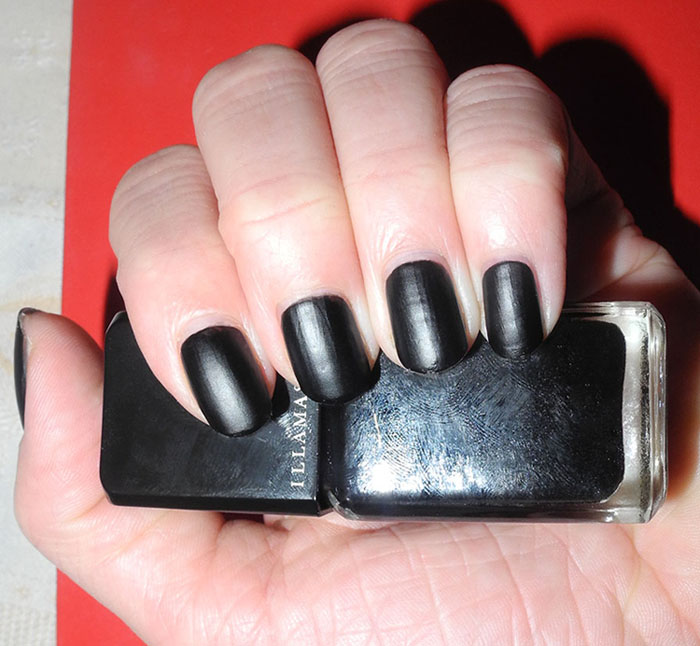 Please excuse all the fingerprints…
It looks opaque with two coats, as you can see from the photo above.
The brand actually offers some shades with rubber finish if you want something different. But I love my nail polish to be glossy so I will stick to a black version. The price is £13.50.
Read More
I have already shown you the Duo Blusher in Ketie and Ambition from the Illamasqua's  SS 2013 makeup collection I'M Perfection.
So today I want to show you their newest lipstick – Immodest. I personally think this is an awesome name for such a beautiful bright candy pink.
This is my fourth lipstick from the brand so I am already familiar with the quality and the formula, you can see the other shades:  Over (coral), Atomic (fuchsia) and Kontrol (purple).
The brand's lipsticks are perfect for a statement lip, as the pigmentation is amazing, you get a full-on colour with one layer.
As for
Read More
I received several items from the Illamasqua's SS13 makeup collection I'M Perfection and today want to show you one of the blushers.
It is  a Powder Blusher Duo (£26) in Katie (Candy Pink) and Ambition (Neutral).
Although I love cream blushers more, and I do adore the brand's Rude, I like Illamasqua's powder blushers, as well. I have actually featured one, in Allure, already.
Here is how the duo looks like, I love the sleek package and the big and handy mirror inside.
Illamasqua powder blushers are very pigmented, so you will need a tiny amount of the  product. They are also smooth and not chalky, which means that it's easy to blend the product into the skin.
As for these particular shades – Katie is a light  baby pink, it should look awesome on fair skin tones and may look ashy on medium/darker skins. As for Ambition, it is a
Read More
Before launching  their SS13 makeup collection I'm Perfection, Illamasqua had a fantastic sale with a great selection of products that retailed  for £10 and £5!
Of course, I had to pick some items. As you would imagine, most of the products I wanted were out of stock when I was ordering, so I ended up with two products only.  But it's better than nothing at all…
I am a huge fan of the brand's Pure Pigments and wanted to get all the shades that were in  the sale but I was able to get my hands on Zeitgeist only.
You can see my review of Berber, auburn (probably my favourite product Illamasqua ever released) and Ore, gold.
And here is Zeitgeist  – a true black with silver micro glitter. Looks fantastic on
Read More