Makeup wise, it was pretty much all the same in February, and you can read about all the products here.  There is also something very different from  me this month – I've been loving nude lipsticks (which is  a complete shock for me), and I will write a feature about it soon.
There are only two other makeup products that I want to mention:
Illamasqua's Nail Varnish in Nomad. I wore in for the whole last week of the month, and this gorgeous jade set me in the mood for Spring.  Not too pastel but not too bright, it is just perfect.
Max Factor's  Creme Puff Blush in 25 Alluring Rose. This is a shade created for medium  and dark skin  tones, so on me it looks like a bronzer. It blends out beautifully and gives a gorgeous glow.  Look out for the feature about these new blushes this week.
As for the beauty products – I was very stressed and completely out of time  in February, so shower time was the ultimate luxury and "me" time when I could just think and reflect on what was going on. I have tonnes of shower products in my tiny bathroom, and have been loving all of them, but two
Read More
The list of my favourite makeup products  of 2012  was too long already for me to include nail products, too.So here is a separate one.
I've decided to be very strict with myself and choose only two nail polishes, one for SS and the other for AW as, otherwise, I would just go on, and on…
OPI Every Month Is Oktoberfest
This is a gorgeous colours, when I saw the promo photo, I knew I had to get it. But when I saw the first swatches on-line, I've ordered it as soon as it was available.  OPI have a lot of beautiful complex dark nail polishes and Every Month Is Oktoberfest  is one of them. I wear mine a lot, in fact, I have it on as I type. See it on my nails here.
 Illamasqua Nail Varnish in Nomad
And this was my favourite SS nail polish, such a perfect jade colour. There are a lot of  variations of jade from different brands, but I think this is my favourite.  Plus I am a big fan of Illamasqua's nail varnishes. By the way, I had it on my toes during my summer holiday. And here is manicure with this shade.
As for other products, I have to mention
Read More
Recently I received several products from Illamasqua's SS 2012 Human Fundamentalism collection so today I want to show you the nail polish in Nomad.
I love Illamasqua nail varnishes and this has to be one of my favourites. I absolutely adore everything about it!
The colour is just perfect, a beautiful jade creme finish which is opaque with only one coat. The formula is lovely, it goes on smoothly and is non-streaky; Nomad looks amazingly beautiful on the nails!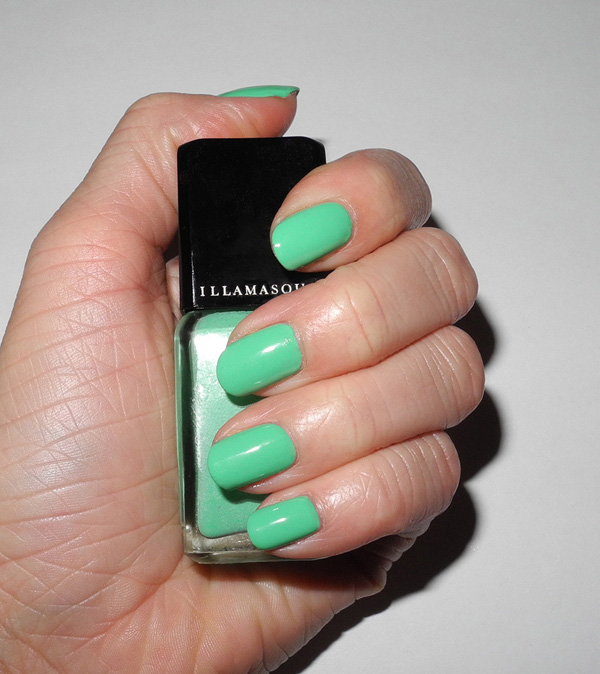 This may be
Read More
Last week I've picked some Maybelline nail polishes and one of them is on my nails today. It's a pastel  green shade which reminds me of Chanel Jade which was very popular in the past.
As for the nail polish itself – you have to put on 2-3 coats to get an opaque colour. On my nails I am wearing 3 coats of nail polish and no top coat. The photo is made on the 3rd day since I've applied the nail polish.
If you don't want to spend a lot  and don't mind 3 coats, Maybelline colorama in Green Park is a nice shade to try.
Read More