I already did a review of the Jo Loves Mango collection, so it's time to talk about the other fragrances from the line and this time it's all about Pink Vetiver and Green Orange & Coriander.
These two may be my personal favourites. I am not a huge fan of girly, think uber fruity/floral scents, most of the time, so these are my cup of tea. Also, I think that both would smell amazing on men, at least I'd like a man to smell like that 😉
Green Orange & Coriander
Jo describes it as "soulful and sassy; marriage between green citrus and herb; incredibly comforting yet at the same time it evokes a real sense of passion and warmth".
I totally agree, although it is citrusy, it is a warm citrus, uplifting and sexy at the same time. Would be a great scent to wear on a coffee date. I love pairing it with high heels and faux leather trousers.
The notes are:
Top: Bitter Green Orange, Black Pepper
Heart: Coriander Seed, Coriander Leaf
Base: Green Oakmoss, Tonka Bean
Pink Vetiver
I have noticed that
I was very excited about the opportunity to try Jo Malone's (the lady, not the brand) fragrance creations which are a part of her new brand JO LOVES.
So far there are eight scents to choose from and I have them all. I have been wearing them for some time now, thinking about the associations I have and asking other people about their thoughts… So it's time to share my experinece and I will start with the Mango Collection.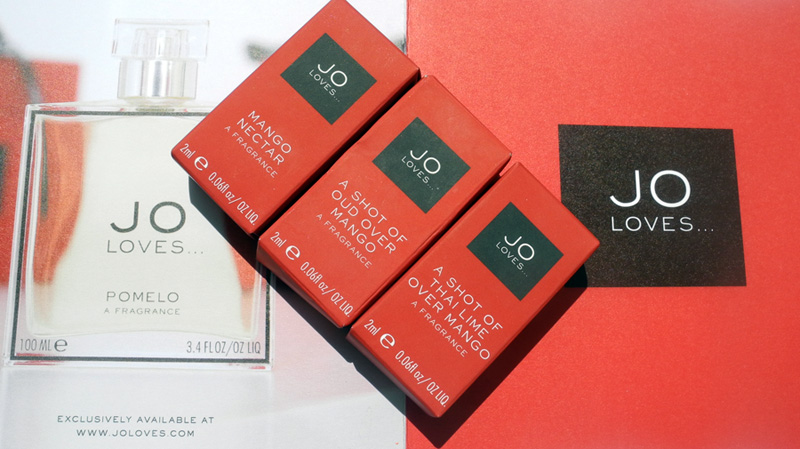 Mango Nectar
It is a sweet fruity and juicy fragrance; it definitely smells like mango and apricots, I almost want to eat it. It makes me think of warm summer days, white dresses, long walks near the river and tasty deserts. I'd say this would be a great fit for young dreamy girls or ladies that like sweet fruity scents.
Top: Bitter Orange, Pink Grapefruit, Mango Leaf
Heart: Mango Nectar, Apricot Blossom
Base: Jasmine, Musk
A Shot Of Oud Over Mango
I really loved this one and got a lot of compliments when I was wearing it. It is warm and feminine fragrance. I did not try that many oud fragrances, but this one is my favourite so far. It is not as sweet, as Mango Nectar but