Laura Mercier's  Kohl Eye Pencils are favourites of a lot of people and I can totally see why.
I have five (mini) pencils and would like to show them to you today.
The colours that I have are:  Black Violet, Brown Copper, Stormy Grey, Stone Slate and Black  Gold. And here is how they looks like.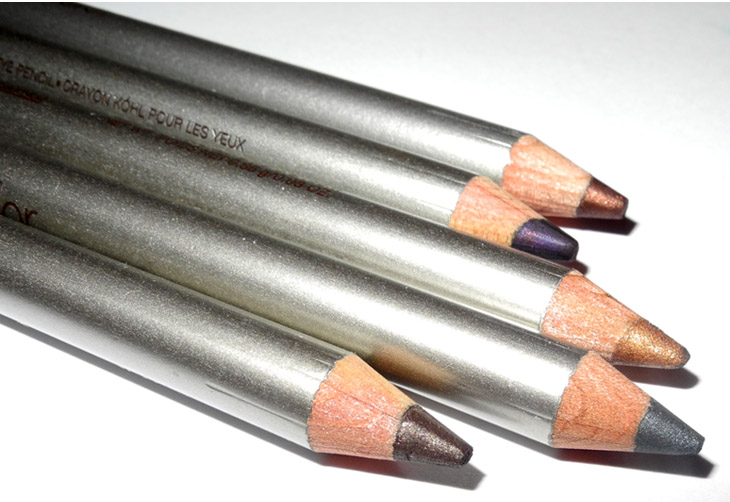 These have a very soft and creamy texture and glide on easily, without dragging the skin.  They have a fantastic pay off and gorgeous colours. Yes, the colours are definitely fantastic, all five of them! I imagine that blue and green shades are to die for, as well!
I would suggest kohl pencils for a quick smoky eye, you could use them on their own or with the eye shadows on top, looks great either way.
Brown Cooper, my personal
Read More
I am a huge fan of cream eye shadows and had these for almost a year already, so I have no idea why I never wrote about them.
But it's better late than never, so today I want to tell you about Laura Mercier's Metallic Crème Eye Colour (£ 18.50/$22).
I actually have three shades but, since one (Malachite) was a limited edition shade, will show you only two. I've got them in a set, so  originally these eye shadows are bigger than those that I have.
Platinum – shimmering champagne, Rose Gold – shimmery rose gold
Light frost eye shadows are a big NO for me, so I was a bit worried about these shades. But Laura Mercier knows how to do a nice  light metallic shade without it looking too frosted and glittery. It is shimmery, yes, but it is very wearable and, I could even say  – subtle.
The formula is really nice, non-greasy, lightweight and, most importantly, you can get a sheer or full-on effect. I actually love applying these eye shadows with my fingers as such method allows to get a very thin layer which does not sit on top of skin but blends it beautifully.
I love using Platinum and
Read More
You may remember that I have been looking for Laura Mercier's Bonne Mine palette everywhere. I have got it a long time ago so I have no idea why I never wrote a proper review on it yet.
I though it was a limited edition palette… But it is actually available at Sephora, where I've got it from, for $48.
The main idea why I've wanted it so much was to to have all-in-one face product. It saves so much space!
I love the classic white design with Laura's signature on  top.
Here is how the colours inside look like. You get: 0.36 oz Bronzer Veil, 2 x 0.14 oz Cheek Veil and 2 x 0.14 oz Glow Veil.
You also get a detailed instructions on how to use everything and where is the best to use each product.
And what about the quality and my impression?
Read More
I am sure that a lot of you tried or at least heard about the  amazing tinted moisturizer by Laura Mercier. And I have to say that it's a great product but today I would like to tell you about the Illuminating Tinted Moisturizer, SPF 20. And it is a moisturizer with subtle shimmering colour.
This is what it written about it:
"Laura Mercier Tinted Moisturizer Illuminating is a lightweight, buildable sheer foundation formula that delivers a youthful, radiant finish.The skin-friendly formula contains a unique Dewy Complex that is proven to keep the skin moisturized and better equipped to combat external aggressors and irritants. Layer with other foundations for a custom blend and radiant finish"
Here are just some of my thoughts about this product and you can decide for yourself if you need this or not:
As all TM this product gives a pretty sheer coverage so be sure that you use a concealer if you have any problems.
This product is perfect for hot summer weather because it's not to heavy.
If you have  quite a few imperfections on your skin I would not recommend you using it because
Read More